NCAA Championship Game 2012: Keys to a Kansas Victory
April 2, 2012

Jeff Gross/Getty Images
John Calipari is one game away from his elusive NCAA Championship. Standing in his way, once again, is Kansas' Bill Self.
Calipari and Kentucky are the favorites in this historic clash, but Kansas isn't going to be an easy out. The team will have to play their A-game, though.
Here are keys to a Kansas victory. 
Maximize possessions
Getting everything from possessions is paramount for the Jayhawks on Monday night. That means limiting turnovers, running solid offense and being successful in transition.
Kentucky's defense has great size and length. If the Jayhawks can run in transition with Thomas Robinson, Tyshawn Taylor and company, I think they should take full advantage of their own athletic ability.
Scoring in transition means Kentucky's defense can't get locked in. 
Make it rain
Kansas made 217 three-pointers on the season. If they plan on defeating Kentucky, those guys will need to continue to shoot the ball in bunches from outside.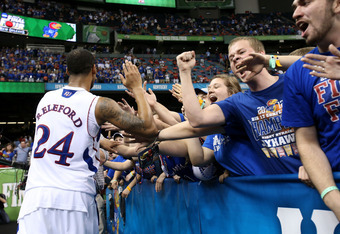 Jeff Gross/Getty Images
This isn't the best team from the perimeter, only shooting 34.3 percent from distance, but this is a team plenty capable of knocking down outside shots.
Elijah Johnson, Conner Teahan, Taylor and Travis Releford need to be ready to knock down outside shots. 
Defending against athleticism
Kansas allowed seven three-pointers against the Wildcats on November 15, 2011. They need to keep Kentucky in front of them as much as possible, guarding against penetration and forcing the Wildcats to shoot the ball in order to win.
It's going to be difficult because Kentucky is ultra-talented but Kansas has athletes that can at least give them a challenge. 
Get Anthony Davis in foul trouble
The Player of the Year can't impact the game when he's not on the floor. Getting Anthony Davis in foul trouble is a perfect way for Kansas to pull the upset.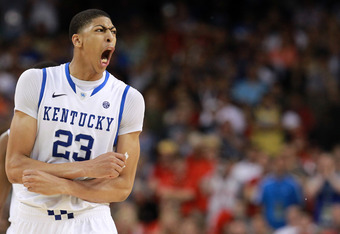 Ronald Martinez/Getty Images
Davis brings shot-blocking ability, rebounding and scoring for the Wildcats. Most importantly, in my mind, is how many shots he alters with his length and how many shots he changes just because of his stature. He is in the opposing team's heads before they take the shot.
It was visible against the Louisville Cardinals. He was altering shots that he wasn't really close to.
That's what Davis brings to the table. If Kansas pulls the upset on Monday night, I think Davis will have to be in foul trouble.