Final Four 2012: 5 Reasons Kentucky Will Blow out Kansas
Ronald Martinez/Getty Images

The line is set at 6.5 in Vegas for Kentucky to cover the spread against Kansas, but let me hit with you some knowledge that will have Kentucky pummeling Kansas and take head coach Bill Self and his stellar coaching staff back to Lawrence, Kansas with their heads between their legs.
The game will be decided in the paint and that is where your AP Defensive Player of the Year, Freshman of the Year, Player of the Year, soon to be Most Outstanding Player on the NCAA Championship Final, and future No. 1 NBA draft pick Anthony Davis will light up the Kansas post presence of Jeff Withey and First Team All-American Thomas Robinson.
Davis not only led the nation in blocks, but he is not too shabby in the points and rebounding department either.
In fact, why doesn't Kansas ask how dominant he was against Louisville. Davis finished Saturday night's game with 18 points, 14 rebounds, five blocks and becoming the first player to record at least 15 points, 10 rebounds, five blocks in a Final Four game since Kansas legend Danny Manning way back in 1988.
Begin Slideshow

»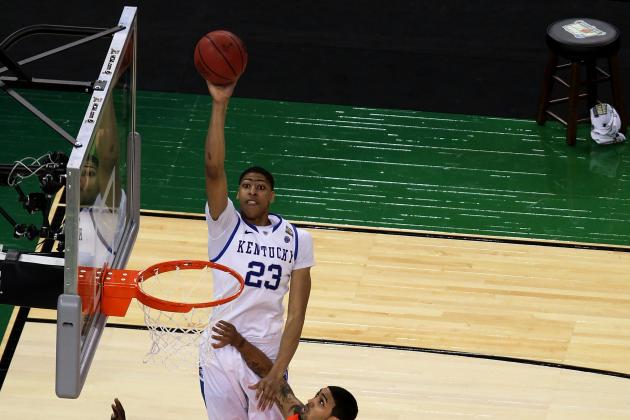 Jeff Gross/Getty Images

Might I also remind you that Kansas center Jeff Withey went against Ohio State 6'9" center Jared Sullinger, who struggles mightily against tall players and tries to shoot over them instead of using his big body and only shot 5-of-19.
That is why Ohio State lost last night's game to Kansas. Maybe if Syracuse used the same strategy against Ohio State we could have a re-match of the 1996 National Title game. I mean I can dream can't I? But Anthony Davis is not Jared Sullinger.
Davis might be one inch taller, but he is freakishly more athletic and can score in a variety of ways: back to basket, drive, alley-oops and can use his long arms and length to just shoot over Jeff Withey.
Now Kansas forward Thomas Robinson will get his 15 points but he will have to work for every point against a front court that includes Davis, Terrance Jones and Michael Kidd-Gilchrist. So reason No. 1 Kentucky will own Kansas in this game lies in the paint.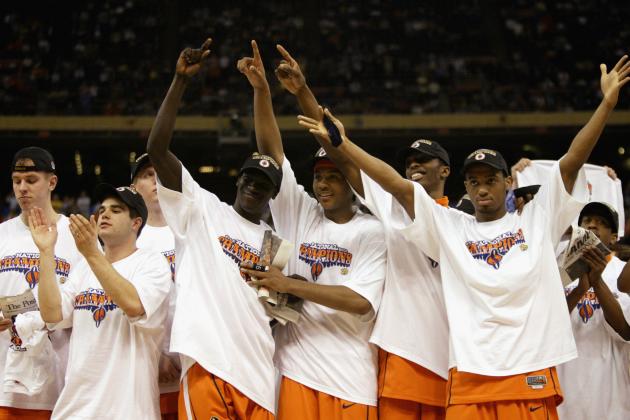 Craig Jones/Getty Images

In contrast, Kansas definitely has more experience than Kentucky as Kentucky has three freshman starters but like Kentucky coach John Calipari said before, "I would take talent over experience every time."
Former Syracuse forward Hakim Warrick agreed with Calipari's statement and was interviewed recently about his time in the 2003 National Title run where his Syracuse team of freshman, sophomores, and one senior beat a senior dominated Kansas team that featured the likes of Kirk Hinrich and Nick Collison.
Oh and by the way, that game happened to be played in New Orleans as well. Warrick said in a recent interview, "I thought that us being young, helped us. We were out there just having fun, just everyone not expecting much from us because we were so young. We kind of just continued to just go and play." (Katie Kramer from Syracuse.com)
So No. 2 reason is complete as it is better to take talent over experience because junior and seniors look at the final game as much more of a pressure situation whereas talented inexperienced players are looking to have fun and as a result can just relax and play their game.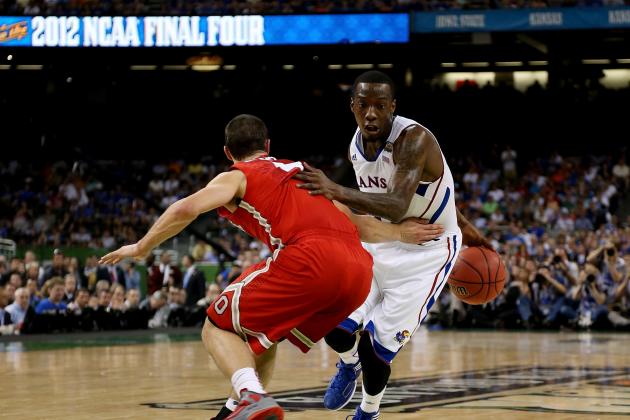 Chris Graythen/Getty Images

Moving on to reason No. 3 Kentucky will dominate Kansas lies in solid guard play. Both point guards Marquis Teague for Kentucky and Tyshawn Taylor for Kansas are always up and down while one minute can be solid and then the next minute just erratic.
Now Teague has had a 2:1 assist/turnover ratio in the NCAA tournament whereas Taylor has had a 4:3 ratio, but I give the edge to Teague considering he knows how to find his teammates in late game situations and doesn't cost the game with one single turnover.
In contrast, Taylor might have had nine assists against Ohio State, but he also single-handedly gave Ohio State a chance to come back in the game when he stole the ball with six seconds left only to throw it back to Ohio State just two seconds later.
Tyshawn Taylor reminds of a better version of Louisville guard Peyton Siva and for that Kentucky is thankful as Taylor will force a lot of passes and play with reckless abandonment. Yes, Taylor went against one of the greatest defenders in Ohio State's Aaron Craft but Taylor has not seen a team of shot blockers and defensive nightmares when he enters the paint and drives the lane against Kentucky.
I don't need to remind you that Taylor has not made a single three-pointer during this NCAA tournament as he is a horrendous 0-of-20 from the land of three so will pull up from deep or try his chances against the defensive specialists from Kentucky. Moreover, Kentucky will beat the Jayhawks in talent, the post, guard play and even the fourth reason: great coaching?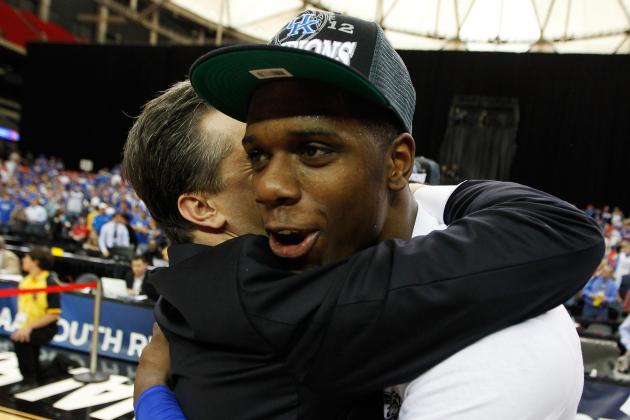 Streeter Lecka/Getty Images

John Calipari wants the monkey off his back more than anything and as much as he has said coaching is all about the relationships with players, he wants the title to shut the haters up for one last time. I give his opponent in Monday night's championship game Kansas coach Bill Self a ton of credit as he beat up the Tarheels with the triangle and 2 defense and forced Jared Sullinger to shoot over the Kansas big men,.
Bill Self is a great tactician coach, but Calipari this year is on a whole new level of coaching.
Enough of the talk about the NCAA violations Calipari has had in UMass or Memphis. Enough about the one-and-done factory at Kentucky as most top recruits will leave in their first year. Enough about Cailpari announcing at the 2010 NBA draft where five of his players were drafted in the first round ,and he declared it the greatest day in Kentucky college basketball history.
Calipari has taught this team of talented all-stars to buy into the team-first mentality.
No one player is buying that more than Kentucky sophomore forward Terrance Jones who could have been a lottery NBA pick last year. Jones took erratic shots all last year and now this year if he can't find the shot he passes it off to a cutting Anthony Davis or Michael Kidd-Gilchrist. That ladies and gentleman is sacrificing for the good of the team.
Jones will sacrifice the next level to be a better teammate and he made that transition this year and that's why this Kentucky led Cailipari team is more special this year than any other years past.
Louisville coach Rick Pitino agreed, "To tell you the truth, I haven't always liked some of the Kentucky teams. I'm not going to lie to you. But I really like this team a lot because of their attitude and the way they play." (The Times-Picayune)
So Rick Pitino is convinced, and that leaves me one with one more reason Kentucky will indeed blow the doors off Kansas.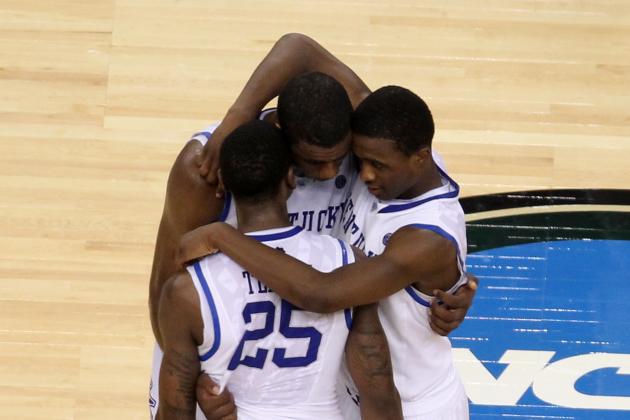 Jeff Gross/Getty Images

While Kentucky has really great players, they also have better role players. I will take Kentucky's duo of Doron Lamb and Darius Miller over the likes of Kansas role players Travis Releford and Elijah Johnson.
Both sets of duos are their team's respected go-to three-point threats, but Kentucky takes the three when they need it most and that is where their role players perfectly complement their powerful inside presence.
Kansas on the other hand has struggled from three and shoots itself out of it as they have not put together a full two half's together of shooting consistently throughout the game. If any star player from Kansas like Robinson and Taylor get neutralized during the game, the Kansas role players really don't have the talent to step in and become more than just contributors.
There you have it. I can see the headlines now reading Kentucky dominant yet again. Let's just hope this time Calipari says this, and only this, day is the greatest day in Kentucky college basketball history.