St. Louis Rams Draft Targets for 2013 and Beyond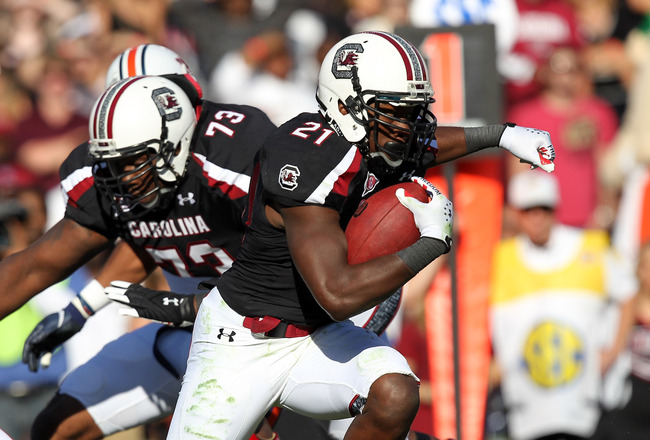 Streeter Lecka/Getty Images
The St. Louis Rams hired head coach Jeff Fisher in the offseason and brand new leadership typically results in a full-blown makeover.
It's certainly not ideal, but St. Louis fans must accept that their team is, yet again, undergoing total restoration.
It seems as though the Rams are constantly stuck in rebuild mode, and there's no clear end in sight, but after finishing with a 2-14 record, they simply had no choice but to swallow the cyanide tablet once again.
But fortunately for the organization, they have enjoyed an incredible offseason—perhaps, the best offseason in the entire NFL.
The team was able to attract the offseason's top head-coaching candidate (Fisher), and they signed two Pro Bowl-caliber free agents (Cortland Finnegan, Scott Wells).
The most beneficial offseason move, however, was the departure of their No. 2 overall draft pick, which was traded for Washington's first- and second-round round picks this year, as well as their first-round selections in 2013 and 2014.
In the end, the blockbuster trade could ultimately be the move that finally propels the Rams out of the catacombs of the NFL.
The additional pick will allow the Rams to establish a strong core of of talent in 2012 and beyond.
The numerous possibilities in the upcoming draft have been widely covered with the endless number of mock drafts in existence, but the future drafts are rarely discussed.
So let's take a glance at some of the prospects who could potentially be available in 2013 and beyond.
Marcus Lattimore, RB (South Carolina)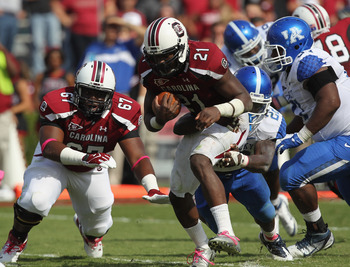 Streeter Lecka/Getty Images
Height: 6'1"
Weight: 232 pounds
School: South Carolina Gamecocks
The Rams need to eventually find a replacement for the 29-year-old Steven Jackson, but it's not the end of the world if they miss out on Alabama's Trent Richardson in this year's draft.
The 2013 draft will provide them with a shot at another elite running back prospect—Marcus Lattimore of South Carolina.
Over the last two seasons, Lattimore has picked up 2,015 yards with a 4.9 yards per carry average, as well as 30 total touchdowns.
Lattimore missed the final six games of 2011 with a torn ligament in his knee, which is a concern, but he'll have the entire 2012 season to prove his health.
D.J. Fluker, T (Alabama)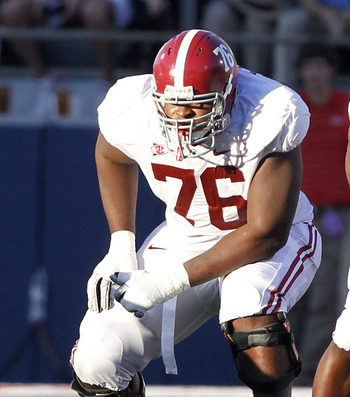 Butch Dill/Getty Images
Height: 6'6"
Weight: 335 pounds
School: Alabama Crimson Tide
Trent Richardson can't take all of the credit for his success on the ground. He was running behind one of the most dominate offensive lines in all of college football.
The entire Crimson Tide line is loaded with talent, but the top prospect is likely D.J. Fluker.
Fluker is the team's right tackle at the moment, but he's more than capable of sliding over to the left side, and that kind of versatility only adds to his overall value.
It's highly unlikely that Matt Kalil will be available for the Rams in the draft this month, so there's a chance that Fluker will be highly scouted by the team if current tackles Jason Smith and Rodger Saffold continue to struggle.
Robert Woods, WR (USC)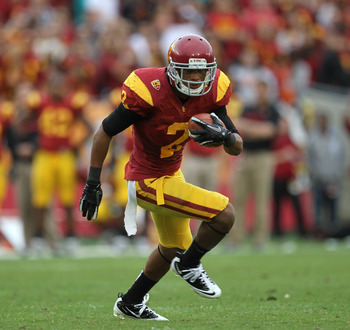 Stephen Dunn/Getty Images
Height: 6'1"
Weight: 180 pounds
School: USC Trojans
Justin Blackmon is one of the top options for the Rams in this year's draft and is certainly the fan favorite, but some question whether or not a 6'1" wide receiver is worthy of a No. 6 overall pick.
For those who would prefer to hold out and wait for a receiver with elite size, you may be out of luck because the most promising receiver of next year's draft is also lacking towering height and imposing size.
At this time (and circumstances could drastically change a year from now), Robert Woods of the USC Trojans is the most alluring prospect of the future, and he's certainly far from being a prospect of Calvin Johnson or Larry Fitzgerald proportions.
However, Woods has experience in the Trojans' pro-style offense where he has demonstrated superb route running and separation with solid speed.
Tyrann Mathieu, CB (LSU)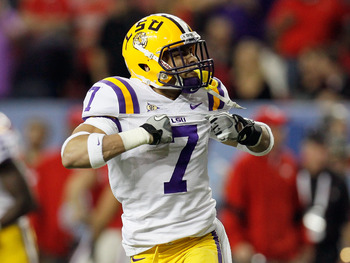 Kevin C. Cox/Getty Images
Height: 5'9"
Weight: 175 pounds
School: LSU Tigers
Tyrann Mathieu, better known as "Honey Badger," is destined to be LSU's third elite cornerback prospect in as many drafts.
Patrick Peterson (Arizona Cardinals) was the fifth overall pick of the 2011 draft, while Morris Claiborne is expected to land himself early in the top 10 this month.
Honey Badger is expected to have a similar effect on NFL scouts once he declares for the draft in the future.
Badger's 5'9" height is certainly a question mark, but his incredible play-making abilities resulted in him being selected as one of five Heisman Trophy finalists last season.
If the Rams select Claiborne in this year's draft, then there will likely be no interest in Mathieu in the future. However, if that doesn't happen, then there's a chance that the Rams will be looking for an elite cornerback prospect to pair up with Cortland Finnegan.
Marquess Wilson, WR (Washington State)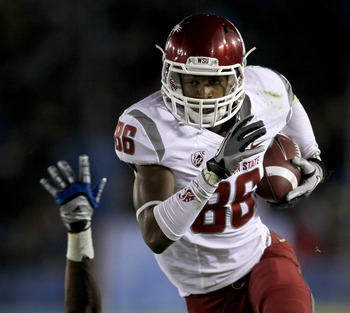 Stephen Dunn/Getty Images
Height: 6'4"
Weight: 183 pounds
School: Washington State Cougars
For those of you dying to see a 6'4" receiver in a Rams uniform, you might want to reserve your spot on Marquess Wilson's bandwagon ahead of time.
Wilson has the dominate size that NFL scouts crave, but at 183 pounds, he still needs to grow into his body if he wants to remain healthy in the NFL.
Wilson is far from being the top receiving prospect of the future, but a lot can change in one season. If he puts together a dominant performance in 2012, then there's a chance that NFL teams will be clamoring for him early on in the first round.
Alex Okafor, DE (Texas)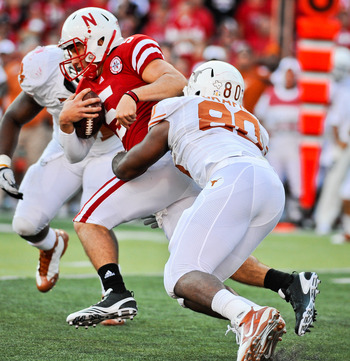 Eric Francis/Getty Images
Height: 6'4"
Weight: 260 pounds
School: Texas Longhorns
Chris Long is due to become a free agent in 2013, and his franchise tag will cost the Rams around $15.2 million, which is outrageous.
The team will either sign Long to an extension or allow him to test the market, which will inevitably result in a foolish team outbidding the Rams with a gross amount of money.
Since losing arguably the best player on the team is a real possibility, it's important that they explore other options.
Alex Okafor has great size for a 4-3 defensive end and will be one of the top pass-rushers of his draft class.
He could be a suitable replacement for Long if such a scenario were to present itself.
David Amerson, CB (North Carolina State)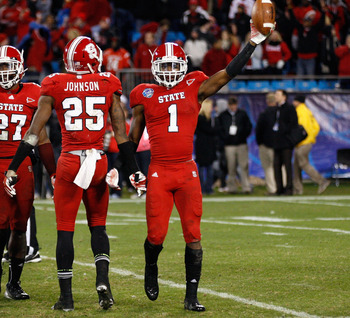 Streeter Lecka/Getty Images
Height: 6'3"
Weight: 185 pounds
School: North Carolina State Wolfpack
Last season, the Seattle Seahawks fielded two cornerbacks who were unusually tall.
Brandon Browner (6'4") and Richard Sherman (6'3) proved to everyone that NFL corners can be tall and physical rather than short and maneuverable.
For that reason, David Amerson could receive interest from a number of NFL teams, including the Rams.
.
Sam Montgomery, DE (LSU)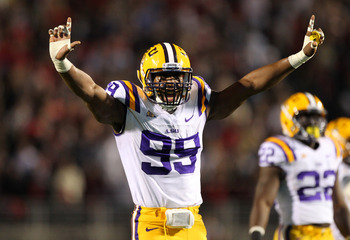 Joe Murphy/Getty Images
Height: 6'4"
Weight: 245 pounds
School: LSU Tigers
Sam Montgomery was a dangerous pass-rusher on one of the most elite defenses in all of college football.
He's undersized as a defensive end for the 4-3 defense. He's much more suitable as a 3-4 rush linebacker, but Jeff Fisher could ultimately make an exception if he considers Montgomery the top sack artist of his draft class.
Montgomery is another option for the Rams if Long is lost in free agency.
Tyler Eifert, TE (Notre Dame)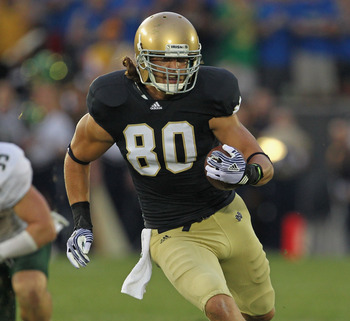 Jonathan Daniel/Getty Images
Height: 6'6"
Weight: 249 pounds
School: Notre Dame Fighting Irish
By the conclusion of the 2012 season, the Rams will know if tight ends Lance Kendricks and Mike Hoomanawanui have anything to offer.
Both of the young tight ends have plenty of talent, but they lack consistency. If the struggles continue, Notre Dame's Tyler Eifert could step in and fill the void.
Notre Dame has produced a lot of offensive busts in recent years, but Eifert was a solid receiving threat in 2011 with 803 yards and five touchdowns.
If Eifert can repeat that production in 2012, then there's a chance he's not a fluke.
Keep Reading

St. Louis Rams: Like this team?