NHL Stanley Cup Playoffs 2012: One Flaw Each Playoff-Bound Team Must Fix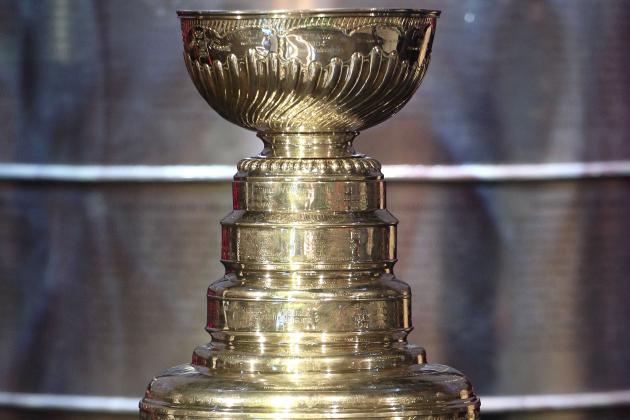 Christian Petersen/Getty Images
The battle for Lord Stanley's Cup starts April 11th.
At the end of a hard-fought regular season, 16 NHL teams ready themselves for the (hopefully) two-month journey that is the Stanley Cup Playoffs. To win sports' most famous trophy, a team must win 16 postseason games against four opponents, three from their conference and the winner of the other conference, who want to win it all just as bad.
Best-of-seven game series determine who advances to the next round and who ends the season. This year's playoff race features a pool of 16 teams that all have a legitimate chance of winning hockey's biggest prize, from the first seeded Vancouver Canucks in the West to the the eighth seeded Washington Capitals in the East.
All kinds of variables determine who ultimately lifts the Stanley Cup in victory. If many facets align at precisely the right time, the winning team will have its players' names etched into the hallowed cup for eternity.
Before the playoffs start, every team must address at least one problem that might be the difference between an offseason filled with disappointment and an offseason filled with parades and a day with Lord Stanley.
While the full playoff field is not yet completely set, most teams have claimed the 16 available slots for the 2012 NHL Stanley Cup Playoffs.
Begin Slideshow

»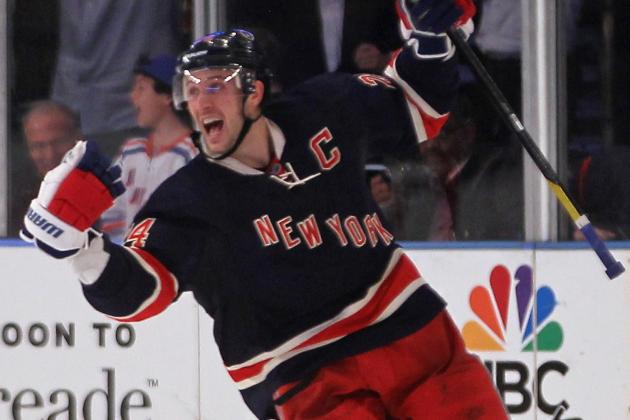 Bruce Bennett/Getty Images
Ryan Callahan captains the Rangers.
It's hard to find a flaw with a team that has compiled a 51-22-7 record, good for a league-leading 109 points as of April 3, in a tough Eastern Conference and even tougher Atlantic Division.
The team's defense has played above expectations. Players like Michael Del Zotto emerged as an offensive defensemen, Dan Girardi played in this year's All-Star game, and the suprising Ryan McDonagh has helped along the way.
Brad Richards (25 G, 66 P), signed this offseason, leading scorer Marian Gaborik (41 G, 76 P) and team captain Ryan Callahan (29 G, 54 P) power the offense.
The Rangers boast good team depth with players like Derek Stepan (51 P), Carl Hagelin (38 P) and Artem Anisimov (35 P).
The biggest question mark for the Rangers is goaltender Henrik Lundqvist's postseason record.
He has established himself as a top-tier regular-season goalie this season and in years past and is near the top of the list for every major statistical category for goaltenders, but has never been able to lead the Blueshirts past the second-round of the playoffs.
The 30-year-old won a gold medal in the 2006 Winter Olympics with Team Sweden, proving himself a clutch performer, but he'll have to prove himself again through the long playoff road as the fate of the Rangers' rests heavily on his shoulders.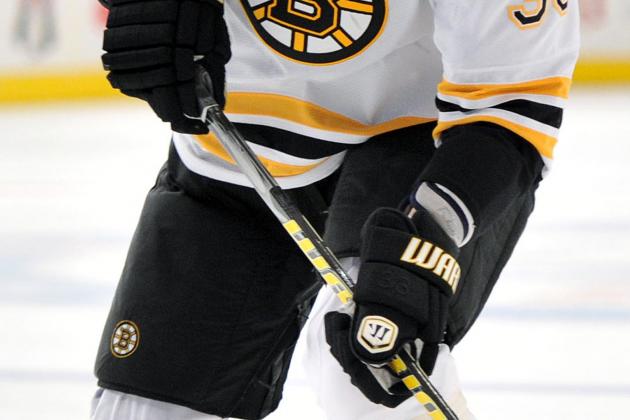 Christopher Pasatieri/Getty Images
Chara leads the defending Stanley Cup Champs
It's hard to go against the defending champs, especially when they've played so well this year (save for the first ten or so games of the season, but we can blame that on the infamous "Stanley Cup hangover").
The Bruins have some of the best depth in the entire league. They have six 20-goal scorers (Tyler Seguin, Patrice Bergeron, David Krejci, Milan Lucic, Brad Marchand and Chris Kelly) and much of last year's Stanley Cup winning team is still intact.
The only thing standing in the way of the Bruins is a tough Eastern Conference. A lot can happen in a seven-game series, and every series is going to be a battle. The Bruins had a short off-season, which could catch up with the team after a few tough playoff games, and every opposing team will want to defeat the defending champs, bringing their best night after night.
The Bruins need to stay healthy and play strong team defense in front of veteran goaltender Tim Thomas, keeping him as fresh as possible for a deep run.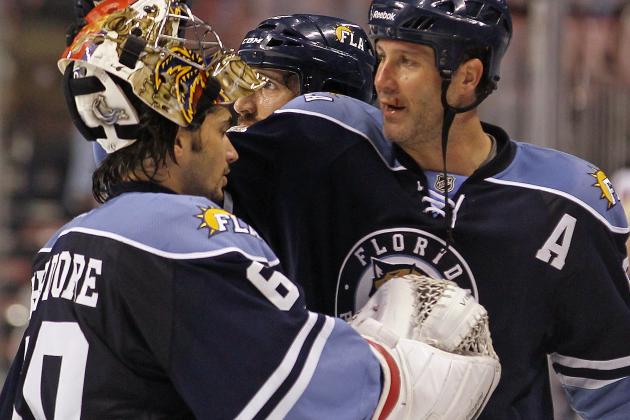 Bruce Bennett/Getty Images
Theodore and Jovanovski both signed with the Panthers this off-season.
The Florida Panthers are playing some good hockey after a big re-structuring this off-season. They are looking to earn an automatic No. 3 seed for winning a weaker Southeast Division with fewer than 100 points.
Florida's back-end is pretty good. Defenseman Ed Jovanovski played in a Stanley Cup Final many moons ago in his first stint with the Panthers ('96), and fellow blue-liner Brian Campbell won a Cup with Chicago in 2010. The Panthers will rely heavily on the experienced defensemen to lead their team.
Goaltender José Theodore won a Vezina Trophy in 2002, and has played strong for the Panthers this season. He may not be the same Theodore of the early 2000s, but he is playing like he has something to prove.
The Panthers absolutely need a scorer (or two, or three) to step up for the team. As of right now, Thomas Fleishmann leads the team with 27 goals, and Kris Versteeg is the only other player with more than 20. Lack of scoring may very well bring Florida's season to an early end.
At least they play in a nice city to spend an offseason.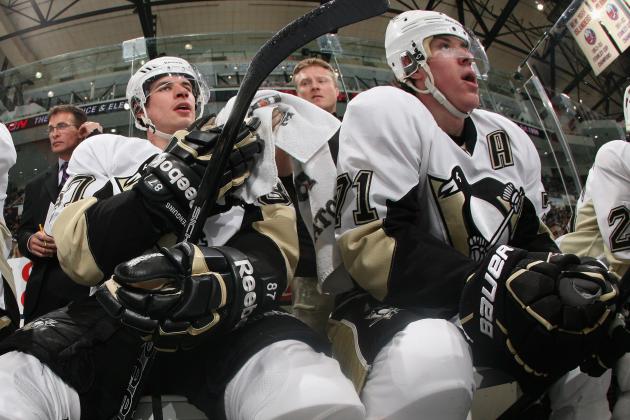 Bruce Bennett/Getty Images
The return of Crosby and dominance of Malkin have the Penguins in a good position.
Evgeni Malkin (48 G, 105 P), James Neal, (40 G), Marc-Andre Fleury (42 Wins), three more 20+ goal scorers, a seemingly healthy Sidney Crosby and Kris Letang...what's stopping the Penguins from winning their second Cup in four years?
Two words: team defense.
After a lengthy winning streak, the Penguins have looked bad and allowed 32 goals in their last seven games, going 3-4. Pittsburgh must tighten up defensively and stop trying to beat opponents with a primarily offensive attack.
Marc-Andre Fleury has played well all year, but can't stop all the quality chances the Penguins are simply giving the opposition. It could be another disappointing end to the highly-skilled Penguins' season if they don't bear down and play better in their own end.
A probable first-round series with hated rival Philadelphia might get very ugly, especially after an incident on Sunday involving Penguins' assistant coach Tony Granato and Flyers' head coach Peter Laviolette almost coming to blows near the end of a game between the two Pennsylvania teams.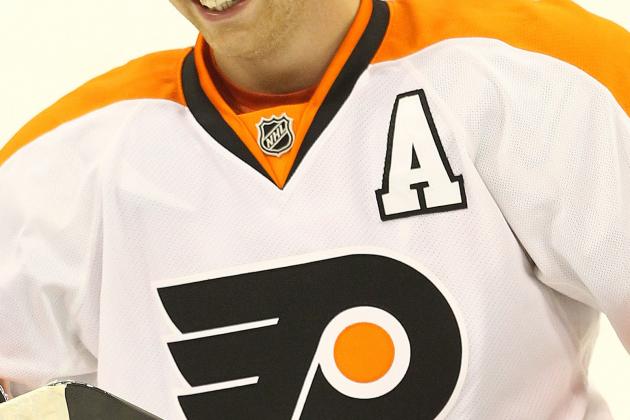 Tom Szczerbowski/Getty Images
Playing alongside future Hall-of-Famer Jaromir Jagr, Giroux has emerged as an NHL superstar.
The Flyers went through some growing pains early this year after a bit of an off-season makeover, especially in net.
It's nothing new, but the biggest question in Philadelphia is, as always, goaltending.
Maybe the Flyers should worry more about what goes on between Ilya Bryzgalov's ears than how he plays between the pipes, but that's another story.
After signing with the Flyers this season, Bryzgalov has certainly had his ups and downs with the team, but has been playing very well as of late.
He has a 32-15-7 record and .910 save percentage. Bryz did suffer an injury to his foot and management is hoping for a quick recovery, not wanting to have to call on 23-year-old Sergei Bobrovsky quite yet.
With the breakout season of Claude Giroux (92 P), career seasons for Scott Hartnell (37 G) and 23-year-old Wayne Simmonds (28 G), and strong defense led by Matt Carle and Kimmo Timonen, there's no reason the Flyers can't make a deep run into the playoffs.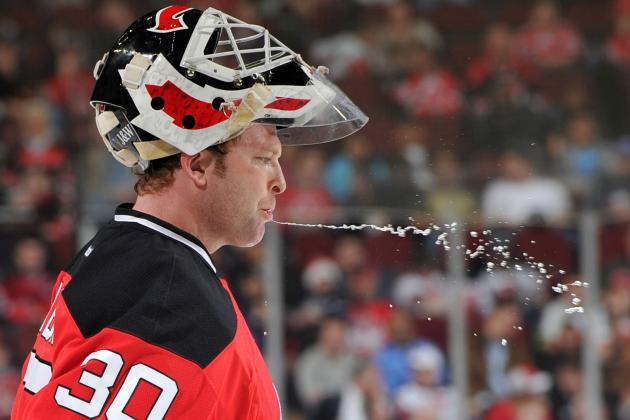 Christopher Pasatieri/Getty Images
Does goaltender Martin Brodeur still have enough to lead his Devils to a Stanley Cup?
The days of Scott Stevens and Scott Niedermayer leading a stingy Devils defense are over. Offense now powers New Jersey.
Ilya Kovalchuk, Zach Parise and David Clarkson all have 30 or more goals, and veteran Patrick Elias is close behind with 26.
Marty Brodeur has played well in net for the Devils, but his age has to come into question. Luckily, the Devils failed to make the playoffs last season and Brodeur hasn't even hit the 60-game mark this season, so he should be relatively fresh.
The biggest question for the Devils is the blue-line crew. The Devils defense features rugged, heavy-hitting (read: slow) defensemen as opposed to flashy, finesse defenders. However, if trade deadline acquisition Marek Zidlicky can start powering the offense from his spot on the back-end, the Devils might be able to "upset" their way to a championship by shutting down opponents' offenses and capitalizing on their opportunities.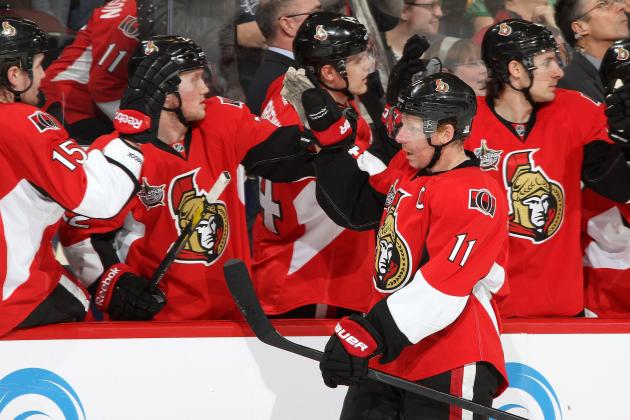 Jana Chytilova/Freestyle Photo/Getty Images
This could be captain Daniel Alfredsson's last chance at a Stanley Cup championship.
The Senators are very close to being a championship team in many regards, but still are not quite there.
Craig Anderson has played okay this season, Erik Karlsson has shown he has a bright future in front of him, they have two thirty-plus goal-scorers (Jason Spezza and Milan Michaelek), and team captain and probable future Hall of Famer Daniel Alfredsson is almost there with 27.
Ottawa lacks depth after their first line (Michaelek-Spezza-Alfredsson), and there is a pretty significant fall-off on defense after Karlsson. Sergei Gonchar is not the same defenseman who played in five all-star games in the early to late 2000s and won a Stanley Cup three seasons ago.
The Senators simply don't match up well against the higher-seeded teams in a best-of-seven series, but could pull off an upset with a little luck and a lot of hard work.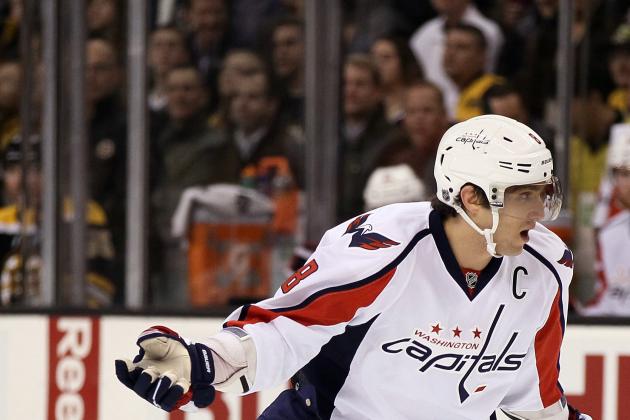 Elsa/Getty Images
Alexander Ovechkin hasn't matched his high-level of play this season.
It looked like the Capitals had everything in place to make a serious run for the Cup this year. Lethal scoring, strong two-way defense, and the addition of a proven NHL goaltender in Thomas Vokoun.
However, something went wrong in Washington, and they now have the No. 8 seed in the playoffs.
The Caps need more offense. Ovie has 36 goals, and two players (Alexander Semin and Jason Chimera) have only 20 goals. A team this loaded with offensive skill shouldn't be producing this little. Losing Backstrom for half of the season didn't help.
Vokoun hasn't been all that bad for Washington, he's just had very little help in front of him.
The Capitals are still a very good team, and if they can find a way to turn up their game for the postseason, they will definitely be able to beat some teams.
Bruce Bennett/Getty Images
Ryan Miller's play will determine the Sabres' season.
There is still a chance for the Buffalo Sabres to sneak into the playoffs.
Injuries are really hurting the Sabres right now, but they rallied twice last night to beat the Toronto Maple Leafs 6-5 in overtime to keep their playoff hopes alive.
The Sabres have a lot of potential, but they're just not there yet.
Ryan Miller can carry a team a long way (just ask Brian Burke and the rest of the 2010 United States Men's Olympic Hockey Team), and will have to play out of this world if the Sabres have any chance of winning in the postseason.
The Sabres top line of Jason Pominville (72 P), Thomas Vanek (59 P) and Derek Roy (43 P) account for most of team's production, and their defense is a little lacking in shutdown capability. The Sabres aren't the toughest team in the league by a long-stretch and simply not yet ready to win a championship.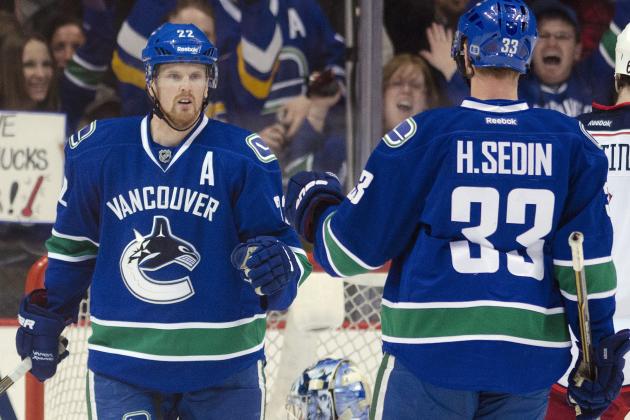 Rich Lam/Getty Images
The Canucks were one game away from a Cup last season.
After losing the Stanley Cup in the seventh game of the finals last season, the Canucks are a definite contender, even a favorite to redeem themselves and win it all this season.
Roberto Luongo is the question mark for the Canucks. He looked shaky at times in last year's playoffs, losing the starting job at one point, and the word "choke" was casually tossed around by analysts.
Luongo has presumably learned from last year's experience and shouldn't look as rattled this year. He has proved himself to be a big-game player, leading Team Canada to a gold medal in the 2010 Winter Olympics, but like Lundqvist in the East he has to prove he can battle all the way to raising the Cup in June.
The Canucks have all the talent in the world, but not enough grit. The playoffs are a battle, and the Canucks lack a group of gritty, role players who don't shy away when the opposition turns up the physical play. That's really how Boston beat them last season.
A little more banging and solid goaltending from Luongo, and Lord Stanley is the Canucks' to lose.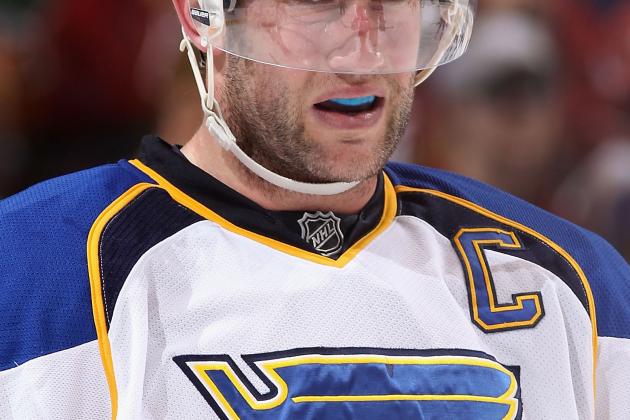 Christian Petersen/Getty Images
Backes and the Blues have the league's best overall record.
The Blues are probably this season's most surprising team. Behind the goaltending tandem of Brian Elliott and Jaroslav Halak, the Blues are still contending for the President's Trophy in the final week of the season.
Surprisingly, the Blues have been this successful without a single 25-goal scorer and only one player with more than 20 (team captain David Backes has 24).
It's hard to say St. Louis needs to improve at scoring with Elliott playing so well in goal, but whatever happened during the season doesn't matter once the playoffs start. Elliott has has three playoff starts on his résumé, and Halak has nine playoff wins, all of which came during a 2010 run with Montréal.
The Blues will need to have some goal scorers step up in the playoffs, especially if their goaltending duo falters. It will be interesting to see how the Blues handle a seven-game series against an equally defensive team like Nashville or Detroit.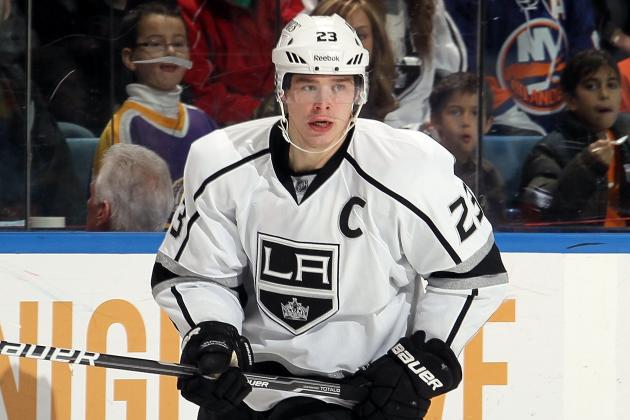 Jim McIsaac/Getty Images
Dustin Brown captains the Kings. Does that make him the...king of Kings?
The Kings have had an interesting season. Despite a roster full of traditionally high-scoring players including Anze Kopitar, Mike Richards and Dustin Brown, the Kings have only scored 187 goals in 80 games this year.
They absolutely need second- and third-line players like Dustin Penner, Simon Gagne and Jeff Carter, who missed much of the season because of injury, to play a more prominent role in order to advance through the postseason.
The Kings' defense features offensive threat Drew Doughty and the heavy-hitting Matt Green (a.k.a. Hawk), and All-Star Jon Quick has been solid in between the pipes this season.
All the pieces are there, and if the Kings can ride a hot streak in the playoffs, they will be a very dangerous team.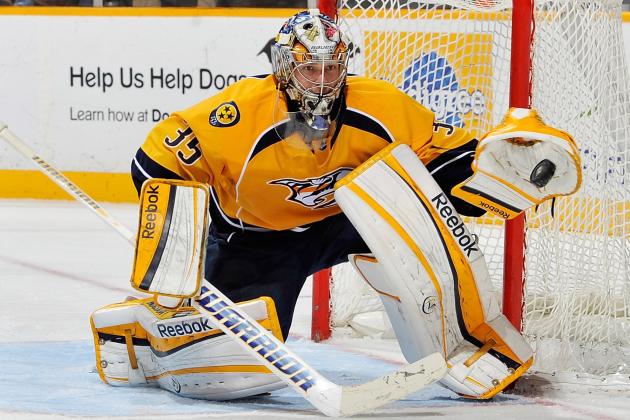 Frederick Breedon/Getty Images
Pekka Rinne is a candidate for this year's Vezina Trophy.
The Nashville Predators are known for a playing a tight defensive system under head coach Barry Trotz.
Pekka Rinne played huge in net for the Predators in last season's playoffs, but the team couldn't get past the Canucks in the Conference Semifinals because of a lack of scoring.
This year, the team tried to fix holes in their line-up at the trade deadline by acquiring shutdown defenseman Hal Gill, who won a cup with Pittsburgh in 2009, and Andrei Kostitsyn, a potential 20-goal scorer who joins his brother Sergei in "Music City."
Neither defense nor goaltending are an issue for Nashville, and scoring has been pretty good and relatively balanced this year, but they lack a true, lethal scoring threat to answer the call when they need that big goal.
Nashville hopes Alex Radulov, dubbed at the beginning of this year as the "best player not in the NHL," can fill that role after he returned to the team a few weeks ago after several successful seasons in the Russian Superleague.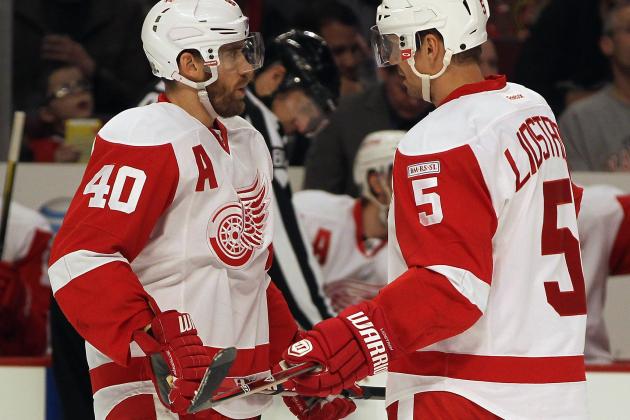 Jonathan Daniel/Getty Images
Nick Lidstrom hopes to cap a hall-of-fame career with Stanley Cup #5...like his number!
Detroit should never be counted out of contention.
Players like Nicklas Lidstrom, Thomas Holstrom, Johan Franzen, Henrik Zetterberg and Pavel Datsyuk lead a group of Red Wings with tons of playoff experience. It's hard to play against the Red Wings, especially at home in the playoffs, and no matter where they finish they should be considered a legitimate favorite.
Jimmy Howard has two postseasons under his belt, and has established himself as a number one NHL goaltender.
It's almost a cliché, but the thing that might keep Detroit from advancing is their age. Injury or fatigue to a top player might prevent this year's Red Wings from winning the franchise's 12th Stanley Cup.
Much of the team's depth is full of youth, and it is their time to step up for Detroit, playing with speed, toughness and strong defense to compliment the veterans' experience.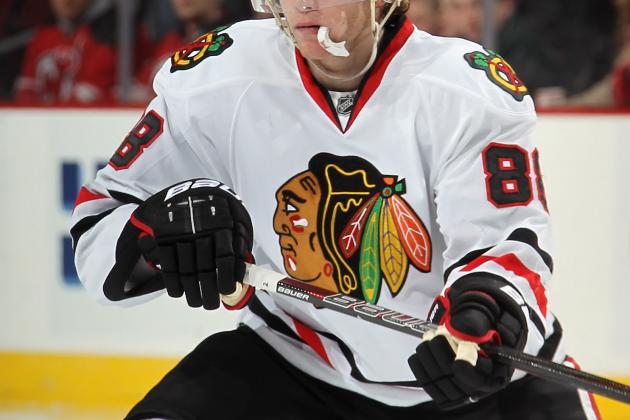 Bruce Bennett/Getty Images
Patrick Kane scored the 2010 Cup-clinching goal.
After a disappointing 2011 season, the Blackhawks are ready for another playoff run. They're young, they're fast, they're very skilled and they can score.
The defense isn't quite what it was when they won the Cup in 2010, but Duncan Keith, the 2010 Norris Trophy winner, still leads the blueliners.
The biggest question for the Blackhawks is in net. Neither Corey Crawford nor backup Ray Emery have outlandish statistics, and Crawford has never won a playoff series.
The Hawks might be able to pull of a few early-round upsets, but another Stanley Cup doesn't appear on the horizon.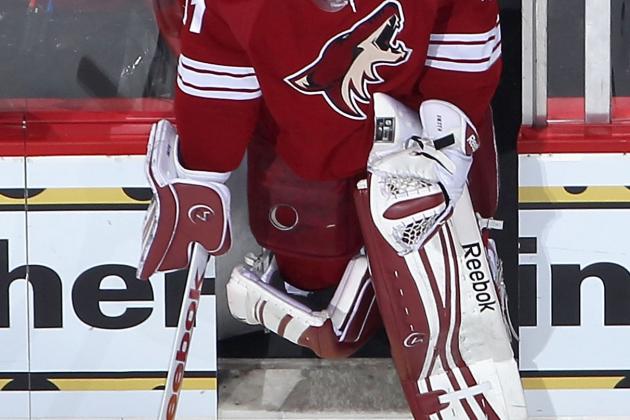 Christian Petersen/Getty Images
Mike Smith has emerged as a legitimate NHL starter in Phoenix this season.
The Coyotes have never been able to make it past the first round of the playoffs in their 14-season existence, most recently losing to Detroit in the Conference Quarterfinals in back-to-back years. After losing starting goaltender Ilya Bryzgalov to the Flyers this off-season, many wrote off the 'Yotes.
However, Mike Smith stepped up and had a big hand in leading Phoenix into playoff contention this year.
Experience is the biggest question for the Coyotes. Smith has played in three NHL playoff games. Much of the team is equally inexperienced in the postseason, at least in terms of winning, save for 40-going-on-41-year-old winger Ray Whitney.
The Coyotes might, for the first time in franchise history, be able to win a playoff series with enough of a push, but it's tough to win in the Western Conference as a lower seed.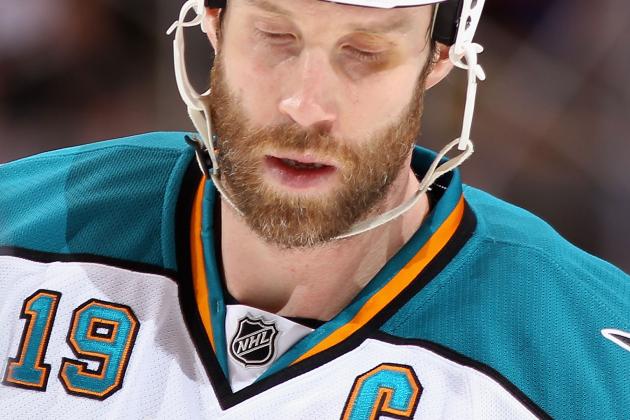 Christian Petersen/Getty Images
Joe Thornton and his Sharks try to shake the playoff curse.
Only one word can describe San José's post-seasons since entering the league in the 1991-1992 season: Disappointing.
The Sharks have lost in the Conference Finals the past two seasons and before that failed for years to make it past the Conference Semifinals, despite annually finishing near the top of the Western Conference standings since the lockout and having a roster loaded with talent.
Perhaps lower expectations will serve the Sharks well.
They have a Stanley Cup-winning goaltender in net, a high-scoring offense, and quick offensive defensemen in Dan Boyle and Brent Burns.
The thing holding this year's Sharks team from a championship is the lack of shutdown defensemen. San José gives the opposing team too many chances and can't rely on Antti Niemi to stop everything.
Like the eighth-seeded Capitals in the East, and the Kings from the same Pacific Division, if the Sharks can get it going, they have a legitimate shot to advance in the playoffs.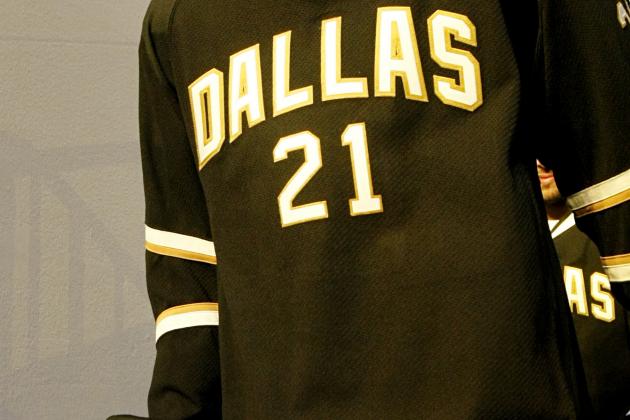 Brandon Wade/Getty Images
Loui Eriksson leads the Stars with 70 points.
Another team not quite yet there, the Stars still have a chance at making the postseason.
The team is fairly young, but very good and offensively talented.
The team lacks depth after its top four scorers, Loui Eriksson (70 P), Jamie Benn (63 P), Mike Ribiero (63 P) and Michael Ryder (62 P). Young gun Alex Goligoski leads the defense with 29 points, and goaltender Kari Lethonen has 32 wins and an impressive .923 save percentage.
The Stars might be able to surprise a team early in the playoffs if they qualify, but are not equipped for a lengthy run.