2012 NFL Mock Draft: Prospects Who Will Light Up Highlight Reels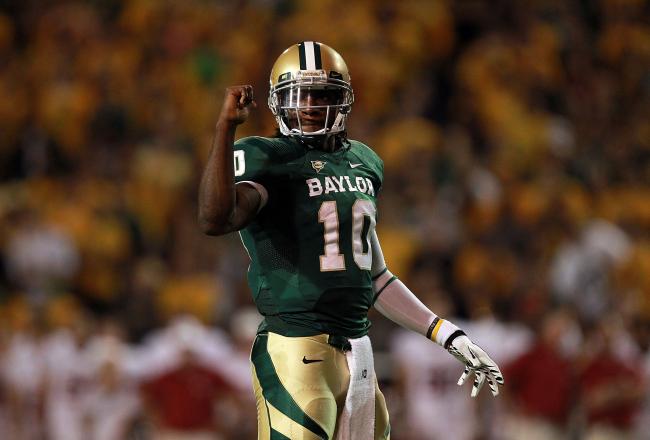 Ronald Martinez/Getty Images
Everybody loves the afterburners, big hitters, game-breakers, tackle-shakers, circus-catchers, collapsing-pocket escapees and bulldozing backs.
Because who doesn't love a good highlight reel?
On this edition of the mock draft, I've compiled a list of the first-round players I think will be highlight-reel heroes in the NFL.
Enjoy.
1. Indianapolis Colts: Andrew Luck, QB, Stanford
He'll have a lot of pretty passes, though I'm not sure they'll make you stand up out of your chair and yell, "Hot damn!"
2. Washington Redskins: Robert Griffin III, QB, Baylor *
Griffin will have pocket-escaping highlights. He'll have highlights where he flicks his wrist and the ball rockets 40 yards down the field in a tight spiral. He'll have long touchdown runs where he jukes and outruns opponents.
Think Donovan McNabb in his prime, but a little faster and a slightly stronger (and certainly more accurate) arm, though maybe not quite as agile.
3. Minnesota Vikings: Matt Kalil, OT, USC
Unless you love pancakes, I'm not sure Kalil will be lighting up any highlight reels.
4. Cleveland Browns: Trent Richardson, RB, Alabama

His muscles are so massive, the earth is attracted to his gravitational pull. His offensive line knows to keep an appetite since he regularly has reservations for six. Referees can be seen making the touchdown signal as soon as he receives the handout.
He is the most interesting running back in the NFL draft.
5. Tampa Bay Buccaneers: Morris Claiborne, CB, LSU
Unless you enjoy lock-down coverage, Claiborne probably won't be rocking the highlight reels.
6. St. Louis Rams: Justin Blackmon, WR, Oklahoma State
I still think Blackmon is a bit overrated, but that doesn't mean he isn't a playmaker. His size, strength, speed, agility and leaping ability make him a rookie you'll want to keep an eye on this year.
St. Louis may not keep this pick, but if it does, don't be surprised to see it select Blackmon and make Sam Bradford very happy.
7. Jacksonville Jaguars: Michael Floyd, WR, Notre Dame
He's more a possession receiver at the next level than a highlight hero. He might be a reach here as well, but the Jaguars need a receiver so bad they won't care.
8. Miami Dolphins: Ryan Tannehill, QB, Texas A&M
Tannehill keeps climbing up boards, but I think he's a year or two away from being an NFL starter. You know, the way it used to work.
9. Carolina Panthers: Quinton Coples, DE, North Carolina
I don't think he'll ever be an elite pass-rusher, but he'll be a very good pass-rusher who is just as good at stopping the run.
10. Buffalo Bills: Riley Reiff, OT, Iowa
The Bills could use a left tackle. If they think Reiff is more suited to play the right side, they could go with a different tackle here, but Reiff is the best one on the board at this selection.
11. Kansas City Chiefs: Dontari Poe, NT, Memphis
Nose tackles are highlight-reel material. Well, unless you were a nose tackle in your playing days and love watching the big nasties do battle.
12. Seattle Seahawks: Melvin Ingram, DE, South Carolina
I've seen Seattle going after linebacker Luke Kuechly here, but I think it'll look to improve its pass rush instead.
13. Arizona Cardinals: Jonathan Martin, OT, Stanford
Kevin Kolb isn't going to protect himself.
14. Dallas Cowboys: David DeCastro, OG, Stanford
A great player for a huge need. The perfect scenario for Dallas here.
15. Philadelphia Eagles: Michael Brockers, DT, LSU
After the loss of Jason Peters here, the Eagles will be looking at offensive lineman in the draft. However, with the elite tier of lineman gone, the Birds will probably wait to address the need with one of its two second-round picks and go for the instant upgrade at defensive tackle instead.
16. New York Jets: Courtney Upshaw, OLB, USC
The Jets need pass-rushers at the edge of the 3-4. They get one here.
17. Cincinnati Bengals: Dre Kirkpatrick, CB, Alabama **
Kirkpatrick is a steal here.

18. San Diego Chargers: Nick Perry, OLB, USC
Perry could end up shooting even higher off the board than this, though if he remains in this spot he'll be a nice upgrade for San Diego's pass rush.
19. Chicago Bears: Kendall Wright, WR, Baylor

Wright doesn't have the top-end speed or explosion of a DeSean Jackson, but he'll fill a similar role the Bears—deep threat and a dangerous option on wide receiver screens, reverses and generally passes that don't expose him over the middle.
That will work perfectly, given he'll pair with Brandon Marshall, who will fill the possession receiver role. Cutler's big arm and Wright's speed will pair for quite a few long touchdowns next season.
20. Tennessee Titans: Janoris Jenkins, CB, North Alabama

With Cortland Finnegan gone, the Titans need to address the cornerback position.
21. Cincinnati Bengals: Alshon Jeffery, WR, South Carolina

He may not be a highlight hero outside of some crazy leaping touchdown catches given he'll be paired with A.J. Green, who will claim most of the highlight reels. What a scary pair these two would be.
22. Cleveland Browns: Stephen Hill, WR, Georgia Tech
Who will be the most highlight-worthy NFL player?
With his size, speed, strong hands and deep-threat capabilities, it's impossible to look at Hill and not think he could end up being a poor man's Randy Moss.
The Browns could use that sort of playmaker on offense. If they roll the dice and go after both Richardson and Hill, they'll be incredibly compelling to watch on offense in the near future.
23. Detroit Lions: Peter Konz, C, Wisconsin
Nobody watches highlights of centers except for offensive line coaches. You know it's true.
24. Pittsburgh Steelers: Brandon Thompson, DT, Clemson
This could also be Alabama's Dont'a Hightower, but this team needs to add youth to the interior of the defensive line more than it needs to do so at middle linebacker.
25. Denver Broncos: Devon Still, DT, Penn State
They could add a wide receiver for Peyton Manning, but I think they're better served continuing to improve the defense.
26. Houston Texans: Luke Kuechly, MLB, Boston College
He'll be a tackling machine and should be a solid replacement for DeMeco Ryans.

27. New England Patriots: Whitney Mercilus, DE, Illinois ***
Mercilus seems like a Bill Belichick guy to me, especially given he fills a need as a 3-4 edge-rusher.
28. Green Bay Packers: Fletcher Cox, DT, Mississippi State
The run of defensive linemen in the first round continues with Cox, who will provide a much-needed improvement to Green Bay's defense.
29. Baltimore Ravens: Cordy Glenn, OG, Georgia

After failing to lure Evan Mathis away from Philadelphia, the Ravens will fill a need at guard with Glenn.
30. San Francisco 49ers: Stephon Gilmore, CB, South Carolina

If corner doesn't work out, Gilmore looks like he has the body type to play safety as well.
31. New England Patriots: Jamell Fleming, CB, Oklahoma

Fleming will provide a much-needed upgrade in the secondary for a team that was just awful against the pass last year.
32. New York Giants: Zach Brown, OLB, North Carolina
As athletic a player in this year's draft, Brown would represent a risk for a lot of teams given some character and maturity issues. However, in New York's locker room, he'll learn quickly he needs to handle his business.
* The Redskins traded the sixth pick in the first round, along with their second-round pick this year and first-round picks in 2013 and 2014, to St. Louis for the second overall pick.
** From Oakland in the Carson Palmer trade.
*** From New Orleans in last year's Mark Ingram trade.
Hit me up on Twitter—my tweets will remain Linsane in tribute.

This article is
What is the duplicate article?
Why is this article offensive?
Where is this article plagiarized from?
Why is this article poorly edited?