WWE WrestleMania 28 Results: Mike Tyson and the 28 Most Awesome Moments of Mania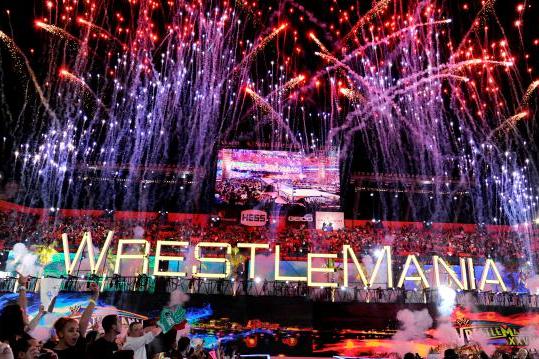 Courtesy of WWE.com
WrestleMania 28 was one of the greatest nights the sport of wrestling has ever seen.
From the Undertaker battling Triple H for three-quarters of an hour to Sheamus's 18-second knockout of Daniel Bryan, each match and promo was packed with drama, excitement and craziness.
There were undoubtedly several matches that will go down among the greatest of all time, yet there were 28 moments from WrestleMania night that stood out to me.
Follow along with me, won't you?
Begin Slideshow

»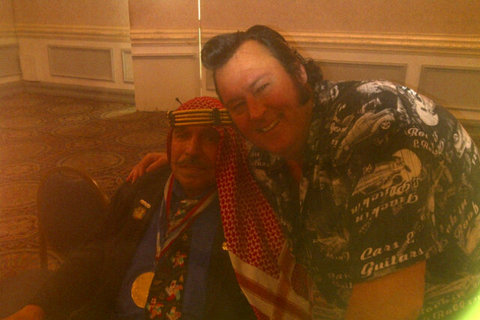 Courtesy of @the_ironsheik via Twitter
You have to love this shot taken Saturday night prior to the Hall of Fame festivities of two of the biggest stars in wrestling from the 1980s.
If you don't follow the Iron Sheik on Twitter, you are missing out. (Children under 18 not admitted without parent.)
#TeamSheikie!
During the pre-WrestleMania promos, they constantly showed clips of The Rock as a young Dwayne Johnson. What a darling little Rock—er, Pebble—he was!
This isn't the image, but it gives you an idea of how adorable the Little Rock was as a youngun'.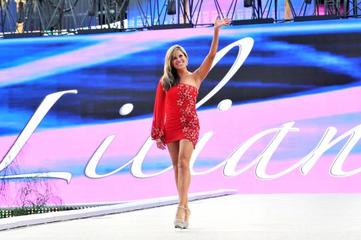 Courtesy of WWE.com
It was moving to hear Lilian Garcia sing "America the Beautiful" with members of the Armed Forces standing behind her presenting the colors.
It was a great moment.
She was wearing a ridiculously short skirt, too, so it's all good.
She even sang the second verse of the song that no one knows. Kudos to her for knowing it!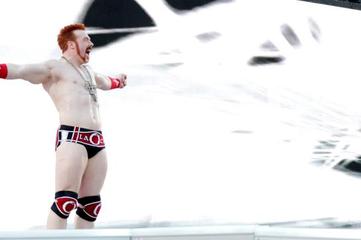 Courtesy of WWE.com
When Sheamus made his entrance for his title match against Daniel Bryan, I honestly couldn't see him [insert John Cena joke here] plastered against the all-white background.
OK, his cartoonishly red-dyed hair and beard stood out, but I couldn't tell where the background ended and his body began.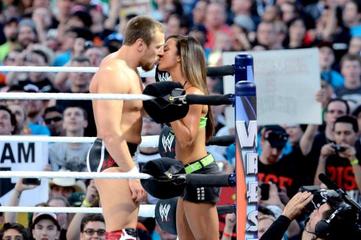 Courtesy of WWE.com
OK, Daniel Bryan's kind of a tool.
But mad props for making out with A.J. She looked fantastic...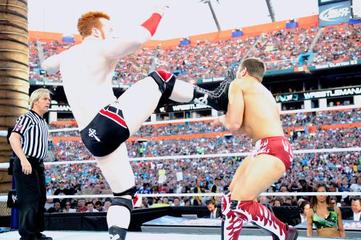 Courtesy of WWE.com
...for all 18 seconds Bryan survived in the ring against Sheamus.
The Celtic Warrior ended the match in a hurry with a Brogue Kick to Bryan's face, claiming the World Heavyweight Championship in what was really about a two-second match.
Said the announcers, "That good-luck kiss [from A.J.] turned out to be a kiss goodnight."
It was an awesome surprise, and we were off to a smashing start.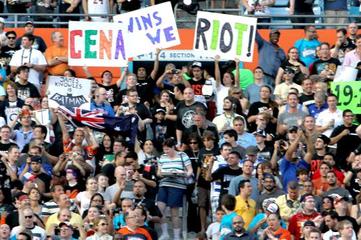 Courtesy of WWE.com
From the get-go, the anti-John Cena sentiment—and signage—was palpable.
Why does everyone hate him so much?
Sure, he's kind of boring. And he can't rap to save his life. ...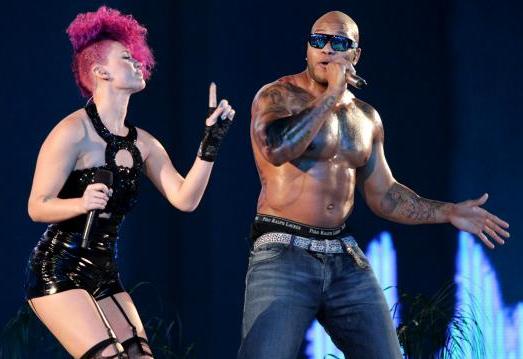 Courtesy of WWE.com
But that hasn't stopped Flo Rida, has it?
Was it just me, or did he struggle mightily to stay up to speed with his lip-synching?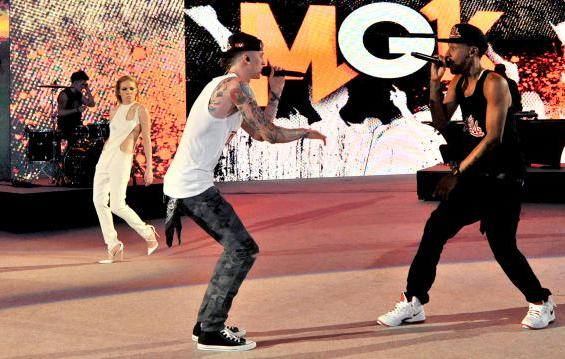 Courtesy of WWE.com
And speaking of terrible musical acts, who in the name of STP, SRV and BBD is MGK?
They were so bad, I nearly tore my ACL running to the WC to pick up some IMODIUM A-D to fix the problems in my lower GI area.
They were so bad, they made Flo Rida look like freaking James Brown.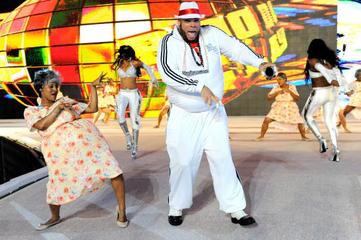 Courtesy of WWE.com
And speaking of terrible musical acts, all I could say to the performance of the Funkasaurus, Brodus Clay, was "Wow!"
It was nice to call his momma on a Sunday and all—"We at WrestleMania, Momma!"—but between Momma Clay and her "Bridge Club," I'm surprised the stage held up with all of the bootyshakin' that went on.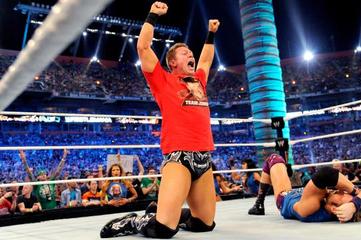 Courtesy of WWE.com
And what about The Miz's promo with the rest of Team Johnny prior to their tag-team match with Team Teddy?
The Miz tried to psych up his team, but they wouldn't listen to him, and they all went back to their inane pre-match conversations.
Then John Laurinaitis came in, dressed in an all-white suit and a blood-red tie. Like Jerry Lawler said later, he looked like Colonel Sanders.
Of course, the team members listened to him. He's the GM.
I don't know about you, folks, but I'd rather take advice from the guy who's been on Real World.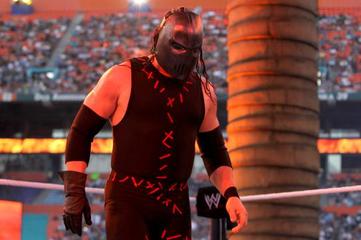 Courtesy of WWE.com
Yes, Kane is huge.
Yes, this was his 14th Wrestlemania.
Yes, he dresses in red-tinged outfits.
But do we have to keep calling him the Big Red Monster?
It just seems icky.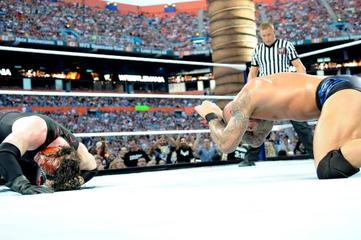 Courtesy of WWE.com
I know this is part of Randy Orton's normal repertoire, but it reminded me of this, the "most illegal thing I've seen in the history of wrestling!" aka the greatest moment in pro wrestling history.
So I liked it.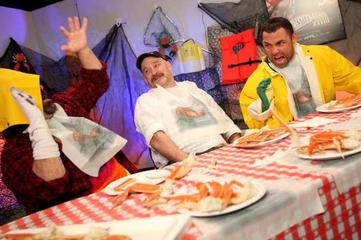 Courtesy of WWE.com
Mick Foley, Deadliest Catch captain Keith Colburn and Santino Marella sat down for a promo in which they treated themselves to a crab-filled feast.
But as WWE.com suggested, "The elaborate dinner devolves into a boorish chow-down between Mr. Socko and The Cobra."
Thankfully, Ron Simmons restored order with his trademarked "DAMN!"
Hilarity ensued.
Prior to the Big Show's match against Cody Rhodes in which he won the Intercontinental Title, they showed this clip from Big Show's past:
"WrestleMania! Wooooooooo!"
Between that and his sumo match against Akebono at WrestleMania 21, Big Show has quite the Mania resume.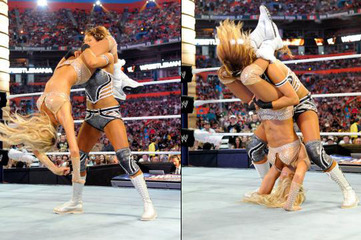 Courtesy of WWE.com
Say what you will about the Divas Division, but Kelly Kelly's flip and somersault move off the top turnbuckle to take down Eve was remarkably athletic.
Not bad for the girl so nice they named her twice.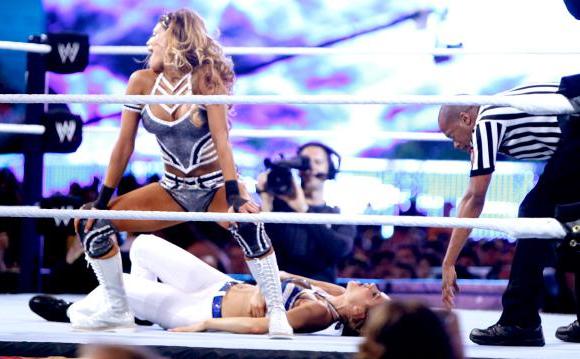 Courtesy of WWE.com
Also of interest in the Divas match was Eve's...ahem...stripper-style butt-shake over a fallen Maria Menounos.
Of course, the Extra star got her revenge, rolling up Beth Phoenix for the win a few minutes later.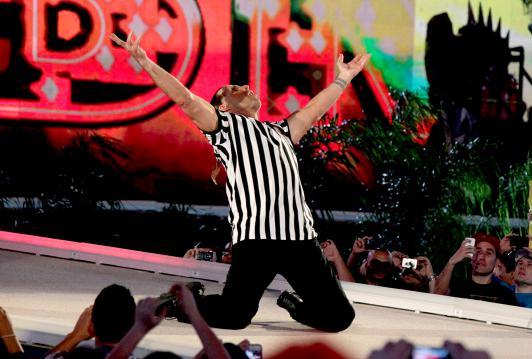 Courtesy of WWE.com
One of the funniest, most disconnected moments of WrestleMania was seeing a fat, out-of-shape Shawn Michaels saunter and dance his way to the ring to his trademark tune, "Sexy Boy."
We get it, HBK, you're retired.
But coming out to referee the Undertaker-Triple H match in your untucked referee shirt with baggy, black pants and combat boots on?
C'mon, man. Show some professionalism. You only left the sport a few years ago.
And if you're taking the Betty Draper approach to diet these days, at least change your entrance song to something more appropriate.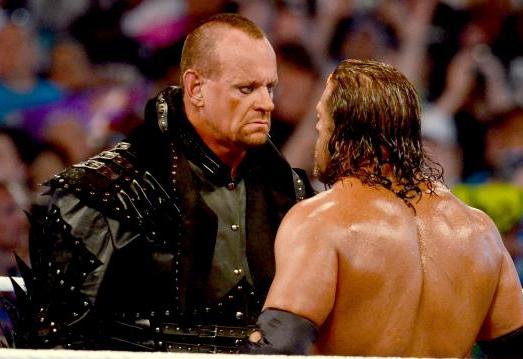 Courtesy of WWE.com
Yes, he was wearing enough mascara around his eyes to kill a cow, but the Dead Man's new haircut looked awesome.
As one onlooker mentioned, "His new haircut makes him look 20 years younger!"
"Very true," I responded. "He only looks about 45 now."
Also cool? As it was a "Hell in a Cell" match, the chain-link fence was shortly thereafter lowered onto the ring. And the Cell got its own entrance music! And it was Metallica, no less!
Congratulations, Hell in a Cell! You have officially arrived.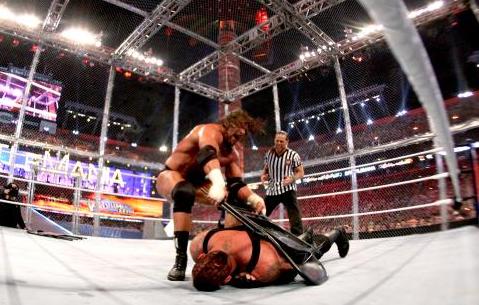 Courtesy of WWE.com
The Undertake-Triple H "End of an Era" match was an amazing, back-and-forth affair that lasted around 45 minutes in total.
There were times Hunter dominated the Dead Man with a chair he yanked out from underneath the ring. And there were moments when the Undertaker looked like he had no regard for human life, beating the living hell out of Triple H and even abruptly (and confusingly) locking referee Shawn Michaels in his patented "Hell's Gate" maneuver.
But the most fascinating part of the match was that Michaels, with his ties to both competitors, spent a good portion of the match trying to prevent them from destroying each other.
For long periods of time, HBK even leaned into a neutral corner with a confused, concerned look on his face, hating to see either of his amigos lay waste to the other.
He didn't know who to help or who to root for. He just sat in the corner, crying and gesturing like a mental patient. Great drama.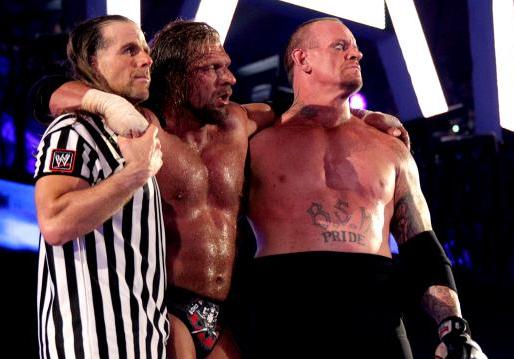 Courtesy of WWE.com
Finally, after all of the carnage of this momentous match, I loved how the Undertaker—even after 45 minutes of blood, sweat and tears—helped Michaels carry the beaten Triple H from the ring.
It was a great moment of sportsmanship and a wonderful shot of the three legends together in the ring, perhaps for the last time.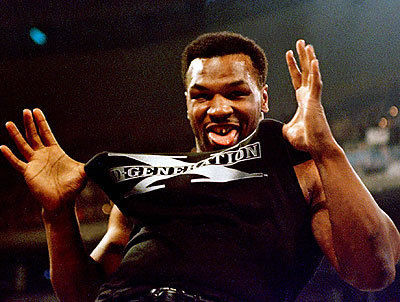 Between the Undertaker-Triple H match and the Team Johnny vs. Team Teddy brawl for who controlled Raw and Smackdown, they introduced the members of the Hall of Fame's class of 2012.
The highlight, of course, was Mike Tyson, who continually made the faux-pornographic D-Generation X motion when his name was announced.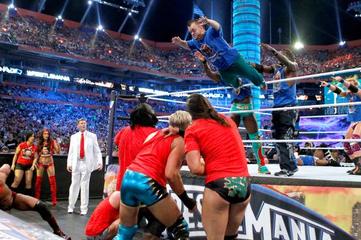 Courtesy of WWE.com
Any Hornswoggle appearance is likely to be noteworthy, and there were several classic moments at WrestleMania from the WWE personality tapped to star in the remake of The Leprechaun.
At one point, he was caught on camera slamming on the side of the ring to urge on one of his teammates. (Someone needs to make a GIF of that immediately.)
And this photo caught another terrific moment, as Hornswoggle was thrown out of the ring and at his opponents outside the ring.
Of course, Mark Henry caught the minuscule competitor and tossed him aside like an empty cheeseburger wrapper, but, hey, at least the little guy was involved in the match.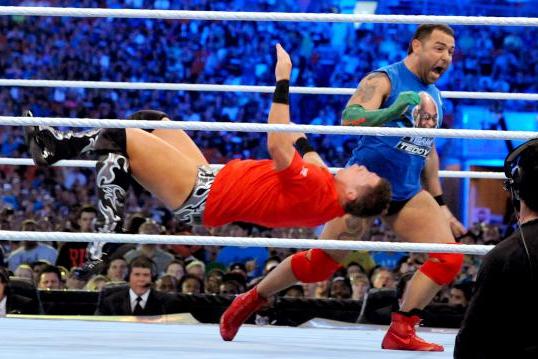 Courtesy of WWE.com
Equally entertaining in the big tag-team match was the completely nutty and always hilarious Santino Marella, who almost won the match for Team Teddy with the help of The Cobra.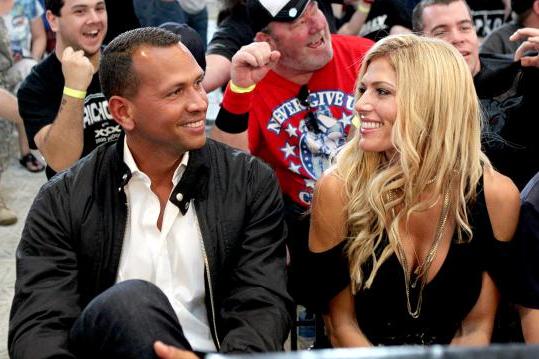 Courtesy of WWE.com
And then, of course, came the ridiculous highlight to end all ridiculous highlights.
Alex Rodriguez of the New York Yankees was spotted in the crowd with girlfriend and former WWE Diva Torrie Wilson.
As ESPN hostess and renowned wrestling fan Michelle Beadle justifiably tweeted:
Dear @wwe please don't show a-rod again. Sincerely, the 8 people at my house. #WrestleMania

— Michelle Beadle (@MichelleDBeadle) April 2, 2012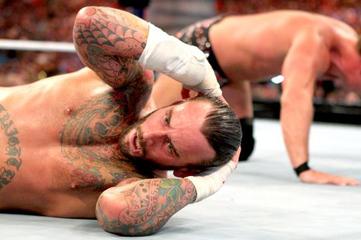 Courtesy of WWE.com
"How's your father?"
"How's your sister?"
"Your father's a drunk."
"Your sister's a drug addict."
During their exciting bout for the WWE championship belt, Chris Jericho taunted CM Punk nonstop in hopes of getting the Second City Saint to lash out and bash him with a chair. Such an outburst would have resulted in a disqualification, which—due to a questionable mid-event decision from John Laurinaitis—would have resulted in Punk being stripped of the title and it being awarded to Jericho.
As we all know, it didn't work.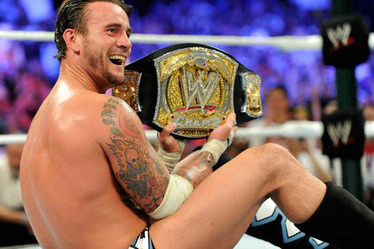 One of the greatest highlights of all?
CM Punk's ridiculously timed, yet incredible smile that cropped up sporadically during his hard-fought win over Chris Jericho.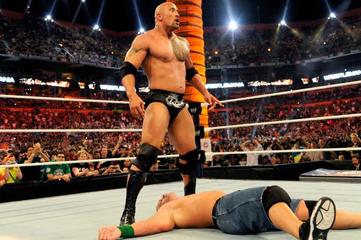 Courtesy of WWE.com
The Rock may have been away from the ring for a while.
But he's still an incredible athlete, and he displayed that to the max in his win over John Cena.
Whether it was jumping up off the mat from his back, his roll-over pin attempt or his flying leap off the top turnbuckle, he didn't look so bad for an old guy.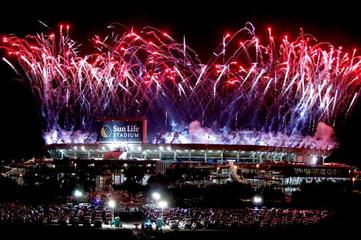 Courtesy of WWE.com
There were obviously a myriad of moments that made WrestleMania 28 the exciting event that it was. But these were the 28 that stood out most in my mind.
But what did I miss? What were your favorite memories from one of wrestling's greatest nights ever?
I look forward to your comments, and thanks for reading.