Kentucky vs. Kansas: Bill Self Proving Brilliance During Jayhawks Run
April 2, 2012

Streeter Lecka/Getty Images
Bill Self has quietly become one of the finest coaches in college basketball, but the Kansas Jayhawks leader doesn't receive the national recognition he deserves for his accomplishments.
That all changed on Sunday when Self was named the 2012 Naismith Coach of the Year, becoming the third coach in the history of the Jayhawks program to win the award.
"This is a terrific honor. When you think of postseason awards, anything that has (James) Nasmith's name in front of it is a huge award and certainly I'm very proud of this," Self said in a statement. "It is a reflection of how our team performed all year long. There are so many good coaches out there to choose from but I am honored they picked me."
One remarkable thing about many of Self's teams is they never give up, and no matter how much they fall behind early in games, his players always believe they can fight back and win.
Self always has his players showing a ton of confidence on the court, and this was apparent on Saturday when they mounted their extraordinary comeback to beat Ohio State in the Final Four. 
"These guys have been apart huge games. These guys have played as many big games as anyone in the country. I think they like the moment," said Self via CBS 12. "No team likes to sweat it out for 38 games, no teams does. But you got to play a lot of close games because as you get close in the season, you know you have to play close games to win it all."
Self's players don't get rattled by the bright lights and don't wilt under pressure, and you can see it in all the close games they have played this season. Self's coaching has a lot to do with his players' ability to finish games.
On Monday night, Self will appear in his second national championship game with Kansas, looking to capture his second title.
In 2008 he beat John Calipari's Memphis team led by Derrick Rose to win the national title, and as the underdog once again, Self's Kansas team could cut down the nets again at Calipari's expense. 
Self doesn't have the talent that Calipari has at Kentucky or that Roy Williams normally has at North Carolina, but he's a great teacher and is able to get the most out of his players. He also does it in a classy and respectful way.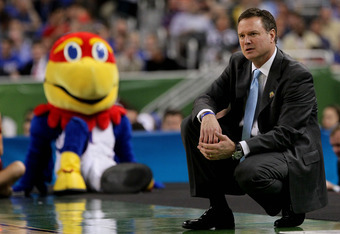 Chris Graythen/Getty Images
Self has won or clinched a share of the Big 12 championship every year he's been with the Jayhawks, but his success with the program is only beginning.
Self is forming a Hall of Fame-worthy career, and he can take another huge step in that journey with a second national title on Monday.
But even if Self's team loses to Calipari in the championship game, the Kansas coach has to receive more recognition for the amazing job he has done with his program.