Kentucky vs. Kansas: Michael Kidd-Gilchrist Will Lead Wildcats to NCAA Title
April 2, 2012

Kevin C. Cox/Getty Images
Michael Kidd-Gilchrist leads by example. He will also lead his Kentucky Wildcats to a victory over Kansas in the 2012 NCAA Championship Game.
His hustle, determination, competitive nature and will to win is something that his teammates feed off of. How can you look at what this guy is doing and not bring your A-game?
It's almost impossible.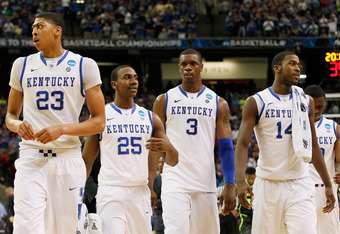 Kevin C. Cox/Getty Images
Anthony Davis may impact the game on the stat sheet, but Kidd-Gilchrist is up there with everything that doesn't involve points, rebounds, assists, steals and blocks. But he's not bad at racking those numbers up, either.
Kidd-Gilchrist does it all.
Aside from taking charges, forcing turnovers and doing all the little things the average fan misses, he averages 11.9 points, 7.5 rebounds, 1.9 assists, .9 blocks and one steal per game. He also shoots 48.9 percent from the floor.
Kidd-Gilchrist is one of those rare athletes nowadays that provides numbers and has a high effort level. Most of the extremely gifted basketball players simply rely on their athletic ability.
Not Kidd-Gilchrist.
He'll come to the floor ready to bring everything he has to get his coach John Calipari that elusive NCAA Championship.
If the Wildcats need a three-pointer, despite shooting from the perimeter being a downfall for Kidd-Gilchrist, he's capable of making timely shots outside. If the Wildcats need a clutch play late, he's capable of making necessary plays.
If the Wildcats need a stop, he's there. If they need a charge, he's in perfect position.
While Davis is in the mind of opposing players with his shot-blocking ability, Kidd-Gilchrist is every bit as important in the other aspects of the game.
He'll show the world why he is one of the best overall players in the country on Monday night.
Prediction: Kentucky 75, Kansas 70