2012 NFL Mock Draft: The Blue Collar Draft
April 1, 2012

Andy Lyons/Getty Images
With the real NFL Draft less than a month away some of the selections have already begun to solidify. As we get closer to draft day we'll start to see the experts with inside information change their mocks from what they think will happen to what they've been told will happen.
This mock draft is an attempt to give fans a reasonable look at what should happen on draft day. In my opinion NFL general managers have enough tricks up their own sleeves so I've refrained from adding any trades or surprise picks of my own.
The idea is that fans can read this and have a solid blueprint of who their team could draft without feeling that certain players of higher value were passed up so they could be around for a team that picks later, or have to wonder how the rest of the mock would have went if some unlikely trade hadn't been predicted in the top ten.
Here we go…
1.       Indianapolis Colts, Andrew Luck, QB Stanford
The Colts are lucky to replace Peyton Manning with the best quarterback to come out of the draft since Peyton Manning. Pretty Simple.
2.       Washington Redskins, Robert Griffin III, QB Baylor
The fact that anyone is even remotely willing to suggest, on any level, that the Colts might take Griffin III over Andrew Luck shows just how good he is. Griffin could be the best quarterback Mike Shanahan has ever coached.
3.       Minnesota Vikings, Matt Kalil, OT Southern California
Joe Robbins/Getty Images
The Vikings are in bad shape, but they did manage to walk away with the best QB in last year's draft in Christian Ponder, now they'll protect him with a future Pro Bowl left tackle.
4.       Cleveland Browns, Trent Richardson, RB Alabama
If Mike Holmgren isn't set on drafting Justin Blackmon in order to sour the Rams draft party then Richardson is the clear choice. When your Colt McCoy is your quarterback you're going to want to run the ball.
5.       Tampa Bay Buccaneers, Morris Claiborne, CB Louisiana State
Ronde Barber is back for 2012 but Aquib Talib is a different story. If Talib makes it back to Tampa then he'll pair with Claiborne to make what could be the best cornerback tandem in the NFL for years to come. Claiborne is by far the best player available anyways.
6.       St. Louis Rams, Justin Blackmon, WR Oklahoma State
The Rams were bold enough to know what Robert Griffin was worth to the Redskins and get all of it. Now they're lucky enough to draft the one player they wanted most all along.
7.       Jacksonville Jaguars, Riley Reiff, OT Iowa
People were quick to give up on Blaine Gabbert after he was thrown to the wolves in his rookie year. The GM seems to think he's added a deep threat in Laurent Robinson, now all Reiff has to do is buy time for him to get open.
8.       Miami Dolphins, Ryan Tannehill, QB Texas A&M
Mark my words Tannehill is not a first round quarterback. His arm is still developing, and he certainly isn't experienced at the position. The Dolphins are at the point where they just need someone, and Tannehill has leadership tools that are tough to come by and the skill set to develop into a starting quarterback, even if he isn't quite there yet.
9.       Carolina Panthers, Quinton Coples, North Carolina
Oh, what's that Charles Johnson? You want a bookend pash-rusher to split some of the blockers with? Have you met Quinton Coples?
10.   Buffalo Bills, Michael Floyd, WR Notre Dame
The Bills made serious noise signing Mario Williams, now they'll add a big target across from Stevie Williams for their franchise quarterback to throw to.
11.   Kansas City Chiefs, Dontari Poe, NT Memphis
Poe is possibly the most impressive nose tackle prospect to enter the league…ever. The Chiefs' defense is already better than people like to admit, adding a true top 5 NT could put them higher on a few radars.
12.   Seattle Seahawks, David DeCastro, OG Stanford
Matt Flynn chose Seattle because they had better receivers than the Dolphins. The Seahawks reward him by selecting the draft's second best offensive lineman
13.   Arizona Cardinals, Jonathan Martin, OT Stanford
The Cardinals move forward with quarterback Kevin Kolb and Levi Brown will move to right tackle. Martin was good enough to protect Andrew Luck for two seasons against top competition. The Cardinals can't afford to miss when it comes to fixing their offensive line.
14.   Dallas Cowboys, Michael Brockers, DT Louisiana State
It's hard to figure what Jerry Jones will actually do with his draft picks, but in this instance Brockers offers up enough upside, fit, and value to catch Jones' eye.
15.   Philadelphia Eagles, Fletcher Cox, DT Mississippi State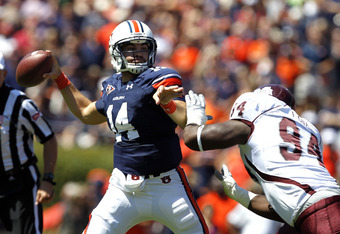 Butch Dill/Getty Images
After signing DeMeco Ryans the Eagles don't have as big a need at linebacker and can look to bolster their defense elsewhere. Andy Reid knows linemen win championships and Cox is a top ten talent.
16.   New York Jets, Melvin Ingram, South Carolina
Rex Ryan has three QB's that aren't exactly good at throwing a football. He also has a blitz-heavy defense without any pass-rushers. Rex will be glad to fix one of those areas with Ingram.
17.   Cincinnati Bengals, Janoris Jenkins, CB North Alabama
The Bengals are no strangers to troubled corners. They are however strangers to talented troubled corners. Jenkins almost seems too perfect a fit in Cincy and this isn't their only first round pick so they can afford to take a risk.
18.   San Diego Chargers, Nick Perry, DE Southern California
The Chargers need to create more big plays on defense. They're losing playmakers on both sides of the ball quicker than they're bringing them in and Perry's Physical tools will provide a safe option while offering a dynamic talent.
19.   Chicago Bears, Whitney Mercilus, DE Illinois
The Bears made a splash offensively by adding Brandon Marshall and would be smart to pony up for Matt Forte. In the draft they turn to a defensive player whose name strikes as much fear in quartebacks as his 16.5 sacks in 2011 do.
20.   Tennessee Titans, Stephon Gilmore, CB South Carolina
Cortland Finnegan followed Jeff Fisher to St. Louis. Mike Munchak can't allow people to start thinking the team has gotten worse since he took over. Gilmore is a different type of corner than Finnegan, but might also be less of a distraction.
21.   Cincinnati Bengals- Cordy Glenn, OG Georgia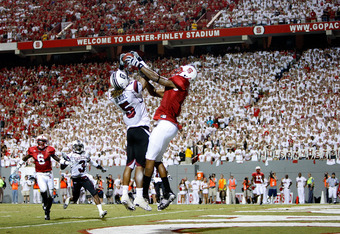 Streeter Lecka/Getty Images
The Bengals schooled the league on how to fix offensive woes in last year's draft. Now it's back to the chalkboard as the Bengals allow Janoris Jenkins to soak up the spotlight and quietly add a mauling guard to their blossoming offense.
22.   Cleveland Browns, Kendall Wright, WR Baylor
The Browns will have some flexibility here if they do the right thing in drafting Trent Richardson fourth overall. Dre Kirkpatrick could be an option, but I like adding another guy that can help the offense. Wright will help out Colt McCoy or any other quarterback that ends up with the Browns.
23.   Detroit Lions, Mike Adams, OT Ohio State
The Lions have been looking for an upgrade over Jeff Backus for a while now. Adams is that guy and will certainly help strengthen a team that's already shown they can contend with the best of them.
24.   Pittsburgh Steelers, Jerel Worthy, DT Michigan State
The Steelers have some age issues to deal with this offseason. Casey Hampton is on his last leg and there's no possible replacement in place. Worthy is small for a nose tackle but is strong enough to spell Hampton, and will add talent and youth where it is much needed.
25.   Denver Broncos, Devon Still, DT Pennsylvania State
The Broncos need help on their defensive line. Devon Still offers a solid anti-run presence in the middle and will eat up blockers allowing the Von-Doom duo to continue to rob quarterbacks of any sense of safety in the pocket.
26.   Houston Texans, Luke Kuechly, LB Boston College
The Texans have had a rough offseason losing both DeMeco Ryans and Mario Williams. Kuechly offers an injection of youth and athleticism that the Texans must have had in mind when they sent Ryans to the Eagles.
27.   New England Patriots, Andre Branch, OLB Clemson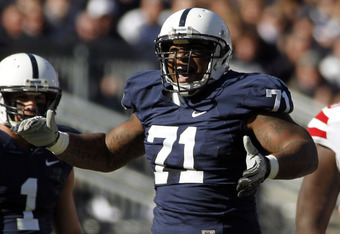 Justin K. Aller/Getty Images
Offensively the Patriots have had a nice offseason. Defensively they've lost Mark Anderson and still haven't re-signed Andre Carter which leaves serious questions about an already less than explosive pass rush. Branch is one of the more well rounded 3-4 linebackers in this draft.
28.   Green Bay Packers, Kendall Reyes, DE Connecticut
The Packers gave themselves some flexibility by signing Jeff Saturday to replace Scott Wells. Now they'll go back and draft Reyes to replace the loss of Cullen Jenkins in 2010.
29.   Baltimore Ravens, Dont'a Hightower, ILB Alabama
Ray Lewis isn't getting any younger, and the other inside linebacker in Baltimore is a free agent. Hightower can start right away and might be able to fill most of Lewis' shoes if he ever retires.
30.   San Francisco 49ers, Coby Fleener, TE Stanford
I'm not 100% sold on Fleener here, but I do think he would be the best addition to improve Jim Harbaugh's offense, and he's seen how much impact having two good tight ends can have.
31.   New England Patriots, Mark Barron, S Alabama
How do you improve the second worst passing defense in the history of the NFL? Well apart from an offseason program, you might want to add a solid safety to pair with Patrick Chung.
32.   New York Giants, David Wilson, RB Virginia Tech
The Giants just won the Super Bowl which as everyone knows means they don't have any draft needs. Seriously though, running back David Wilson out of Virginia Tech would make a nice replacement for Brandon Jacobs and he's probably tougher between the tackles.