5 Players Eli Manning Would Most Love for the New York Giants to Draft
Jeff Zelevansky/Getty Images

The 2012 NFL draft month is here, and in just a few weeks, teams will be making decisions that will impact their franchises for the next several years.
The New York Giants are not without holes, but just how much are they willing to risk to fix them? Will they take an offensive lineman in the first round or choose to stay the course and find them in the mid to late rounds?
Will they draft another playmaker with Mario Manningham gone or choose to find yet another pass-rusher for their lethal attack?
One thing is for sure, franchise quarterback Eli Manning has a list of favorites he hopes the Giants drafts. Of course, if you asked him, he would give the politically correct "whatever helps the team" answer.
In the back of his mind, he must have his eye on a few players. This article will speculate on five players the future Hall-of-Famer might like with the 32nd-overall pick.
Begin Slideshow

»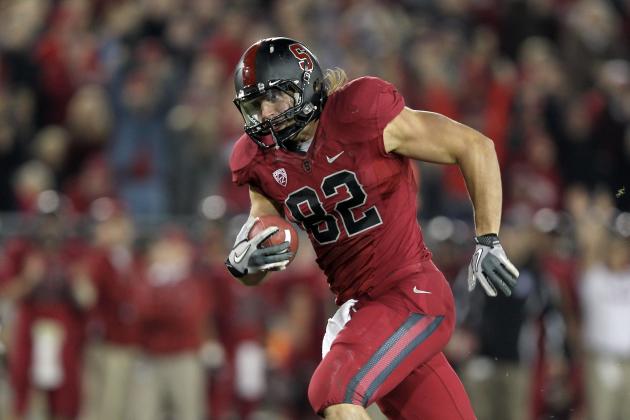 Ezra Shaw/Getty Images

How can you be an NFL quarterback and not hope to hell your team drafts Coby Fleener? The way the NFL is played today, the most successful passing offenses have a tight end that can successfully work the middle of the field and create mismatches.
Fleener would do just that for the Giants. True, they signed Martellus Bennett, who will be the starter this season, but he's only on for a one-year deal.
The Stanford product averaged 19.6 yards per reception with 10 touchdowns in 2011. He's got incredible size (6'5'', 241) and speed (4.45) that scouts will be drooling over.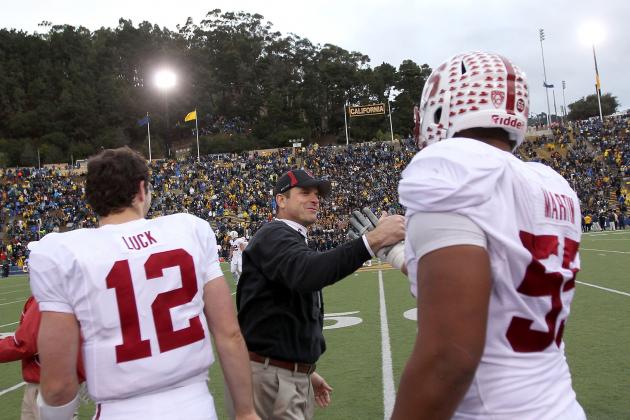 Ezra Shaw/Getty Images

Most mock drafts have Jonathan Martin, the man who protected Andrew Luck in college, falling in the 10-20 range, so the Giants would most likely have to make a move to get Martin.
But when you have a franchise QB like Eli Manning, moving up to take one of the premier left tackles is a smart move.
Will Beatty and David Diehl did not do Eli many favors in terms of protecting his blind side; in fact, Pro Football Focus ranked Diehl dead last in pass-blocking among offensive tackles with more than 200 snaps (he also ranked last with the guards).
Beatty was not ranked very high as well, falling in at No. 50. The Giants need to upgrade their offensive tackle position, and Jonathan Martin would do just that.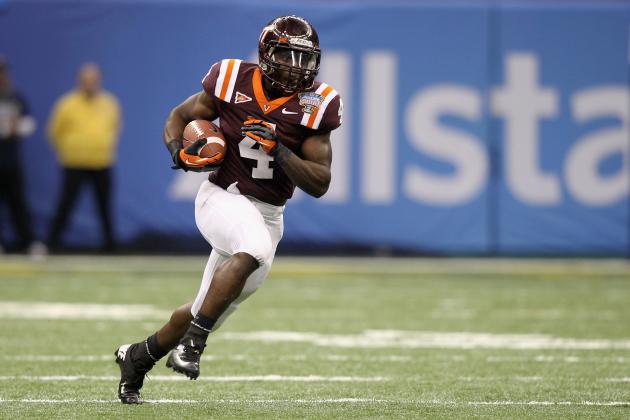 Matthew Stockman/Getty Images

With Ahmad Bradshaw battling injuries and not being much of a receiver out of the backfield, the Giants (and Eli Manning) would hugely benefit from taking a guy like David Wilson.
He had a spectacular combine to go along with his dominant 2011 season in which he ran for 1,709 yards and nine touchdowns.
He ran a 4.4 40 and led all running backs with an 11' broad jump and 41" vertical. He is very explosive and could be the eventual starter when Bradshaw inevitably hits a wall.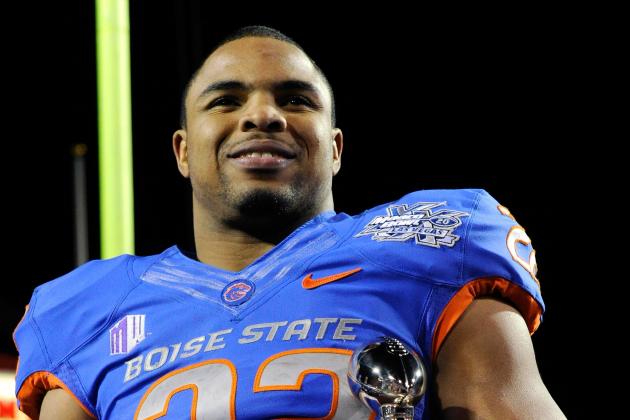 Ethan Miller/Getty Images

Other than Trent Richardson, Doug Martin looks like the most complete running back in the draft. He is a perfect blend of power and speed and also showed off incredible strength and the ability to be a good receiver out of the backfield at the combine.
Of the two running backs listed in this slide show, Martin is the better compliment to Bradshaw. He can be a goal-line and short-yardage specialist while also giving Bradshaw a break on third downs.
Martin reminds me of Maurice Jones-Drew in both his build and running style.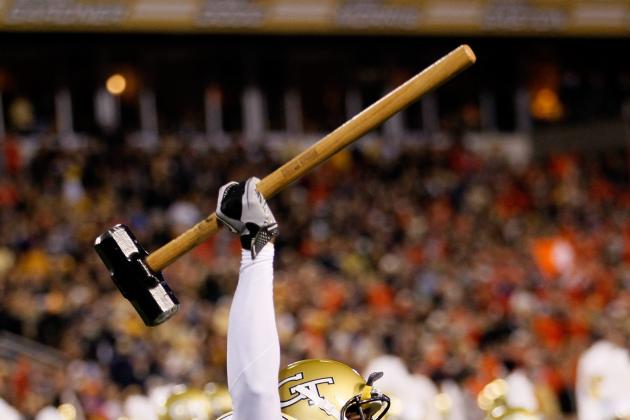 Kevin C. Cox/Getty Images

If Stephen Hill falls to the Giants at No. 32, Jerry Reese will have to seriously consider taking him. The Georgia Tech wideout had a very impressive combine and looks to be yet another wide receiver from Tech to make it in the NFL.
Calvin Johnson is the best wideout in the game right now, and after battling through injuries, Demaryius Thomas made strides with the Denver Broncos towards the end of the season.
Despite standing 6'4'' and 215 pounds, Hill ran a 4.36 40, really opening the eyes of everyone at the combine.
With the Giants losing Mario Manningham, Eli Manning might have his eye on a guy like Hill to replace him.