Colorado Rockies: Expectations for 2012 Starting Rotation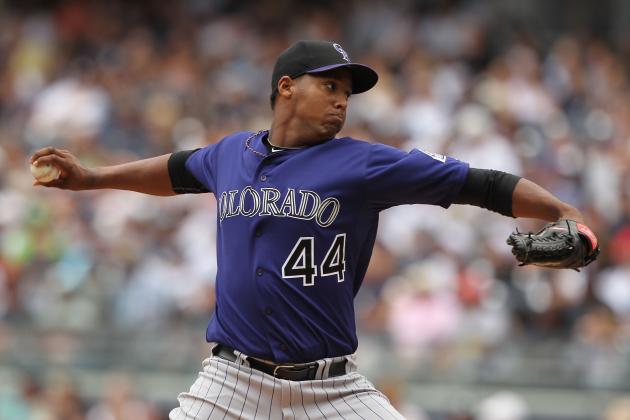 Al Bello/Getty Images

During the offseason, the Rockies made major improvements to their offense by scooping up Marco Scutaro and Michael Cuddyer.
The biggest pitching acquisitions they made—Jeremy Guthrie and Jamie Moyer—seemed to be somewhat of a question mark going into spring training.
Without Ubaldo Jimenez, the Rockies' rotation is missing a dominant ace. The starters, announced earlier this week, have some big shoes to fill.
Begin Slideshow

»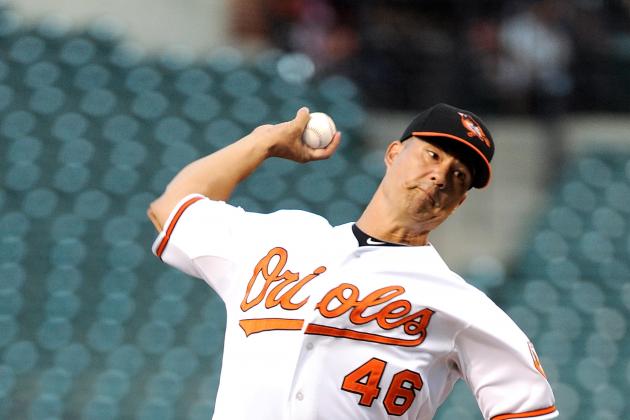 Greg Fiume/Getty Images

Say hello to your Opening Day starter.
Acquired from the Baltimore Orioles, Jeremy Guthrie is a 32-year-old righty with eight years of experience in the big leagues. He hosts a career record of 47-65 with an ERA of 4.19.
Now, most of the damage in those numbers comes from two things: facing the elite competition in the AL East and playing for the Orioles.
At Coors Field he'll be welcomed by a much more potent offense, giving him comfort in knowing that one mistake may not cost you the game.
Guthrie was brought in most notably to eat up innings, averaging 128.1 per season in his eight-year career. On paper, it's a move that was made to save the bullpen from becoming overused. On the field, it's more likely that Guthrie will use his experience to help mold the younger pitchers.
So far during spring training, Guthrie has an ERA of 3.57 during 17.2 innings to go along with seven strikeouts. He has only walked three batters so far, a sign that he has good control of his pitches.
He'll need that control in the hitter-friendly confines of Coors Field.
At the end of the season, I don't believe that Guthrie will still be the No. 1 starter, but I do believe that he will be a valuable piece to the Rockies rotation. Expect a record that's just above .500 when it's all said and done.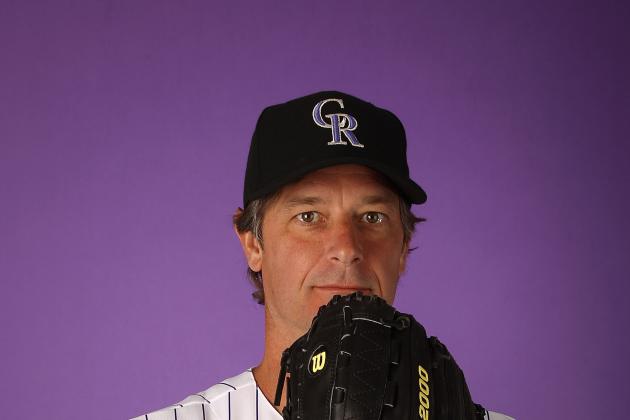 Christian Petersen/Getty Images

In the story of spring training so far, 49-year-old Jamie Moyer has made the Rockies' starting rotation. Originally brought in on a minor league contract, Moyer has surprised manager Jim Tracy with a 2.77 ERA during spring training.
The more eye-popping stat that comes up on the stat sheet is his strikeout-walk ratio, which is nearly 3-to-1 right now (11 strikeouts to three walks).
It's crucial for Moyer to bring this kind of dominating stuff to Coors Field. It's one thing to be able to pitch in Arizona. It's a whole 'nother animal to be able to throw in Denver.
With his fastball sitting in the low 80s, he'll need to be able to paint the corners of the plate. A dominating changeup will be essential as well. It's much easier said than done as a hitter when someone tells you, "Just sit back on him." The 15-20 MPH difference is either something that hitters can either make look super easy or really tough.
Moyer will hope for the latter.
So don't expect him to be as dominating as he's appeared during the spring. As was the case when he was a Phillie, there will be days where he looks really great. There will also be days where you're going to bang your head against the wall after watching many balls go deep.
Expect a record above .500, but know that there's going to be some very violent bumps and bruises along the way.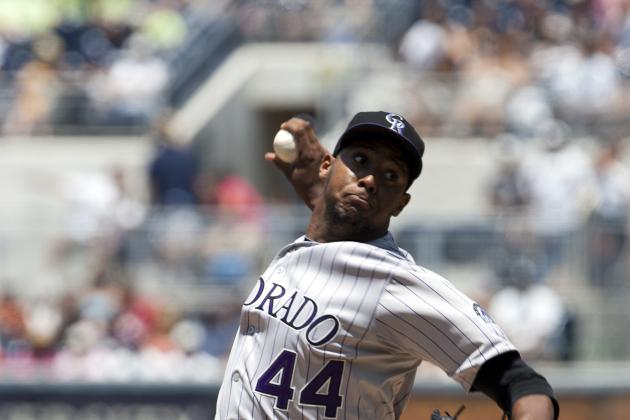 Kent Horner/Getty Images

We all remember the images of Juan Nicasio on the ground after a line drive nailed him in the neck, knocking him out for the rest of the 2011 season. At the time it was unclear if he'd be able to play again.
During spring training, he's come back in a huge way.
While posting an average 3.09 ERA in 23.1 innings this spring, he's managed to strike out 21 batters, showing Jim Tracy that he's back.
He's also given up 27 hits, meaning that although he has some powerful stuff, it's probably staying up in the zone. If Nicasio can gain a little more control of his pitches and make them less hittable, he can start to become the dominant ace that the Rockies will need in order to go deep into the playoffs.
With redemption on his mind and the gift of being able to still play baseball after a gruesome injury, Nicasio should have a big season as one of the surprises in the MLB this year.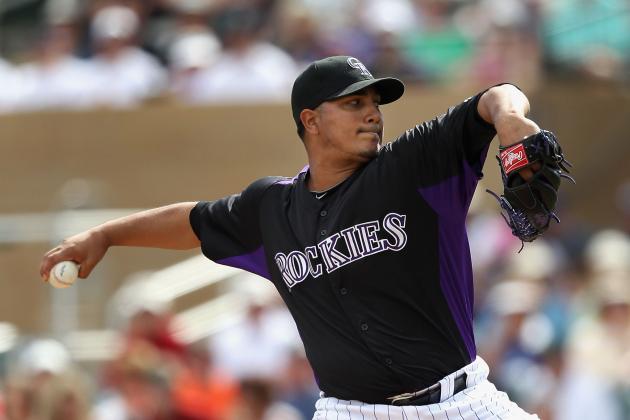 Christian Petersen/Getty Images

Jhoulys Chacin will come in as the fourth starter in the rotation, and he will need to hold his own in order to keep his spot once Jorge De La Rosa is able to get back on the mound.
So far this spring, Chacin has posted an ERA of 4.84 in 22.1 innings. He has struck out 12 batters and walked seven.
The ERA is the most eye-popping stat as an ERA near five isn't something you really want to bring to the Mile High City during the regular season. He'll need to work on his control in order to stay in the rotation.
But with records of 9-11 and 11-14 during the past two seasons, he might be able to hold his own as the fourth starter. He's a very back-and-forth pitcher, always straying from very good to highly questionable, seemingly on a start-to-start basis.
As the season progresses, I expect that he'll see more struggles than triumphs as he is the weak link in the rotation. Once De La Rosa comes back, we'll see Chacin move to the bullpen, a role he'll be more effective in until he develops more into the role as a permanent starter.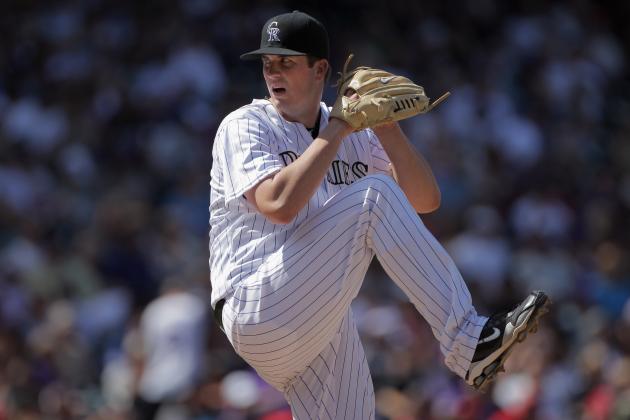 Doug Pensinger/Getty Images

Finishing up the rotation will be the main key to the Ubaldo trade, Drew Pomeranz.
Jim Tracy has said that the Rockies will go with a four-man rotation at the beginning of the season, giving Pomeranz time to work back from a thumb injury he encountered this spring. He will make a start in Triple-A before coming back up to the big leagues.
Pomeranz has had an absolutely dominating spring training, posting an ERA of 0.53 in 17 innings, striking out 11 batters and walking only four. These are major improvements over his showcase in the majors last year where he had an ERA of 5.40.
If Pomeranz keeps these numbers going into Coors Field, we can expect to see one of the better pitching seasons from a Rockie since Ubaldo's 2010 season.
Regardless, Pomeranz is the bright spot in the rotation once he's back in the majors. There's a lot of hype surrounding the 23-year-old, possibly only outweighed by the expectations of Rockies fans still angry to have seen Jimenez leave.
But if spring training is any sort of indicator on the progress Pomeranz has made, then we can expect to see a big season out of the lefty.
Expect a record over .500 and an ERA around 3.00. If he improves on those expected numbers we might even be able to see him compete for the NL Rookie of the Year. Keep an eye on him this season.