USA Hockey: 2012 Women's World Championship Team Announced
April 1, 2012

Bruce Bennett/Getty Images
Team USA's 2012 Women's World Championship roster will feature 13 Olympians, according to an announcement made by USA Hockey.
The 2012 Tournament, being held in Burlington, Vermont, begins April 7 with the USA women not only playing as host but as defending champions of the past three World Championships (2008, 2009 and 2011).
In all, 23 American women were chosen—three goaltenders, seven defensemen and 13 forwards. 
National Team head coach Katey Stone said she is pleased with the team's constitution. "This group is made of experience and youth, but most importantly, some very exciting players to compete for a world championship."
The team is comprised of 15 players already possessing a World Championship title.
Two of those women, veteran forwards Jenny Potter and Julie Chu, lead the American squad. Potter is a four-time Olympian; Chu has appeared in three Olympic Games.
University of Wisconsin product Brianna Decker, the 2012 Patty Kazmaier Trophy winner as the top female player in the country, headlines a talented list of forwards.
The group up front also includes Erika Lawler, Hilary Knight and identical twin sisters, Monique and Jocelyne Lamoureux. 
Forward Amanda Kessel, sister of Toronto Maple Leafs forward Phil Kessel, also made the roster.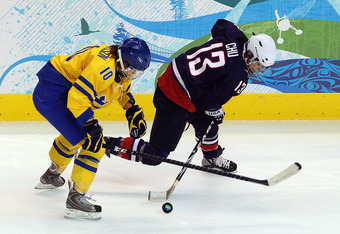 Cameron Spencer/Getty Images
The team is backstopped by Jessie Vetter—a two-time World Champion and 2009 Patty Kazmaier Award winner.
As mentioned in the USA Hockey announcement, additional roster highlights include:
13 Olympians
15 World Champions
9 World U18 Champions
15 players from the 2009 Women's World Championship team (gold)
17 players from the 2011 Four Nations Cup (first place)
7 Canadian Women's Hockey League/Western Women's Hockey League players
12 NCAA Division I players
1 prep school player
Ryan O'Leary is a writer and researcher for Bleacher Report's Video Production Department with seven years experience in the sports industry.