Masters 2012: Bold Predictions for Final Round at Augusta
April 8, 2012

Jamie Squire/Getty Images
The 76th edition of the Masters comes to an end with the final round on Sunday at the Augusta National Golf Club.
It has been a tremendous tournament that has given us a lot of unexpected twists and turns, and a roller coaster of emotions, worthy of a major championship.
We have seen how experience pays off, at least for a few rounds. Fred Couples (52 years old) led after 36 holes; Vijay Singh (49 years old) and Miguel Angel Jimenez (48 years old) were not that far behind.
But youth (Rory McIlroy) and inexperience (Jason Dufner) were also part of the mix the leaderboard has produced. Even today, eight different players led or had a share of the lead at one point during the round.
That is how unpredictable the tournament has been. But I have for you some bold predictions for tomorrow's final round at the Masters.
Tiger Woods Will Break Par
Woods has been struggling all weekend long, but he is just too good at Augusta to play four bad rounds.
After his bogey on the ninth hole, he went on to finish by making par on all nine holes of the back nine. It was as if he realized his chances to win were gone, and all he could do is internalize it and just try to make the best of what was left.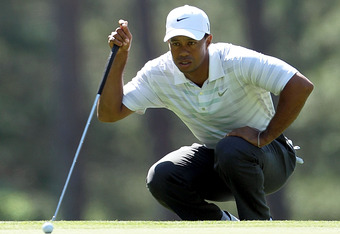 Jamie Squire/Getty Images
And that is exactly what Woods will be out to do on Sunday, and will come out with a goal to finish under par. He will not win the tournament, but will make a statement that he is far from finished and has to be counted on all majors from now on.
Another Top-3 Finish in a Major for Lee Westwood
Westwood has won on every tour and has achieved almost everything a golfer could achieve. It's unfortunate that such a great player has not won a major in his career.
It will remain that way because he will not win The Masters on Sunday.
What I expect him to do is finish in the top three. He will make a run, but in the final round the winner will drop enough shots to allow Westwood in the top three.
Westwood has six top-three finishes in majors, and ties him for most without a win since 1934, along with Doug Sanders and Colin Montgomerie. I say he breaks that tie on Sunday.
Louis Oosthuizen Will Be the Clubhouse Leader and Finish Second

The 2010 Open champ is just two shots back, and entering the third round, no player had played the back nine better than him. He added two more birdies and a bogey today.
After the third round, it took a titanic performance by a former Masters champ to surpass Oosthuizen in back-nine scoring.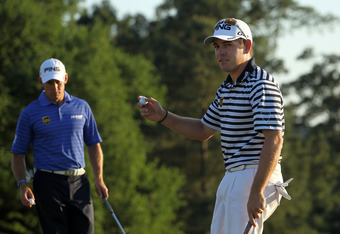 Jamie Squire/Getty Images
Oosthuizen will once again start to make a move late in the round, and will replicate his back-nine success. Expect him to scorch the back nine, and set up an early clubhouse lead.
He will enter the clubhouse as the solo leader of the tournament, but he will be surpassed once again by that same former Masters champ with his fourth birdie in as many days on the 18th hole.
Phil Mickelson Will Win His Fourth Green Jacket
Mickelson will become just the fourth player to win four green jackets, and tie Arnold Palmer and Woods for second-most.
The Masters is certainly not won on opening day, but you can surely play yourself out of it. And after the disastrous triple-bogey on the 10th hole on Thursday he was at four-over, and many thought Mickelson would miss the cut.
What Mickelson has done after that is nothing short of amazing. He regrouped and refocused, and has made 13 birdies, one eagle and only three bogeys—none today—since then.
He also has the lowest number of putts in the tournament and has birdied the toughest hole—18th—on the course on each of the first three rounds.
His experience on the big stage will come in handy on Sunday when he will play in the final group, with a very good ball striker, but who has never been in this situation—of playing on the final group in a major.
Plus, if you consider that 19 of the past 21 Masters winners have come from the last group, he has a 50-50 chance of being the winner.
Besides, Mickelson was my predicted winner for the Masters 2012 and I stick by that prediction.
All signs point to a win by Mickelson and he will deliver on Sunday with yet another a birdie on the 18th hole.