Masters 2012 Tee Times: A Look Ahead to Start Times on Day 3
April 7, 2012

Streeter Lecka/Getty Images
The second round of the 76th edition of The Masters is in the books, and history will show that 52-year-old Fred Couples and PGA Tour maiden Jason Dufner are leading at five under par.
Couples is a former champion (1992) who is playing on the 20th anniversary of his win here. Dufner has yet to win on the PGA but lost last year the PGA Championship in a playoff to Keegan Bradley.
Couples had the low round of the day at five-under 67, and was masterful after the seventh hole. He rolled three consecutive birdies to make the turn at three under, and added two more on the 15th and 16th holes and be the clubhouse leader.
If you believe in omens, try this one—the last time Couples shot a 67 in The Masters and the last time 63 players made the cut was in 1992. Turning back the clock? A deja vu?
Dufner deserves a lot of credit for his performance so far. He should not be overlooked anywhere, anymore. At 35 years old, he is still without a win, but he always keeps his cool and shows up in the big stage.
These two will make up for an interesting—and boring to some degree—final pairing tomorrow.
They have all the pressure of holding off a slew of marquee names that are crowding the leaderboard right behind them, looking for the first opportunity to get past them.
One interesting pairing that is one shot behind will be Sergio Garcia and Rory McIlroy.
The rejuvenated Garcia looks like a good bet to make a run up the leaderboard and win his first major, while McIlroy looks to have left behind the memories of his collapse last year.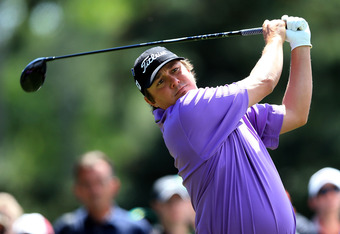 David Cannon/Getty Images
Both are striking the ball remarkably well. Whether you want to see Garcia go for his first major or see McIlroy exorcise his Masters demons and win his second major, there are plenty of reasons to watch them play.
Lee Westwood entered Friday with a one shot lead and finds himself one behind. He was even-par for the round until he reached the 11th hole, where he had his first bogey of the day.
Westwood manged two birdies after that, but then he double-bogeyed on the lead-claiming 18th hole—five players have lost leads on it.
He has six top-three finishes in majors. That is tied for the most without a win since 1934, along with Doug Sanders and Colin Montgomerie. You would like to watch if he finally wins one.
He will be paired tomorrow with 2010 Open champ Louis Oosthuizen. He has been using that very same play that allowed him to claim the Claret Jug to be in this position at The Masters.
Oosthuizen has also be lethal on the back nine. He is playing the back nine at six-under—better than anyone else. He had a remarkable run today when he rolled three birdies in four holes to get to four-under.
First-time father Bubba Watson is playing his best golf and credits his wife for his strong start. His play deserves some credit as well, and his three birdies on the back nine today set him up for a good start on Saturday.
He will be playing alongside 1999 Open champ Paul Lawrie. He finished with a remarkable tun of three consecutive birdies today, and yesterday he made two eagles on the back nine to help keep himself around the leaders.
We could be about to witness a replication his Open win, where he went into a share of the lead when the leaders came back to him on Sunday. That is very possible with the way the conditions are playing here.
The field has to be aware that three-time Masters champion Phil Mickelson is on the move.
On Thursday it looked like he was in danger of falling out of contention after his disastrous triple-bogey on the 10th hole. But he settled down, analyzed and weighted his options, and has played at six under since.
He is just three shots back and only Couples had a better round today. His demeanor and approach toward how to attack the field have been key on his surge up the leaderboard.
The major disappointments have to be Tiger Woods, world No. 1 Luke Donald and defending champ Charl Schwartzel. They are each at three over and have a ton of work to do if they are to contend for the title.
Given the way all three are playing, it seems very unlikely that any of them cracks the top 10 on Sunday. But then, the only certain things in life are death and taxes, so I guess anything can happen.
If there are some players capable of magic, they're Woods and Donald, and Schwartzel conjured a Masters spell last year to win after his record-setting four straight birdies to close.
Below are the tee times for the players under par. For the full listing of the third round's tee times, you can click here.
TEE TIMES (For all players under par)
Tee Time

Players

2:45 p.m.
Fred Couples (-5)
Jason Dufner (-5)
2:35 p.m.
Lee Westwood (-4)
Louis Oosthuizen (-4)
2:25 p.m.
Rory McIlroy (-4)
Sergio Garcia (-4)
2:15 p.m.
Bubba Watson (-4)
Paul Lawrie (-3)
2:05 p.m.
Matt Kuchar (-3)
Miguel Angel Jimenez (-3)
1:55 p.m.
Ben Crane (-2)
Charles Howell III (-2)
1:45 p.m.
Phil Mickelson (-2)
Vijay Singh (-2)
1:35 p.m.
Aaron Baddeley (-2)
Peter Hanson (-2)
1:25 p.m.
Nick Watney (-2)
Henrik Stenson (-2)
1:15 p.m.
Jonathan Byrd (-1)
Sean O'Hair (-1)
12:55 p.m.
Jim Furyk (-1)
Y.E. Yang (-1)
12:45 p.m.
Gary Woodland (-1)
Zach Johnson (E)
All times ET.