NFL Free Agency 2012: Grading the NFC East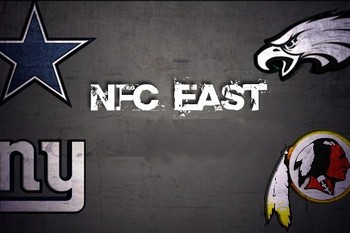 The NFL free-agency period has seen most of its marquee names find homes, and it only seems right to bring out the red pens and grade the NFC East.
The NFC East as a whole has been relatively quiet throughout this entire offseason, which really comes as no surprise.
The Giants and Eagles have made a few adjustments to their rosters because of low cap numbers, while the Cowboys and Redskins made the most news when the NFL penalized both teams for overloading salaries during the 2010 uncapped season.
However, history has proven (you can ask the Eagles), that heavy activity during free agency does not usually translate into playoff success.
With free agency more than two weeks in, lets look how each team in the NFC East fared.
New York Giants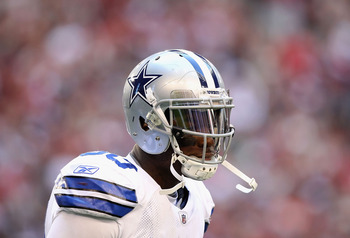 Christian Petersen/Getty Images
Key Additions: TE Martellus Bennett, S Chris Horton
Key Subtractions: WR Mario Manningham, CB Aaron Ross, RB Brandon Jacobs, RT Kareem McKenzie, LB Chase Blackburn, LB Jonathan Goff
Analysis: The Giants were limited this offseason due to a low cap number, but the team has never been active during this time under the leadership of Jerry Reese.
New York signed former Cowboys tight end Martellus Bennett to help out the running game, and the team also signed frequently injured safety, Chris Horton.
The Giants also allowed six key players from last year's Super Bowl team to walk in free agency, which has opened up a number of needs.
Their biggest needs are along the offensive line and linebacker corps, and it is rather surprising that the Giants have not added a veteran linebacker throughout the free-agency period.
The Giants have drafted better than a majority of the teams in NFL, so I expect them to find the necessary talent to fill those needs.
Grade: C
Philadelphia Eagles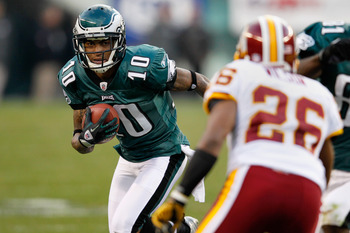 Rob Carr/Getty Images
Additions: LB DeMeco Ryans (Trade), G Mike Gibson
Subtractions: DE Juqua Parker, C Jamaal Jackson, OT Winston Justice, WR Steve Smith, QB Vince Young
Analysis: A majority of the Eagles' offseason activity was directed towards internal moves, but the team still did an excellent job of using the small amount of available cash to the best of their ability.
Philadelphia was able to re-sign DeSean Jackson and extend Trent Cole to long-term deals, and it was also able to re-sign tackle Todd Herremans.
The Eagles also traded a fourth-round pick to the Texans for veteran linebacker DeMeco Ryans, which is a move that will bring some much-needed experience to a group of linebackers that desperately needed it.
Grade: B
Dallas Cowboys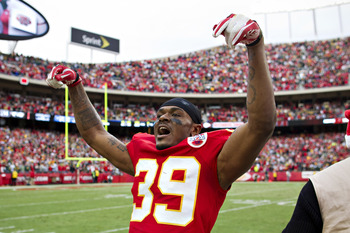 Wesley Hitt/Getty Images
Key Additions: CB Brandon Carr, LB Dan Connor, G Nate Livings, QB Kyle Orton, G Mackenzy Bernadeau, S Brodney Pool, FB Lawrence Vickers
Key Subtractions: WR Laurent Robinson, TE Martellus Bennett, G Kyle Kosier, CB Terence Newman
Analysis: The Cowboys did spent a lot to bring in Brandon Carr, but it was a move that had to be made considering how bad this secondary was last season.
The signing of Kyle Orton gives the Cowboys some much-needed insurance at the quarterback position, while Dan Connor and Brondney Pool give Dallas proven veteran's that will help a defense that did not play up to expectations last season.
Dallas will also have to find a replacement for tight end Martellus Bennent (who has moved onto the rival Giants) and wide receiver Laurent Robinson who caught 11 touchdown passes out of nowhere for the Cowboys last season.
The Cowboys have had a good offseason on paper so far, but this team still has a number of needs along the defensive front that need to be addressed during the draft.
Grade: B
Washington Redskins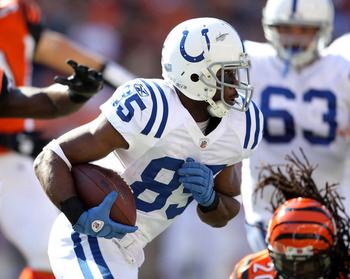 Andy Lyons/Getty Images
Key Additions: WR Pierre Garcon, WR Josh Morgan, S Brandon Meriweather, CB Cedric Griffin
Key Subtractions: WR Donte' Stallworth, S LaRon Landry, S OJ Atogwe
Analysis: The Redskins signed wide receivers Pierre Garcon and Josh Morgan to hefty deals during the free-agency period, but those two moves were not even close to their biggest move this offseason.
Washington sent three first-round picks and a second-round pick to the St. Louis Rams in exchange for the No. 2 pick in this year's draft which ensures that the Redskins will acquire one of the two top quarterbacks in this year's draft.
The Redskins also signed Cedric Griffin and Brandon Meriweather who were brought in to sure up a secondary that lost their two starting safeties.
The Redskins spent a ton of money once again this offseason, but they were certainly moves that they had to make for their future quarterback.
Grade: B-
Keep Reading

New York Giants: Like this team?