Novak Djokovic vs. Andy Murray: Miami Final Preview
April 1, 2012

Mark Kolbe/Getty Images
World No. 1 Novak Djokovic takes on world No. 4 Andy Murray in today's final. Djokovic has been somewhere between brilliant and lacklustre throughout the tournament and even within matches.
And Murray? He hasn't played much. Two of his biggest hurdles, Milos Raonic and Rafael Nadal, both handed him a walkover. Djokovic's countryman, Janko Tipsarevic gave Murray a stern test in the quarters, where Murray pulled out a 6-4 win in the decider.
The two men are good friends, born a week apart and have been playing each other throughout their tennis careers. While Djokovic leads their head-to-head 7-5, it is 5-5 on hard court.
More importantly for Murray, the somewhat later bloomer, he leads their hard court head-to-head 5-2 since the beginning of 2008. And he leads 3-1 in their finals so far but lost the most important one: the Australian Open 2011.
While many regard Murray as an eternal choker, never quite able to fulfill his great potential, he's anything but when it comes to Masters tournaments. He's 8-1 in Masters finals, many of those wins coming against Roger Federer.
So, what are we to expect? They have similar styles, a great backhand, a great return game and amazing defensive skills and court coverage. Djokovic has the bigger forehand and the better second serve, but Murray's first serve and variety of shots are better.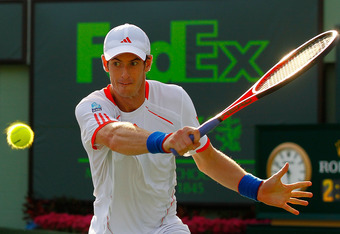 Mike Ehrmann/Getty Images
He'll need that first serve to be clicking as Djokovic has a habit of punishing his weak second serve. Much depends on which Djokovic comes out: is it the first set version, who came out blazing against David Ferrer and Juan Monaco? Or is it the second set version, who let both of them in in the second, but pulled through in the tie-break?
Novak Djokovic could use a win to establish the fact that while he hasn't played as well and as much as in 2011, he's still the man to beat. Andy Murray really can't do much with yet another Masters trophy at this stage of his career. But he can use a win against the world No. 1 as a confidence booster heading into the clay season, where both players had their best ever results last year.
Basically, this match and any match between the two of them, save a grand slam final, is a 'pick-em.' But given Murray's ability to frustrate Djokovic, his 5-2 record on hard since 2008, his 8-1 record in Masters final and his two-set thrashing of Djokovic in Dubai, I'm gonna give the edge to Murray.
But he needs to serve well and put in around 60 percent of his first serves. Otherwise, Djokovic will break him too often.