MLB Opening Day 2012: Top 10 Pitching Matchups to Watch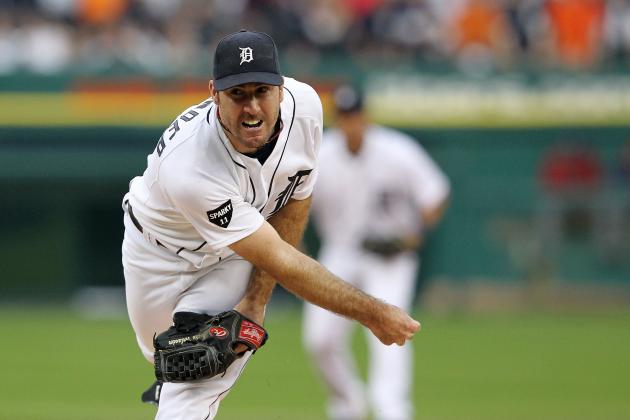 Leon Halip/Getty Images

April has returned, and baseball's opening day is knocking on the door.
Opening day is the greatest day of the year, from the jets making their annual fly-over to the packed-out stadiums cheering for their home team.
Opening day is a day of hope. Every team starts out with a clean slate, and any one of them has a chance to go all the way, or at least we're allowed to believe so.
Opening day has it's own page in the history books. From Jackie Robinson shattering the color barrier, to Hank Aaron hitting No. 714, this day is like an early Christmas for all baseball die-hards. Some may even say that this day bears more gifts than St. Nick himself.
Opening day is one of those rare days of the year where the price of the ballpark hot dog you're eating is just a number and every team in the league sends out the best arm in their arsenal to set the tone for the next 161 games.
Opening day is almost here. Here are our best matchups of 2012.
Begin Slideshow

»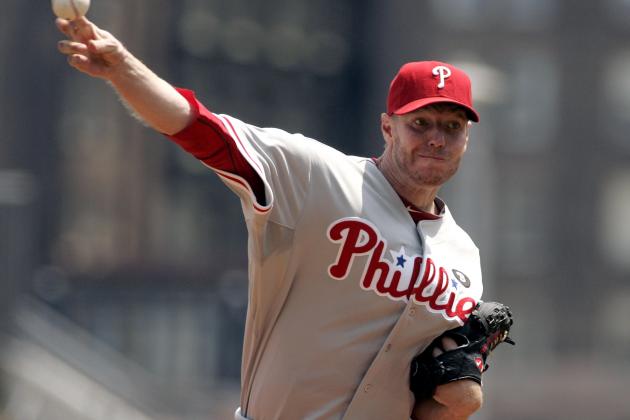 Justin K. Aller/Getty Images

I'll admit, the pitching matchup between the Pirates' Erik Bedard and Philly's Roy Halladay probably won't be one for the ages, but you can't spell "opening day" without "Halladay." Well, you can, but it would be far less interesting and there would be a much lower chance of a perfect game occurring.
Halladay made a strong case for two consecutive Cy Young Awards in 2011, but his career-best 2.35 ERA wasn't enough to beat out the Dodgers' Clayton Kershaw for the title of "top dog."
Bedard has somewhat of an injury risk attached to him, but when healthy, he pitched very effectively in 2011, making 24 starts with a 3.62 ERA.
Halladay is always fun to watch on the mound, but the matchup should be pretty one-sided against the lackluster Pirates.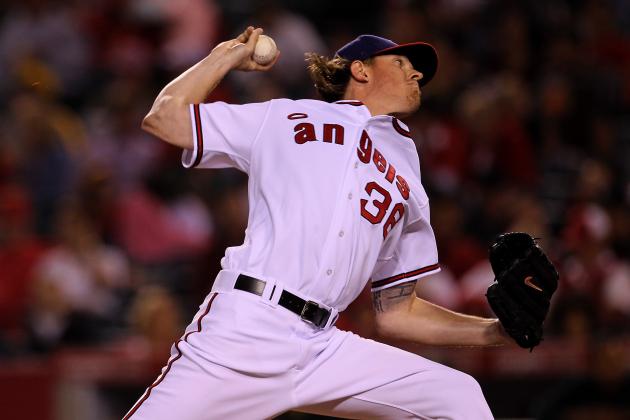 Stephen Dunn/Getty Images

Jered Weaver solidified himself as an elite major league hurler in 2011, posting a 2.41 ERA with 198 strikeouts and an incredible 1.01 WHIP.
Bruce Chen, although not spectacular, had a solid 2011 with a respectable 3.77 ERA. Chen has struggled this spring but has shown enough improvement to get the opening day nod from the Royals.
If Weaver can dominate the league in the beginning of the season like he did in 2011, then we could be looking at a Cy Young favorite with a revamped offense to support him.
Again, this matchup should be one-sided, but the flamethrower on the mound for the Angels will definitely make it worth the watch.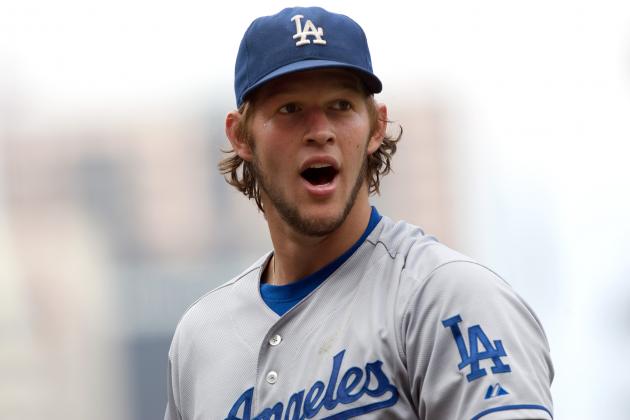 Kent Horner/Getty Images

I know, Clayton, I can't believe you're number eight, either.
Our reigning National League Cy Young winner will go up against former Cincinnati Red Edinson Volquez in the first game of the season.
Even Volquez, who has had trouble pitching effectively since his All-Star campaign in 2008, was surprised when San Diego decided to hand him the ball on Opening Day, but the 28-year-old has impressed the Padres this spring with a 3.48 ERA in his five exhibition starts.
As for Kershaw, the Dodgers' ace is on track to remain one of the NL's best pitchers. The LA kid led the league in ERA, strikeouts, and WHIP in 2011: (2.28 / 248 / 0.977).
This should be a good pitchers duel, assuming that Volquez can pitch as well as the Padres expect him to and Kershaw is....well, Kershaw.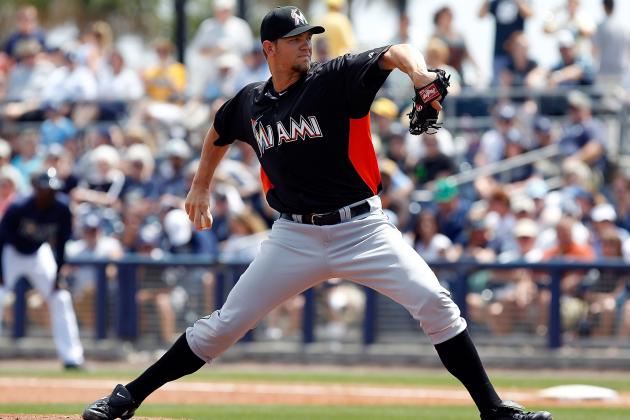 J. Meric/Getty Images

Wednesday's primetime opening day showdown on ESPN will feature a resurgent Josh Johnson on the mound for the new Miami Marlins and the world-champion Cardinals' Kyle Lohse (filling in for the injured Chris Carpenter).
Due to injury, Johnson only started nine games in 2011, but the righty dominated competition with a sub-two ERA.
In his final start of the spring, Johnson pitched five 2/3 innings, allowing three runs on six hits while striking out nine and walking one.
Safe to say, he's ready for Wednesday.
Lohse led the Cardinals' starting rotation in ERA in 2011 (3.39) and should prove to be good competition for the electric Johnson.
The new stadium will be packed, and the atmosphere in Miami will be insane on opening night, making this one of the most anticipated matchups of opening week.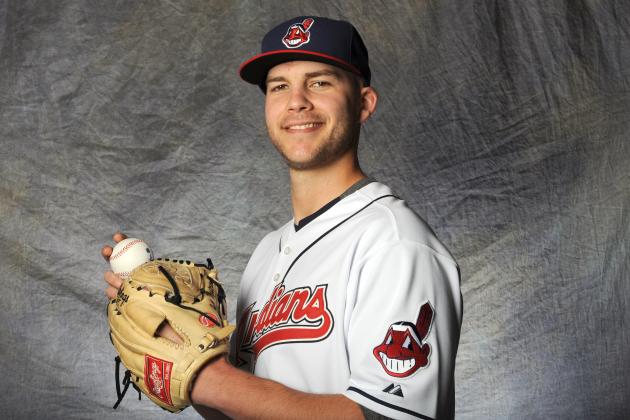 Rich Pilling/Getty Images

The 6th best matchup on the list features two up-and-comers coming off of career-years in 2011: Ricky Romero for the Blue Jays and Justin Masterson for the Indians.
Romero made his first All Star Game in 2011, with a sub-three ERA and a 1.138 WHIP over a full season, while Masterson had a very strong year of his own for Cleveland, posting a 3.21 ERA and 158 strikeouts.
Both pitchers are at the ripe age of 27 and are entering their prime just in time for us to watch them duel it out on Opening Day—a sight that could become familiar over the next few years.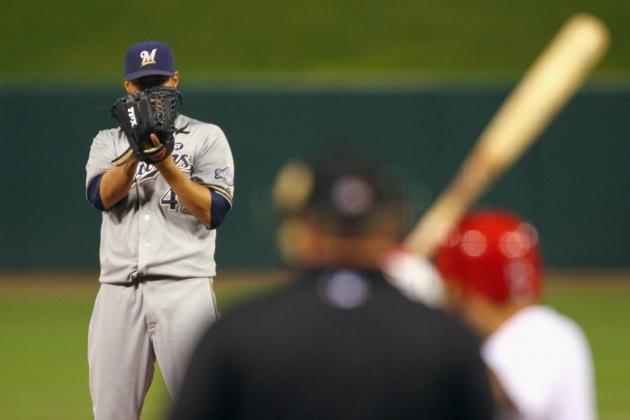 Dilip Vishwanat/Getty Images

First of all, I know that this technically isn't opening day for St. Louis, but it is for the Brewers and it features one helluva pitching matchup.
Milwaukee's Yovani Gallardo is on the fast track to becoming one of the league's best young pitchers, and the Cardinals' Jamie Garcia might not be too far behind in that race.
In 2011, Gallardo struck out 207 batters in the same amount of innings and won 17 games for the Brew Crew, all while maintaining a solid 3.52 ERA.
Meanwhile in St. Louis, Garcia was putting up a very similar ERA (3.56) and winning 13 games for the world-champion Cardinals. (That ERA would've been much lower if it weren't for a shaky month in August).
These two guys are going to be great for a long time to come, and although Gallardo may have the opening day advantage on paper, this is one of those matchups where either pitcher could pull out a victory.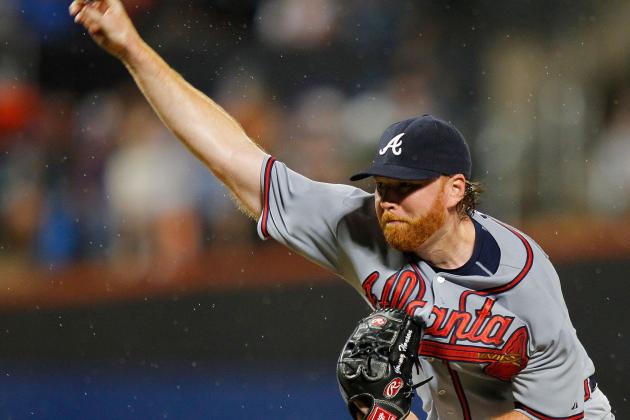 Paul Bereswill/Getty Images

Johan Santana is back, but will he be the Johan Santana of old? That is the main reason to watch this intriguing matchup between Santana and the Atlanta Braves' ace, Tommy Hanson.
The 25-year-old Hanson has shown flashes of brilliance and some flashes of growing pains in his short, three-year career with the Braves.
In August of 2011, the injury bug got the best of Hanson and limited him to starting just 22 games. He posted a 3.60 ERA and 1.17 WHIP in those starts.
As for Santana, the 33-year-old has already proven that he can be the most dominant pitcher in the game when he is healthy, but the health of his surgically-repaired shoulder is still a huge question mark for the Mets.
Santana, although struggling with his velocity, has been effective this spring, and Hanson has been the same, so this matchup is shaping up to be one of the most anticipated jousting matches of the week.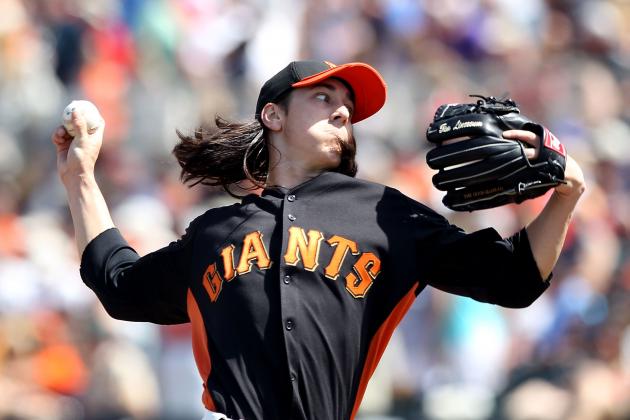 Christian Petersen/Getty Images

"The Freak" meets "The Kid That Came Out of Nowhere."
In 2011, Ian Kennedy won a league-best 21 games for the D-Backs while putting up a 2.88 ERA and 198 whiffs.
Tim Lincecum, although suffering from almost no run support from his hungover offense, was just as nasty as usual in 2011: 2.74 ERA / 220 K.
Can Ian Kennedy pitch like he did during the entire 2011 season, or will Lincecum out-duel the rising star?
I never thought I'd say this, but the Giants-Diamondbacks game should be fun to watch.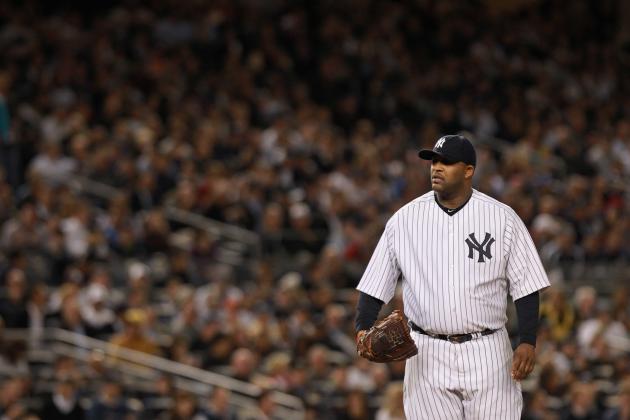 Nick Laham/Getty Images

I will honestly never be able to comprehend how CC Sabathia does what he does year-in and year-out with that John Candy beer gut, but the Yankees' ace never ceases to amaze me.
2011 was another great year for Sabathia, racking up 19 wins and 230 strikeouts for the Bronx Bombers, with a very impressive 3.00 ERA.
It's starting to look like Sabathia is a lock to start 33 games and win 19 of those games for New York.
James Shields, on the other hand, looks like he is just starting to figure out how good he is at the age of 30, because 2011 was, by far, the best year of his career: 2.82 ERA / 225 K / 11 Complete Games.
The Yankees-Rays rivalry is becoming one of baseball's best, so what better way to kick off the 2012 campaign than with these two Cy Young candidates on the hill?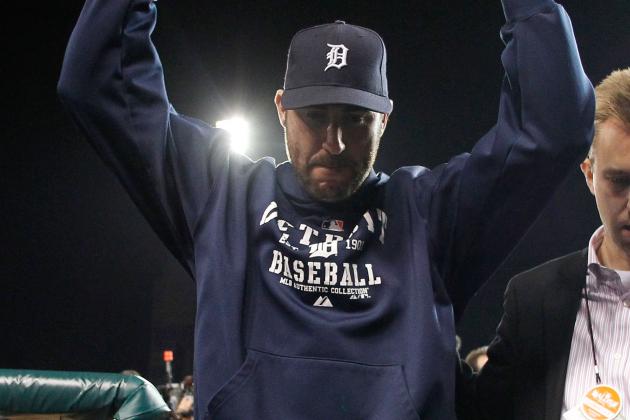 Gregory Shamus/Getty Images

And finally, the most exciting opening day matchup:
The Cy Young Winner/MVP of 2011, Justin Verlander, against one of the most intimidating pitchers on the rise in the American League, Boston's own Jon Lester.
Both pitchers have been lights-out in spring training and both hurlers are obviously ready to make their case for the AL's "Top Gun."
In 2011, Lester continued to frustrate Red Sox fans by not consistently pitching the way he is capable of, but I think Lester is out to prove that he is capable of putting up Verlander-esque numbers when he is at the top of his game.
I really don't even need to remind you how well Verlander pitched for the Tigers in 2011. Not only was he the best pitcher in the American League, he was the most valuable player.
Just for gits and shiggles, here's Verlander's stat line: 2.40 ERA / 250 K / 24 Wins / .92 WHIP
Verlander vs. Lester will be baseball's version of a heavyweight blood-bath, and with the way that these two are pitching right now, there's no telling who will be the last man standing.