Fantasy Baseball Rankings 2012: 3 Overrated Sluggers You Must Not Draft
April 1, 2012

Marc Serota/Getty Images
There are so many sluggers that look promising for your fantasy baseball team, but you need to be careful when choosing which one to take because there's a few who are overrated.
Whether they're overrated because they lost valuable teammates protecting them in the batting order, or they were playing in a contract year, or something else, these guys aren't worth selecting high in your fantasy draft.
Let's look at three sluggers you must avoid.
Jacoby Ellsbury, OF, Boston Red Sox
The Red Sox outfielder was able to stay healthy throughout last season, which was a major question mark coming into 2011.
Although he is healthy coming into this season, his durability remains a concern if you are taking him in the first round.
Ellsbury, out of nowhere, showed amazing power last year and hit 32 home runs after hitting just 20 in his first four MLB seasons. Don't expect him  to repeat his offensive explosion in 2012.
Joey Votto, 1B, Cincinnati Reds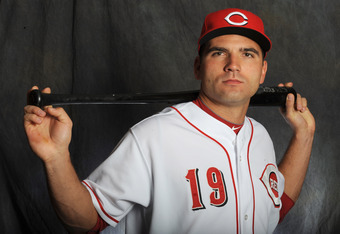 Rich Pilling/Getty Images
The Reds first baseman had a career year in 2010 which helped earn him the NL MVP award, but he regressed a bit last season.
Votto's home run, RBI, and batting average stats all dropped in 2011 and he also struck out more times than he did in 2010.
He's not worthy of being a first-round pick in 10-team leagues. You are better off using a late first round pick on a pitcher such as Justin Verlander or Clayton Kershaw.
David Wright, 3B, New York Mets
Wright used to be one of the top players in baseball, but his disastrous injury-filled season in 2011 is a great concern coming into 2012.
He batted just .254 last season and his power numbers were awful. Wright has only 54 home runs over the last three seasons and certainly isn't helped by playing in the pitcher-friendly Citi Field.
Wright is not worth a pick in the first two rounds and should be avoided unless you desperately need a third baseman.