NCAA Championship 2012: Power Ranking Every Player in Title Game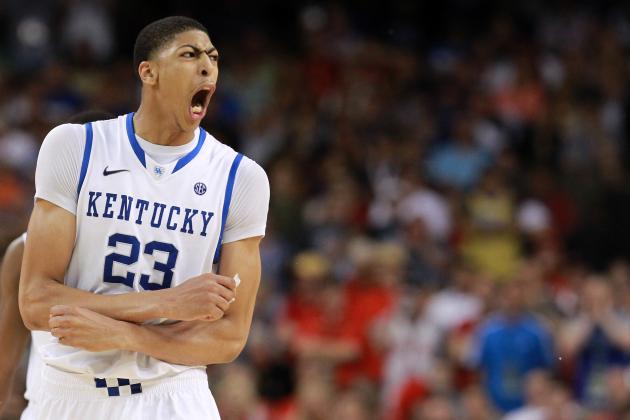 Ronald Martinez/Getty Images

It is hard to believe, but only one game remains in this year's version of March Madness—the top-seeded Kentucky Wildcats are set to take on the Kansas Jayhawks in the NCAA title game.
Neither team has a deep roster, but there is certainly no lack of talent in this matchup. Many players who will be on the court on Monday will be playing in NBA arenas next season and making millions in doing so.
Although a bunch of players in the title game are incredible athletes, there is a pecking order. The following power rankings will attempt to rank the players from worst to best, despite the fact that just about anyone on either team could have a huge performance.
Note: Only players who played in the national semifinal games are included.
Begin Slideshow

»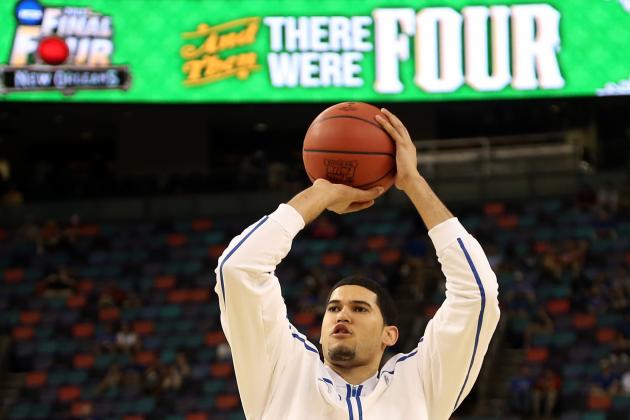 Chris Graythen/Getty Images

Kentucky's backup big man has played very few minutes behind Anthony Davis this year. He played a single minute against the Louisville Cardinals and is averaging only six minutes per game.
Vargas, at 6'11", is capable of grabbing boards and blocking shots, but his impact will be small in this matchup.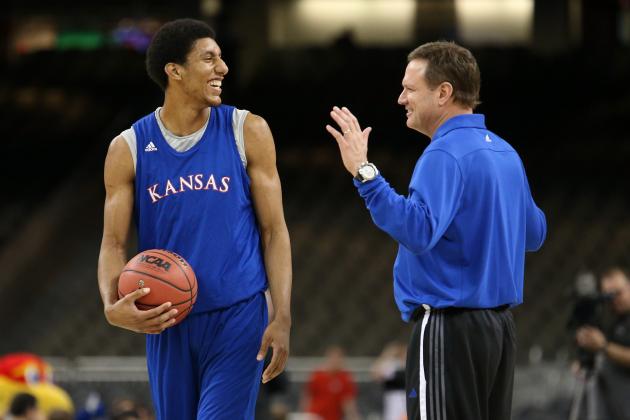 Ronald Martinez/Getty Images

Kevin Young, a Loyola Marymount transfer, has seen his minutes go down significantly from his freshman and sophomore years as an LMU Lion, in which he averaged 32 and 30 minutes per game, respectively. He played only two minutes against Kentucky in the Jayhawks' loss to the Wildcats in November.
Young has reached double figures in scoring three times this season, so he can make a notable impact on a game, but I don't see that happening in the most important game of the season.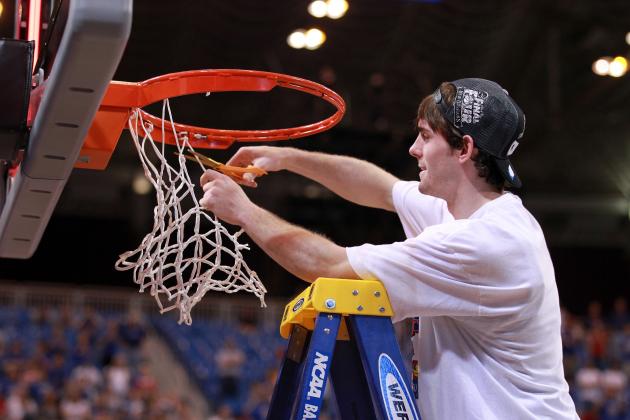 Andy Lyons/Getty Images

Conner Teahan, a redshirt senior, has averaged over 21 minutes per game this year after averaging under four minutes per game in each of his previous three seasons. While his role and production have increased, he has struggled shooting the ball thus far in the NCAA tournament.
Teahan does have 51 made three-pointers on the season, so he could hit a huge shot for the Jayhawks, but odds are he won't be on the court in the closing moments of the game if it is close.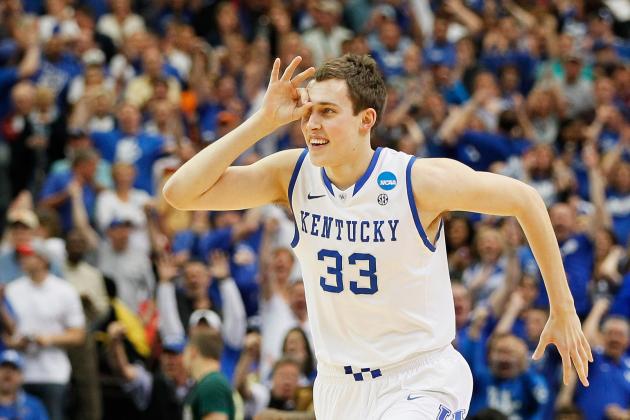 Kevin C. Cox/Getty Images

Often forgotten in conversations about Kentucky's talented freshmen is Kyle Wiltjer, a 6'9" big man. He has played sparingly in the Wildcats' tournament games, but turned in five double-digit scoring efforts in the regular season, including 24 against Loyola (MD).
Wiltjer is very talented, and his role will be increased next season, but he will likely play under his season average of 11.8 minutes against the Jayhawks.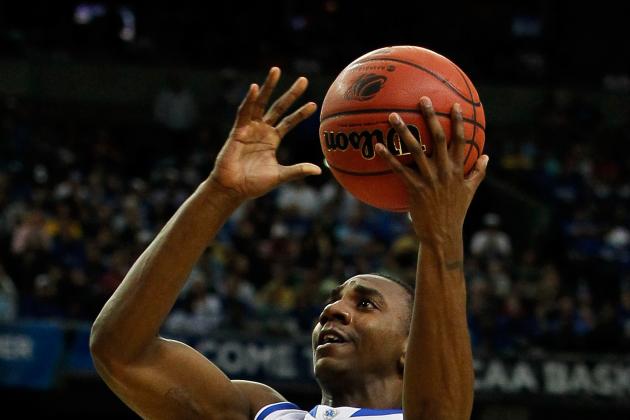 Kevin C. Cox/Getty Images

It's funny how a possible first round pick in the upcoming NBA draft is ranked as the eleventh best player in the NCAA title game, but that just goes to show how much talent will be on the court on Monday.
Marquis Teague has been inconsistent this season, as demonstrated by a 24-point, seven assist effort against Iowa State in his second tournament game compared to an eight point, four-turnover outing against Baylor.
Teague needs to control the game for the Wildcats, and if he explodes like he did against Iowa State, it will be a bonus for John Calipari's squad.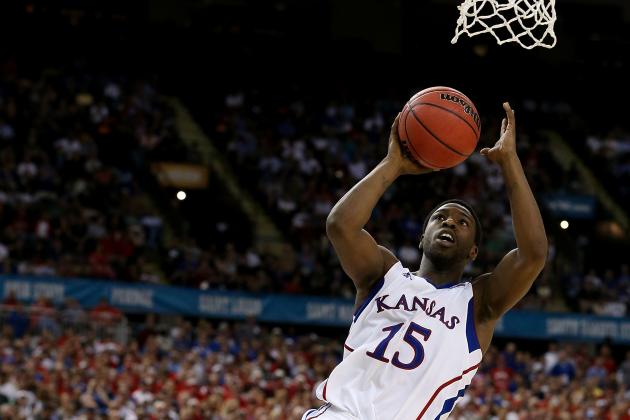 Jeff Gross/Getty Images

Elijah Johnson is an important part of Kansas' success, but the junior has been inconsistent shooting the ball in his first year as a starter. He made six of his nine field goal attempts against Ohio State in the national semifinals but missed eight of his 11 attempts against UNC in the Elite 8.
Despite his somewhat shaky shooting, Johnson can be counted on to give a great defensive effort, and he is a capable rebounder and playmaker. Hopefully for the Jayhawks, he brings his A-game when they need him the most.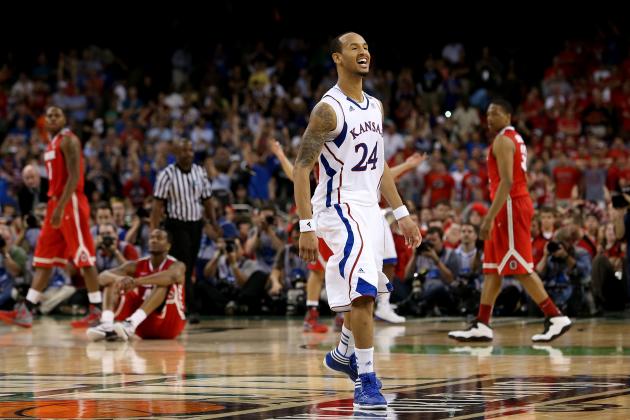 Jeff Gross/Getty Images

Travis Releford is a very solid wing for Kansas, but in a game that features so much talent, he finds himself ranked ninth on this list.
Releford is not an elite scorer, averaging 8.6 points per game on the year, but he shoots above 50 percent from the field and is the consummate team player. He is a great perimeter defender, and his performance on that side of the ball is guaranteed to be solid.
If Releford can contribute offensively, the Jayhawks have a good chance of being victorious.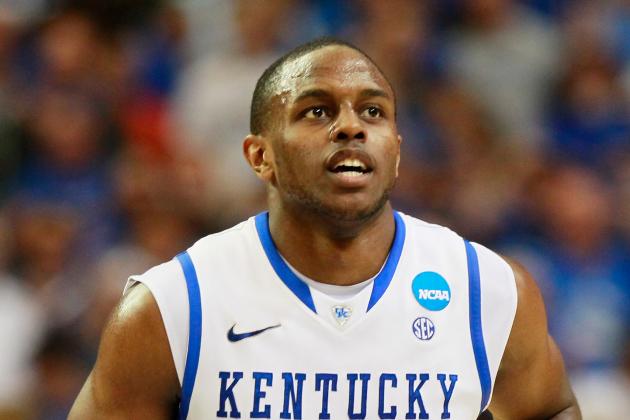 Kevin C. Cox/Getty Images

Darius Miller is quite the anomaly on a Kentucky team coached by John Calipari: he is a senior.
Often referred to as the "sixth starter" by his coach, Miller is having himself a very good senior season, averaging 10.1 points per game on 47.5 percent shooting from the field. While the rest of the Wildcats who contribute are either freshmen or sophomores, he can provide upperclassman leadership and headiness in the national title game.
While a handful of his teammates are likely to be headed to the NBA draft early, Miller doesn't have the option of returning to school next fall, so he will look to leave with a bang in his final game as a Kentucky Wildcat.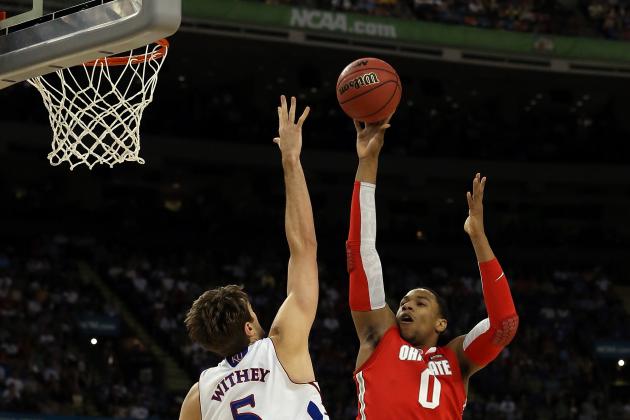 Jeff Gross/Getty Images

Jeff Withey has embraced his role of defensive stopper this year for the Kansas Jayhawks. The seven-foot junior is averaging 3.6 blocks per game this season, and had a ridiculous 10 against NC State in the Sweet Sixteen along with seven against the Ohio State Buckeyes in the Final Four.
While Anthony Davis is the best shot-blocker in this game (and in the country), Withey is certainly elite himself. His impact will be felt the most on the defensive side of the ball as a protecter of the paint for the Jayhawks.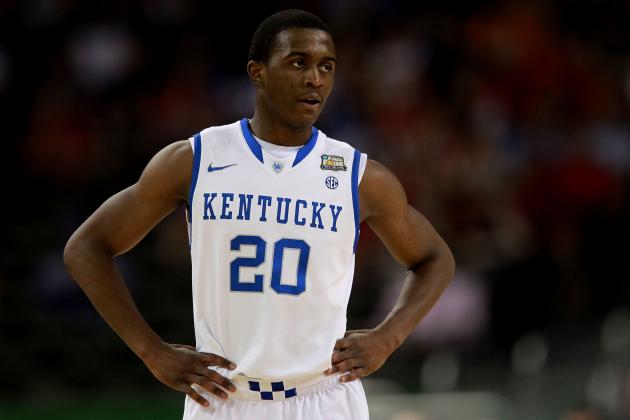 Ronald Martinez/Getty Images

Doron Lamb is Kentucky's only starter capable of lighting it up from the perimeter, so it is critical that he knocks down a couple of three-pointers early to keep Kansas honest on defense.
Lamb is shooting an absurd 46.5 percent from three-point land, and has connected on 73 shots from behind the arc. In what is likely to be the sophomore's last game in a Kentucky uniform, he will be crucial in Kentucky's title chances.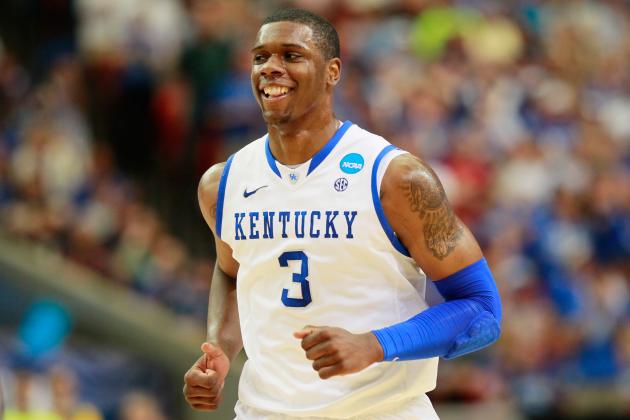 Kevin C. Cox/Getty Images

Terrence Jones has flown somewhat under the radar this season playing alongside Anthony Davis, but the sophomore has had another great year for the Wildcats. He is averaging 12.6 points per game to go along with 7.2 rebounds per game, and his efforts on the defensive end show up in the box scores, as he is averaging 1.8 blocks per game and 1.3 steals per game.
Jones is capable of being the best player on the court, but he is also liable to disappear like he did against Louisville, scoring just six points. Kentucky will need him to matchup against Thomas Robinson, and if he doesn't play well, the Wildcats could be in trouble.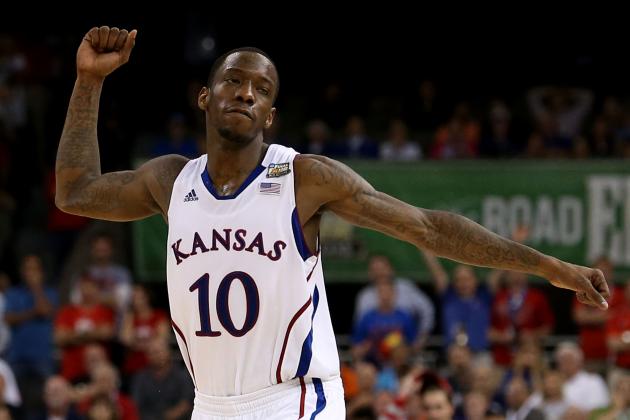 Jeff Gross/Getty Images

While Tyshawn Taylor probably dreamed of reaching the national title game this season, I'm sure he didn't picture himself missing all twenty of his three-point attempts in the NCAA tournament.
Despite his shooting woes, Taylor has managed to play well and contribute in each game of March Madness thus far. He grabbed ten rebounds against NC State, had 22 points, six rebounds and five assists against UNC, and nearly had a double-double, scoring ten points and dishing out nine assists against Ohio State.
Kansas' senior point guard has had a great career in Lawrence, but if he wants it to end in victory, he will need to turn it on from three-point land. Kentucky is the best team the Jayhawks will face all season, and they will need all the points they can get to pull off an upset.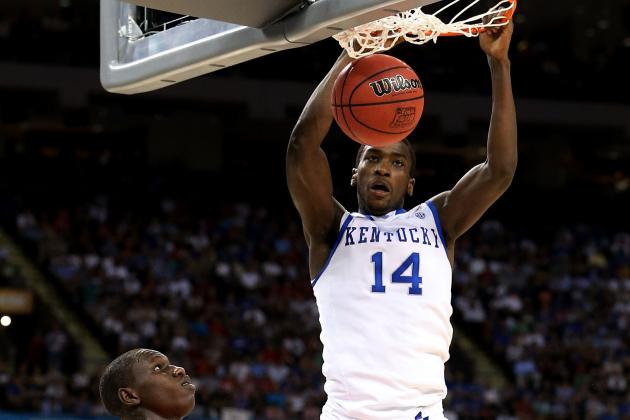 Ronald Martinez/Getty Images

Michael Kidd-Gilchrist is as good as it gets when it comes to small forwards in college basketball. The freshman is averaging 11.9 points per game and 7.5 rebounds per game, and his stats would be even better if he played on a less talented team than his Kentucky squad.
Kidd-Gilchrist is all but guaranteed to head to the NBA after just one season as a Wildcat, but he will be remembered fondly by Kentucky fans. He is much more mature than most freshmen are and is just one game away from bringing an NCAA title back to Lexington.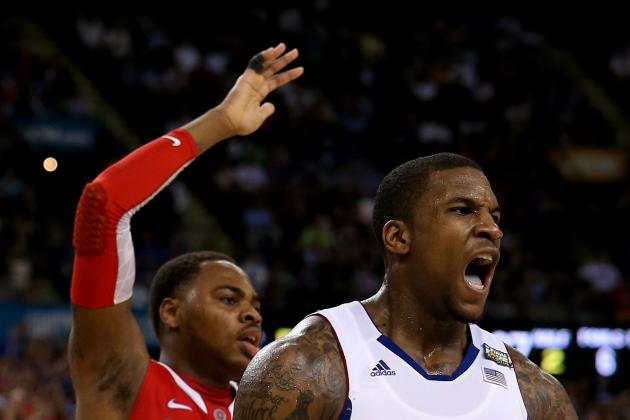 Jeff Gross/Getty Images

Thomas Robinson played just 14.6 minutes per game last season behind the Morris twins but this year has emerged as the second-best player in all of America. The junior power forward is averaging 17.7 points per game and 11.7 rebounds per game, representing the closest thing there is to an automatic double-double in college hoops.
Robinson has played big thus far in the NCAA tournament and is on his way to earning Most Outstanding Player honors if his Jayhawks are able to prevail on Monday. He plays fearlessly, and there is no chance that he backs down against Kentucky's usually-intimidating frontline.
Kansas won't be the most talented team on the court, but Robinson's impact could be big enough to the point where he carries the Jayhawks to victory.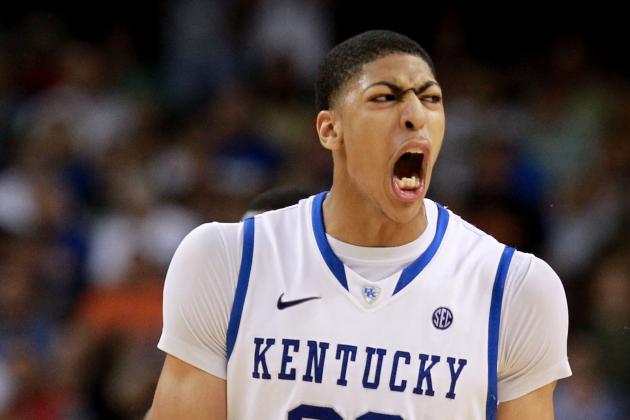 Ronald Martinez/Getty Images

Kentucky has has some amazing freshmen in the past few years, but Anthony Davis has been the best amongst John Calipari's diaper dandies.
Davis has been the best player in college basketball this season, averaging 14.3 points per game on 63.9 percent shooting, 10.2 rebounds per game, 1.3 steals per game and a ridiculous 4.6 shots per game. He recently won the Wooden Award as the nation's best player, and he is primed to receive Most Outstanding Player honors in the title game.
If Kentucky is able to cap off its remarkable season with a win, Davis will be remembered as one of college basketball's all-time greats, despite the fact that he is almost certainly headed for the NBA next season.