NFL Minor League? USFL Could Return as a Spring Football League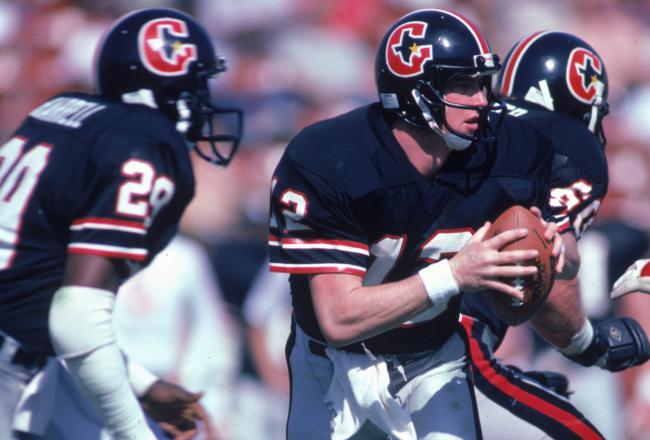 Stephen Dunn/Getty Images
In Sunday's San Diego Union Tribune, Nick Canepa wrote that the United States Football League—the one-time alternative to the NFL before Donald Trump got ahold of it and ruined it—could very well be making a comeback, this time as a spring-league and quasi-farm system for the NFL.
This is a fantastic idea.
That idea is just that at the moment—an idea, specifically Jamie Cuadra's idea. Cuadra has bought the rights to the USFL brand and is in the very early, formative stages of putting together the groundwork for the new league.
As Canepa explains:
Cuadra has acquired the USFL brand, and as its president and CEO hopes to have an eight-team league (14 games, two playoffs games and a championship) start up by next spring in non-NFL cities.
Cuadra is being assisted by Jim Steeg, former Chargers COO and one of the behind-the-scenes organizers of the Super Bowl for over 30 years. As Steeg, who is currently not being compensated for his involvement, tells the Union Tribune:
I like the idea a lot. I haven't talked to anyone who thinks the idea sucks. If you truly believe a triple-A spring football league has merit, this is the way to go. It's not meant to compete with the NFL. It will give players the opportunity to develop. There are 3,000 football players and only 1,800 roster spots in the NFL. Particularly with the NFL's new CBA, I think this kind of thing has a different place.
To me, that last point is everything.
The new Collective Bargaining Agreement agreed to between the league and the players union last summer made some significant, if not downright alarming, changes to what coaches and players are allowed to work on during the offseason.
As detailed by Alex Marvez from FOX Sports:
For teams with returning head coaches or 2011 interim replacements who were later named to the position such as Kansas City's Romeo Crennel, the workouts and Xs-and-Os sessions that would have normally begun by now can't start until April 16. First-year head coaches can begin working with their players on Monday.

Both sets of coaches face greater restrictions than in the past and stern NFL fines if they don't comply. Programs can no longer be run more than four days a week or on weekends. Players also must be eased into on-field work.

For the first two weeks, only strength and conditioning coaches are allowed to work with players on the field. Quarterbacks can throw to their wide receivers, but defensive backs aren't allowed to cover them.

These restrictions continue for the next three weeks until after the NFL draft when coaches are allowed to conduct limited football workouts. Any type of offense vs. defense drill is banned.

The final four weeks that fall under the CBA's phase three heading are more customary but still curtailed compared to previous offseason work. Teams can hold one minicamp and 10 organized team practice activity sessions. One-on-one drills between offensive and defensive players are not permitted, although special teams can be practiced provided there is no contact. Helmets are allowed but shoulder pads remain outlawed.
While I understand the desire to ensure that players are not taken advantage of by overzealous coaching staffs, the above seems like some major overkill to me.
Would you watch the new USFL?
While I don't think these changes will have much effect on the elite players in the league, I wouldn't be surprised if some of these changes, over time, led to an erosion in the quality of play on the field.
Enter the USFL.
If Canepa and Steeg can get this thing up and running, I really think it could prove to be an invaluable proving ground for young players and coaches, one that would allow slower developing players to get the kind of reps and attention they might not get in NFL programs.
This isn't to say there would be large amounts of movement between the two leagues. I would think it would be akin to what we saw happen with the NFL Europe, where a handful of players would make the jump each year.
Don't discount the time spent in Europe by guys like Kurt Warner, Brad Johnson and Jake Delhomme. The development they went through in that league proved invaluable.
A league allowing for something similar would be an excellent addition for an NFL that has watched the fundamentals of the game deteriorate badly over the last 20 years, and that could see further slippage in the quality of play after a few seasons of the new offseason rules, thanks to a new CBA.
This article is
What is the duplicate article?
Why is this article offensive?
Where is this article plagiarized from?
Why is this article poorly edited?