Masters 2012: Everything You Need to Know About Augusta's Final Round
April 8, 2012

Jamie Squire/Getty Images
The first two rounds at Augusta National yielded precious few low scores and a packed leaderboard, but on Saturday red numbers went up all over the course and the contenders separated themselves from the field.
Peter Hanson bogeyed the first hole and made eight birdies after, shooting a third-round 65 and taking the outright lead at nine-under par.
Phil Mickelson started with nine straight pars Saturday and then caught fire.
A birdie at 10 was followed by a birdie at 12, an eagle at 13 that produced a deafening roar, and two more birdies at 15 and 18 for a back-nine 30, a third-round 66 and a spot in the final group just one shot behind Hanson.
This was a day that also saw Padraig Harrington and Hunter Mahan match 68s to put themselves in contention for tomorrow's final round. 
But overall, it was the red numbers of the men on top and their movement away from the field that became the top storyline Saturday.
At the start of the day, seven players were within one shot of the lead and 30 were within five. Going into Sunday though, those numbers have dwindled to just two and nine.
Saturday cleared up many issues and separated the contenders from the pretenders, yet the tournament is far from over. Sunday is still left and here are the keys to the final round.
The Sunday Nerves Will Affect Some of the Contenders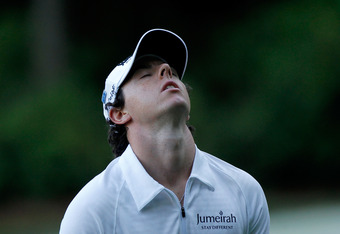 Streeter Lecka/Getty Images
The PGA Tour slogan is "These Guys Are Good," but it doesn't mean they are immune to pressure.
Saturday proved as much.
In prime position to get in one of the final groups Sunday, Fred Couples, Sergio Garcia and Rory McIlroy all faltered under the major championship heat.
Couples played his first five holes in four-over par on his way to a third-round 75, Garcia bogeyed four of his first seven en route to a 75 and McIlroy shot a dismal front-nine 42 on his way to a massively disappointing 77.
Not everyone can handle the heat in the final round of a major. Will it be the newcomer Peter Hanson's turn to implode? Will Mickelson flatten out after his exciting 66? How about those two, three, four strokes back; will they charge up the leaderboard or fade into Sunday oblivion?
It's hard to tell who will react poorly to the grand stage of a Masters Sunday, but it's guaranteed that some will be victimized by the intense spotlight of the final round of a major championship. 
There Will be At Least One Serious Charge
At last year's Masters there were a whole number of charges. Tiger Woods, Luke Donald, Geoff Ogilvy, Adam Scott and Jason Day all raced to the top of the leaderboard before Charl Schwartzel's emphatic finish closed them all out.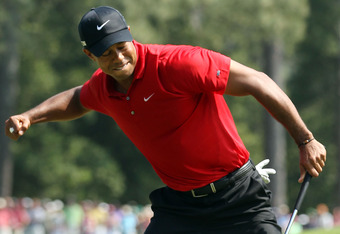 Andrew Redington/Getty Images
Don't expect the same scenario this year though. Last year's plethora of charges were a result of a faltering leader (Rory McIlroy) and the big names that lurked on the leaderboard.
The lead is much tighter this year and, while talented, the names below Hanson and Mickelson aren't quite as strong as last year's group.
Still, Augusta is a course meant for charges.
There are four par-5s, including two on the back nine that are easily reachable in two. The course invites birdies and eagles on the closing stretch of holes in order to allow players to jump into contention.
Not everyone will play well on Sunday, but at least one player a few shots off the lead will make a deep run for their first green jacket.
The Middle Holes Will Be Extremely Important
The stretch of holes nine through 12 will matter a great deal in the final round. Just ask Phil Mickelson.
It was here two years ago that he hung on for dear life. In deep trouble after errant drives on nine and 10, Mickelson somehow made pars on both holes. His miraculous escapes kept him in control of the tournament, and a birdie on 12 only solidified his spot atop the leaderboard down the stretch.
Maybe other holes are more exciting and produce lower scores, but that doesn't mean they are more important.
Lose a little concentration on holes nine through 12 and a good round is gone. Keep up the focus and the round should stay together just fine.
Holes such as 13 and 15 carry much weight, but if a player falters in the middle of the round and falls out of contention by then, these two par-5s are rendered virtually meaningless.
Take a close look at the contenders from when they tee off at the ninth until they pick up their ball out of the cup at the 12th. It is these four holes that are most likely to break a round apart.
If a contender plays these holes well, he should be walking to the 13th tee right in the hunt for a green jacket.