Masters 2012: Stars in Best Position for Masters Win
April 7, 2012

Andrew Redington/Getty Images
The Masters is now officially halfway complete and it's shaping itself up for a potentially fantastic weekend.
The leader board is tightly packed, as seven players are within one shot of the lead and 30 are within five.
Despite rains early in the week that were supposed to soften the course and encourage red numbers, no player has shot below 67 as of yet, and the lead is a measly five under par.
With half the tournament over, what big names have set themselves up nicely for a weekend run?
Here are the stars who have put themselves in position for the green jacket on Sunday.
Fred Couples
Maybe he's a star from the past, but today he is still one of the most popular players in the game. Couples, at the age of 52, continues to defy father time at Augusta, as he raced to the top of the leader board Friday with a fantastic 67. 
Couples has had his chances at Augusta recently (in 2006 and 2010) and failed to bring it home, but don't count Freddie out. He does have a Masters title in his pocket and, as his Champions Tour success has shown, he's still got plenty of game.
Lee Westwood
The Englishman, maybe the best player without a major today, at least gives himself plenty of chances at golf's biggest four tournaments. Westwood has six top-threes in major championships and was a Phil Mickelson charge away from winning here two years ago.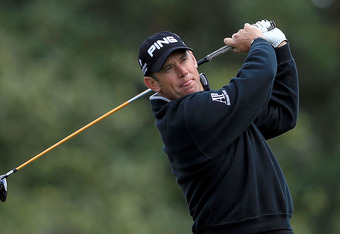 David Cannon/Getty Images
Westwood is in position once again in a major championship and at Augusta. After a first-round 67, Westwood played a solid if unspectacular second round. The 38-year-old had it to six under par for the tournament with one hole to go Friday before ending with a disastrous double bogey at 18.
Despite the mistake though, Westwood is just one back heading into the weekend, and with a strong performance over the next two days he could be putting on the green jacket.
Sergio Garcia
The Spaniard who has shown flashes of his old self recently has reemerged as a contender at major championships.
On Friday, Garcia made six birdies en route to a four-under-par 68 and a spot on the leader board just one shot back. The 32-year-old who has seen more than his fair share of heartbreaks in majors finally has a chance to win one again.
Garcia hasn't been totally consistent this year, so anything could happen this weekend. Still he is back in the mix of a major and is in prime position to make a run at a first green jacket.
Rory McIlroy
A double bogey on the first hole Thursday was a tough start for the confident 22-year-old McIlroy. He fought back quickly though, birdieing three of his next eight holes and finishing his first round with a solid one-under-par 71.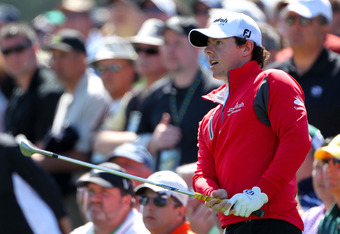 Jamie Squire/Getty Images
In round two, McIlroy shaved off three more strokes from par, inching to within one of the lead at the halfway point. McIlroy isn't in as good a position at the 36-hole mark as he was last year, but he's in the thick of contention.
The golfing public knows about the immense talent McIlroy contains. He's been in contention a lot lately, and this weekend he has an excellent chance at grabbing his first green jacket and second major championship.
Bubba Watson
The big-hitting Bubba Watson has flown somewhat under the radar so far this week. After rounds of 69 and 71, Watson is just one back of the lead but has gotten little attention.
Watson shouldn't be taken lightly though. He's a three-time PGA Tour winner, and he was in a playoff at the PGA Championship just two years ago. Along with this, Watson still could improve on his first two days' performance.
The longest hitter on tour has yet to take advantage of the par-5s (just two under in eight tries).
Watson has been in good form lately, and with two solid rounds in the books at Augusta he is in a great spot to challenge for the title this weekend.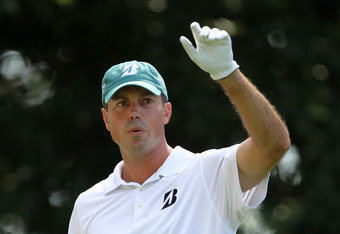 Jamie Squire/Getty Images
Matt Kuchar
Another player under the radar, Matt Kuchar is right in contention.
After a 71 on Thursday, Kuchar did one better on Friday with a 70. Kuchar is now three under par and is just two shots back of the lead.
The 33-year-old was in position two years ago at the PGA Championship, but he faded that weekend. Will Kuchar change his fortunes this time around?
He's a solid player with a fantastic putter, so he has a chance.
The second time around Kuchar could handle the pressure better and be in serious contention for a green jacket Sunday afternoon.
Nick Watney
It's been an unspectacular 2012 season for Nick Watney after a breakout 2011, but two days into the Masters, it looks like he's returned to form. 
Watney shot a 71 Thursday and backed it up with another 71 in the second round. Last time Watney was in contention in a major, at the 2010 PGA Championship, he blew a three-shot 54-hole lead with a final-round 81.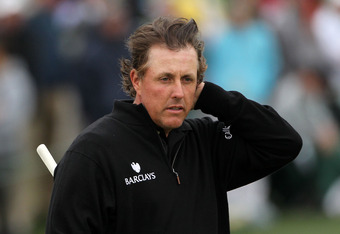 Jamie Squire/Getty Images
Watney is a different, much more mature player now and should be tough to get rid of this weekend. He has a great deal of game and has proven to be a player who thrives in final-round pressure over the last year.
He could use this combination to bring home the green jacket Sunday.
Phil Mickelson
A first-round 74 that included a triple bogey at the 10th put Mickelson in a hole early in this year's Masters. But on Friday, Mickelson charged-up the leader board with a 68, leaving him just three shots off the pace with 36 holes to play.
While 10 players stand in front of Mickelson heading into the weekend, he is in good position. He only has three shots to make up, and with a third-round 67 or 66 he could move to the top of the leader board.
That score is a big if, but Mickelson's three wins at Augusta demonstrate that he can really play here. Mickelson is on the prowl and with another low score in the third-round, he could be heading into Sunday with the lead.