Matt Sullivan/Getty Images
Although the Masters' prohibitive favorite, Tiger Woods, is not among the top five in the world golf rankings, a stellar group of players still hold these spots.
These five have a combined for 57 PGA Tour and European Tour wins, and even though they have just one major championship between them, that number could drastically change soon.
So where exactly should we expect these five golfers to place at the Masters this week? It would be easy to say they will each finish in the top 5, but as we all know golf is a very fickle game. A player can be playing out of his mind one week, and the next barely know how to break 80.
Just ask world No. 6 Martin Kaymer how he feels about the Masters. After missing four straight cuts to start his career at the event, it's doubtful that he'd have many good things to say.
Will any of these players falter? Will any of them add a green jacket to their closet?
Taking a look at the crystal ball, here are where each of the world's top 5 players will finish this week.
5. Steve Stricker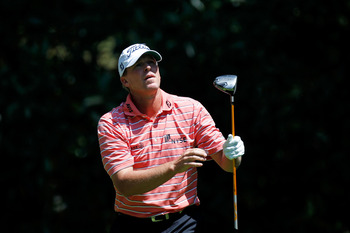 Streeter Lecka/Getty Images
Steve Stricker has defied the odds throughout his career. He got out of a tremendous golfing slump in the mid-2000s and became one of the game's elite, and now, even at the age of 45, he remains on top of his game.
The Wisconsin native has played well so far this year and even gathered a victory at the season-opening Hyundai Tournament of Champions. This week at Augusta will mark one of his best chances (and probably one of his last) to take home his first green jacket.
That doesn't mean he will though. Stricker is an excellent putter, which is key on the greens Augusta has to offer. However, with expected rain over the next few days, the course should soften up for the players, which doesn't bode well for a short-hitter like Stricker.
With the fairways wet and producing little roll, longer hitters will have the advantage. The long bombers will still be able to knock it far and hit the par-5 greens in two, while short-hitters will be stuck playing a course much longer than if it was dry.
For this reason, don't expect Stricker to contend. He should make the cut and have a decent finish, but with a long course made even longer, a short-hitting Stricker won't have a chance to keep up.
4. Hunter Mahan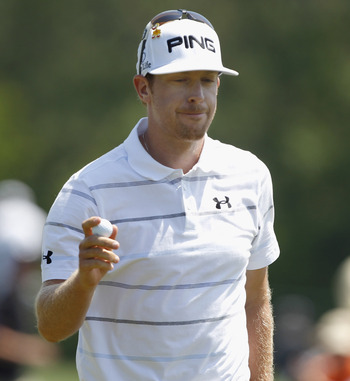 Matt Sullivan/Getty Images
After an impressive victory at the Shell Houston Open this past week, Hunter Mahan must be fired up.
He has a much improved short game, he's the first multiple winner on the PGA Tour this season and he is playing his best golf heading into Augusta.
The 29-year-old seems to have everything going for him this week and he should just be able to waltz to the Masters title, right?
Not necessarily. Mahan has played some truly inspired golf this season and his short game improvement has been remarkable. He will certainly be a player to reckon with in future years.
That being said, he won't be putting on the green jacket Sunday night. His Shell Houston Open victory was a great win, but it also left an exhausting toll.
Winning on the PGA Tour is tough, and unless your name is Tiger, it's very rare for a player to win in back-to-back events.
Earlier this year, Mahan won the Accenture Match Play Championship, only to never contend in his next event and finish a measly T24.
I don't believe Mahan will fall that far down this week because he has a great deal of confidence going into Augusta. Still, don't expect anything more than a top-15 finish from him at Augusta.
Mahan will find the edges of contention at Augusta, but will never seriously threaten for the title.
3. Lee Westwood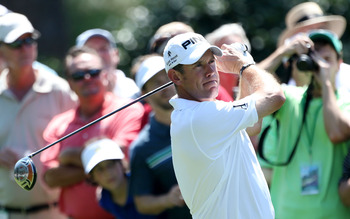 Andrew Redington/Getty Images
The major championships have been unbearably cruel to Lee Westwood over the years.
The Englishman has come close a number of times in the sport's four biggest tournaments, but on each occasion he has fallen short.
Expect his fortunes to change this week. The 38-year-old Lee Westwood will finally win his first major championship!
Yes, this may seem like a weird choose considering that few are willing to pick against the Rory/Tiger/Phil complex. Here is my reasoning though.
Westwood had a solid 2011 and has built on it in 2012. He does not have a win as of yet this season, but he already has three top-4 finishes and hasn't come close to missing a cut.
Most importantly though, Westwood's game is completely under the radar.
Westwood is playing good golf and is getting little media attention for it, a perfect combination. The Englishman is confident in his game, and he doesn't have to deal with the burden of hype as the Rory/Tiger/Phil complex does.
In addition, Westwood knows how to play Augusta. He proved it in 2010 when he was very close to winning the event. So, overall, a lot is working in Westwood's favor this week
Yes, if he fizzles at Augusta, I understand that this pick looks stupid. Still, Westwood has his game under control, and he seems prepared for this Masters (besides, it's not like I'm choosing Randal Lewis).
Maybe the Rory/Tiger/Phil complex wins out, but for now I'll take the field and expect to see Westwood putting on the green jacket Sunday evening.
2. Rory McIlroy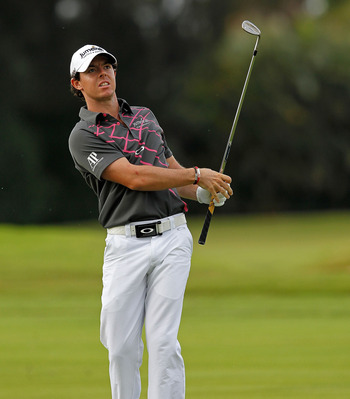 Mike Ehrmann/Getty Images
The hot commodity in golf right now is Rory McIlroy.
He's young, he has a major championship and it seems that his game is only improving.
Now, McIlroy returns to the scene of his biggest failure.
It was on this course last year that the Northern Irishman gave up a four-shot lead with a heart-wrenching final-round 80. He was reduced to tears as his chance at a first major championship slipped right through his fingertips.
McIlroy comes back to Augusta looking for redemption.
Unfortunately for the young phenom, he won't find it this year.
McIlroy has been playing splendid, consistent golf recently and has certainly shown the golfing world what he is capable of, but the pressure will be too heavy this week.
The expectation that McIlroy will just come in here, storm to the title and exorcize all his demons is way too much to put on the shoulders of a 22-year-old.
Don't take this to mean that McIlroy won't contend. He's been close to the lead in tournaments so consistently over the past seven months that it's tough to see him finishing well off the pace at Augusta.
McIlroy will be right in the mix on the back nine Sunday, he just won't have enough to win. The 22-year-old will finish in the top 5, but he'll have to wait at least another year for his redemption at Augusta.
1. Luke Donald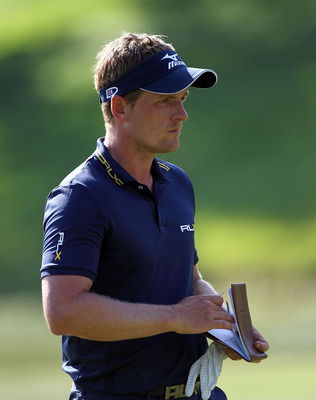 Sam Greenwood/Getty Images
With a win at the Transitions Championship three weeks ago, Luke Donald regained his world No.1 ranking.
The Englishman celebrated the victory and spoke about how happy he was to recover the ranking he had worked so hard for.
The No.1 ranking is a coveted accomplishment and Donald does indeed hold that spot once again, but he is still missing something: a major championship.
Yes, the 34-year-old is still looking for that elusive first major title, a search Donald hopes will end soon. He's worked hard, he's paid his dues and he clearly has the game to take home a major championship trophy.
So will his first major come in the form of a win here at Augusta this week?
Despite his recent good play and his desire to reel in that first major title, the answer is no. Like McIlroy, Donald will contend on Sunday but will ultimately fall short.
Why though?
As previously noted, Donald clearly has the game and the will to win here. He has a world-class putting game ready to take care of even the ridiculously fast Augusta greens. And he is coming off a T4 finish last year at the Masters, so he can clearly play here.
All of this still won't be enough. The soft fairways (from the expected rain) won't make it easy for the short-hitting Donald. He has enough game to ameliorate this problem, but only enough to finish somewhere around the top 5.
Augusta suits Donald's game well, and he should win a Masters someday, just not this year.
Donald will bring home a major in the near future, but not soon enough to be sliding into the Green Jacket this Sunday evening.
Keep Reading
Load More Stories