WWE: WrestleMania 28 (2012): The Bleacher Report Prediction League
April 1, 2012

Finally, the Bleacher Report Prediction League has come back to Bleacher Report!
I sincerely apologize for the long hiatus, but the wait is now over, and once again we will find out who is the smartest and/or luckiest of them all.
WrestleMania 28 is here, and with it comes some tantalizing matchups.
John Cena vs. The Rock
Chris Jericho vs. CM Punk
Sheamus vs. Daniel Bryan
Kane vs. Randy Orton
The Undertaker vs. Triple H (No. 3)
Big Show vs. Cody Rhodes
And some not-so-tantalizing matches...
Team Teddy vs. Team Johnny
The Divas Match
And a triple threat Tag Team Title match before the show begins
The build-up this year has been so/so with some interesting twist and turns, but the show itself still can be one of the best WrestleManias in history.
So now, let's get on with the league!
First some rules to help you understand the league. (More rules will be posted later in a separate post.)
Anyone can join the league at any time! If you miss this pay-per-view or couldn't make it, that's okay—you can join in on the next one.
Each PPV will be worth up to 30 points, no match will be worth more than five points, and there will not be bonus questions this year.
I would like for those of you who respond to give the reason behind your predictions. This way we can create more debate and conversation for the league.
And if there is debate, please be respectful to your fellow league competitors, or you will be removed.
Match 1: The Rock vs. John Cena (5 points)
Match 2: The Undertaker vs Triple H—Hell in the Cell Match w/ Special Guest Referee Shawn Michaels (5 points)
Match 3: WWE Champion CM Punk vs. Chris Jericho (5 points)
Match 4: World Heavyweight Champion Daniel Bryan vs. Sheamus (4 points)
Match 5: Intercontinental Champion Cody Rhodes vs. The Big Show (3 points)
Match 6: (the winning team will earn their GM sole control of both Raw and SmackDown) Team Teddy (Santino Marella, R-Truth, Kofi Kingston, Zack Ryder, The Great Khali and Booker T) vs. Team Johnny (David Otunga, Mark Henry, Dolph Ziggler, Jack Swagger, Drew McIntryre and The Miz) (3 points)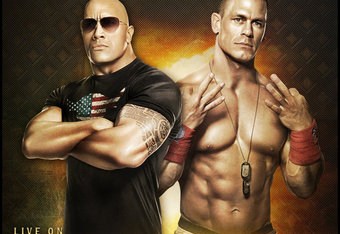 Match 7: Randy Orton vs Kane (2 points)
Match 8: Kelly Kelly and Maria Menounos vs Divas Champion Beth Phoenix and Eve (2 points)
Match 9: WWE Unified Tag Team Champions Primo and Epico vs The Usos (Jey Uso and Jimmy Uso) vs. Justin Gabriel and Tyson Kidd—triple threat match airing 30 minutes before the PPV (1 point)
Please copy and paste the below template into the comments box below and fill in your answers. And, again, it would be greatly appreciated if you could give a reasoning behind your prediction as well—long or short—as just something to start a dialogue.
M1: ()
M2: ()
M3: ()
M4: ()
M5: ()
M6: ()
M7: ()
M8: ()
M9: ()
Happy Prediction Day!!!
Like the article, follow me on Twitter (@IAMCalamity), and become my fan.