NHL Stanley Cup Playoffs 2012: Predicting All 16 Teams to Reach the Postseason
April 3, 2012

Greg Fiume/Getty Images
We're almost there, hockey fans.
The regular season's 82-game schedule comes to a close Saturday night when the Los Angeles Kings take on the San Jose Sharks at 10:30 PM ET, the latest game currently scheduled for the 2011-12 NHL season.
Between now and then, many key games will take place. The final spots in each conference are still up for battle.
Eastern Conference
The New York Rangers, Boston Bruins, Pittsburgh Penguins, Philadelphia Flyers, New Jersey Devils and Ottawa Senators have already clinched their playoff spots in the Eastern Conference.
The final three spots are up to the Florida Panthers, Washington Capitals and Buffalo Sabres.
The Southeast Division-leading Panthers have 91 points with three games remaining, against the Winnipeg Jets, Capitals and Carolina Hurricanes.
At the very least, the Panthers are sure to get a playoff spot. Both Washington and Buffalo would have to pass Florida in order for them to finish ninth.
It is highly unlikely that Buffalo would pick up five more points than Florida in the final three games. Buffalo would have to go 3-0 as Florida lost all its games (two of which would need to be lost in regulation), or Buffalo would need to win two games while losing one in overtime or a shootout as Florida lost all its games in regulation.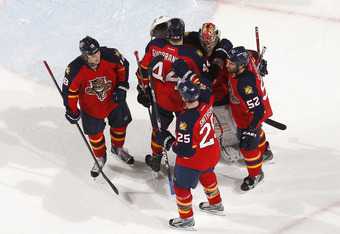 Joel Auerbach/Getty Images
So Florida is very likely in. The last spot comes down to Washington and Buffalo.
Washington has 88 points and 36 regulation-plus-overtime wins (ROW) with two games remaining. Buffalo has 86 points and 31 ROW with three games to go.
The tiebreaker, if two teams are tied in points, is ROW. Since Buffalo will likely not have more ROW than Washington, it will need to finish with more points.
Buffalo should be able to beat the Toronto Maple Leafs on Tuesday, keeping the deficit to two, but it has two difficult games to close out the season.
Thursday's game is against a Philadelphia team it is 0-3 against this season. The Flyers are battling to have home-ice advantage and will not be taking it soft on the Sabres.
If Buffalo loses that game in regulation after beating Toronto, Washington would clinch. If Buffalo picks up a point on Thursday, Washington would need to pick up just one of its own in its final two games, which are against Florida and the Rangers.
Expect Florida and Washington to join the teams who have already clinched.
Western Conference
The Vancouver Canucks, St. Louis Blues, Detroit Red Wings, Nashville Predators and Chicago Blackhawks have clinched.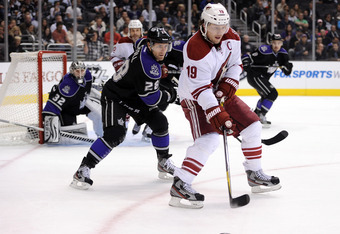 Harry How/Getty Images
The final three spots are left for the Colorado Avalanche and four Pacific Division teams: the Los Angeles Kings, Phoenix Coyotes, San Jose Sharks and Dallas Stars.
Colorado has the worst chance to make it with the fewest total points and games remaining alike.
The Avalanche will need to win both of their games to have an opportunity to make the playoffs.
Beating the abysmal Columbus Blue Jackets on Thursday will not not be an issue, but Saturday's matchup against the Predators will be tough—Nashville could be playing for the fourth seed and home-ice advantage, depending on how the week goes for it.
Even if the Avs do win both games, they will essentially need two of the four teams ahead of them to absolutely tank this week.
For example, if Los Angeles or Phoenix wins a game, it will finish ahead of Colorado. Additionally, San Jose plays Dallas on Tuesday, so one of those teams is guaranteed at least two points. Both teams would then need only one more point in their final two games to finish ahead of Colorado.
The Avalanche are not making the playoffs without some sort of miracle.
Out of Los Angeles, Phoenix, San Jose and Dallas, the Coyotes have the best chance to clinch, with two of their three games against non-playoff teams Columbus and the Minnesota Wild.
Los Angeles has the next-best shot; the Kings have 93 points with two games to go.
The Kings and Sharks end their season with a home-and-home Thursday in Los Angeles and Saturday in San Jose.
This is bad news for Dallas; if either of the games go into overtime, two of the teams the Stars are chasing will pick up points in the same game.
Expect L.A. and San Jose to split that series. Los Angeles and Phoenix would both have 95 points at the end of the season (in accordance with previous predictions).
San Jose is 4-1 against Dallas this season, the only loss coming in a shootout. The Sharks have the edge heading into the showdown against the Stars on Tuesday.
After losing that, Dallas would likely need to beat both St. Louis and Nashville with San Jose blowing the two games against Los Angeles.
It just doesn't look good for Dallas.
To recap, the 16 teams heading into the postseason are probably not going to be any different than what the standings show them to be right now.
However, the positioning of these teams is still very uncertain. For many, especially in the Western Conference, the last week of the regular season is going to have playoff intensity.
In Tuesday's matchups, look for Rangers at Flyers (7:00 PM), Penguins at Bruins (7:30 PM, NBCSN) and Sharks at Stars (8:30 PM) to be high-quality action.
Wednesday night's game between the Red Wings and Blues (7:30 PM, NBCSN) will also be a playoff-style battle.
B/R Featured Columnist Jason Sapunka covers the NHL and Philadelphia Flyers.