Baltimore Ravens: Why Ray Lewis Will Drop off in 2012
April 2, 2012

Rob Carr/Getty Images
In 2012, Ray Lewis will return for his 17th season in the NFL and his play level will finally drop off.
For any other player this would be considered an understatement, considering that nobody lasts this long in the NFL. For Lewis, though, saying something like this can be considered almost blasphemous considering the Hall-of-Fame level that Lewis has played at for the entirety of his career. 
But all great things must come to an end, and such is the case with Lewis' career. Lewis will turn 37 on May 15, which is extremely old for any NFL player. It's even older when considering that he has still taken lots of brutal hits, some of which have resulted in injuries.
Last season, Lewis had a bout of turf toe which sidelined him for four games. This was the seventh season during his career that he has missed at least one game due to injury.
It's become a growing trend for Lewis to miss multiple games in a season, having missed games in four of the last seven seasons.
It's not that surprising a trend, though, when looking at other linebackers over 30 years old. Zach Thomas of the Miami Dolphins missed 11 games in 2007 and two games in 2008—his final two seasons playing in the NFL. He then retired two years later in 2010 at the age of 36.
Let's consider some other elite linebackers in the twilight of their careers. Junior Seau missed a combined 16 games in his final four seasons before retiring at the age of 40 in 2010. Teddy Bruschi missed 11 games over his final four seasons before retiring at 36.
Now Lewis is obviously far more durable than the average linebacker but age can change things for even an iron-man-type player like him.
With every hit that Lewis takes, the coaching staff has to collectively hold their breaths as it could be the hit that ends his career or even cause him to permanently slow down.
In addition to these heightened injury concerns, Lewis has also lost some of his speed. Granted he was never the fastest of linebackers, but he is now slower than at any other point in his career.
It could even be argued that it has gotten to the point where Lewis has become a liability in pass coverage, as there were several instances in 2011 where opposing offensive players were able to get by him with ease. 
Lewis' first game back after his injury was the blowout loss to the San Diego Chargers. In this game, the Chargers absolutely embarrassed the Ravens' usually stout defense by scoring on six of seven possessions. Two receivers had their way with the pass defense as Malcolm Floyd had 90 yards on five catches and Vincent Jackson had 84 yards on three catches.
Although this game was an damning indictment of every Ravens cornerback, Lewis actually has to receive some of the blame.
He looked slow in coverage throughout the game and, although he got nine tackles, there were certainly more that he could have gotten. We saw more of this in next week's game against the Cleveland Browns as the Ravens sleepwalked to a way-too-close 20-14 victory.
Lewis did improve slightly in the regular season finale against the Cincinnati Bengals and also during the Ravens playoff run. So it could have simply been the toe injury that had brought down his coverage skills and taken away his speed.
But what if this was something more than a toe injury and Lewis continues to be slow in pass coverage in 2012?
This season, the Ravens will get plenty of games against elite quarterbacks. They will play against Tom Brady, Ben Roethlisberger twice, Peyton Manning, Philip Rivers, Eli Manning, Michael Vick and Matt Schaub.
That is a ridiculously good lineup of quarterbacks and the Ravens will absolutely need their best pass defenders out in coverage so that another Chargers game doesn't happen again.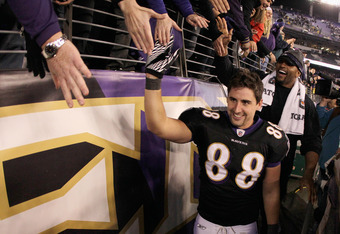 Rob Carr/Getty Images
As crazy as that may sound, this may involve having Lewis leave the field in passing situations.
Instead, the Ravens could try putting in a young linebacker like Jameel McClain or even Sergio Kindle, should he ever get healthy. Lewis can stick to doing what he does best, which is make great tackles against the run and psyching the team up with his on-field leadership. 
This could certainly hurt Lewis' pride, but at this stage of his career, he's got to be able to move past that.
Lewis realizes what he has accomplished as not only one of the greatest linebackers of all time, but also one of the greatest football players of all time. The fact that he can still start and still be one of the top five players at his position at the age of 36, is nothing short of amazing. 
17 years is a long time to do anything. It's an even longer time to play a brutally violent game like football, where at any time you could be one hit away from career-threatening or even life-threatening injuries.
Since Lewis has made it this far, he deserves the proper caution and even some time off the field to ensure that the world can remember him as the most dominant defensive player of his era.