2012 Fantasy Baseball Projections: Prospects You Can't Ignore
April 1, 2012

Jeff Gross/Getty Images
There are a ton of great MLB prospects who are on the rise and ready to enter the big leagues, but they may not be set to enter the fold just yet.
The following prospects are on the cusp of entering the big leagues, so they are especially important to keep an eye on for your fantasy-baseball season.
Shelby Miller, P, St. Louis Cardinals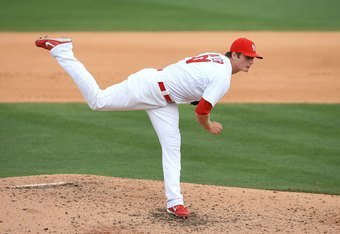 Doug Benc/Getty Images
The Cardinals may find themselves calling up Miller earlier than expected if pitcher Chris Carpenter has to miss some serious time.
Carpenter has been dealing with a nerve issue in his throwing arm, which could potentially sideline the team's ace for quite some time. They may not call up Miller immediately to replace him, but they may decide to give it a go if others don't pan out.
Miller has yet to appear in the Triple-A level, but he posted solid numbers last year in Double-A. 
In 16 starts, Miller went 9-3 with an ERA of 2.70. He struck out 89 batters in 86.2 innings, and is looking ready to make an impact whenever his number is called.
Miller is the team's top prospect, and his time is likely coming soon. If St. Louis is without their ace, they may have to look upon their eventual ace of the future.
Mike Trout, OF, Los Angeles Angels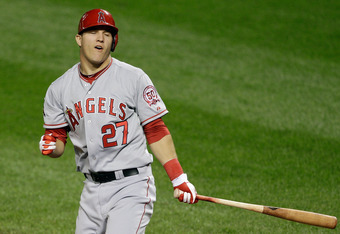 Rob Carr/Getty Images
It looks like Trout will once again be out of luck given the Angels' full outfield, but that doesn't mean people should ignore his chances in 2012.
Trout has two paths he can take. He either will come up and replace one of the team's aging outfielders—whether one is traded or injured—or he may get traded himself for some incredible return package.
Either way, Trout will make the leap this year, it's just a matter of when; he is just too talented of a player to continually keep down in the minors.
He was in the bigs for a brief period last season, and recorded 123 at-bats in 40 games. He batted just .220, but many argue that he is more than ready to be an everyday major leaguer.
The Angels know that he could be a great piece to add into the lineup alongside Mark Trumbo and Albert Pujols, but it remains to be seen how they will get him there.
Brett Jackson, OF, Chicago Cubs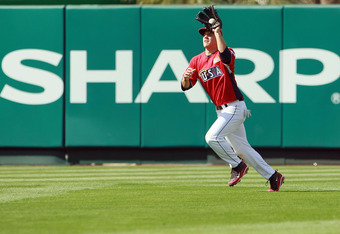 Jeff Gross/Getty Images
The Cubs are another team that has a full outfield, but don't be surprised if they make way for top prospect Jackson. 
The 23-year-old minor league outfielder is ready to make the jump, but it will take the moving of either Alfonso Soriano or Marlon Byrd to make room, the latter being more likely.
In 48 games with Triple-A Iowa last season, Jackson batted .297 while recording 10 home runs and 26 RBI in 185 at-bats. If he can keep those numbers alive in the early goings, the Cubs may decide to give him the shot in the midst of their total rebuild.
Jackson had a great spring, and was sent down simply due to limited space. The team believes in him, and the situation calls for him.
Keep an eye out for this one.