Junior Hemingway to Chiefs: Video Highlights, Analysis and Scouting Report
April 28, 2012

Gregory Shamus/Getty Images
Michigan Wolverine wideout Junior Hemingway is a playmaker with the potential to be quite a steal in the 2012 NFL draft.
At 6'1'', 225 pounds, he's not going to come in and take the NFL by storm with size or speed, but he has reliable hands, he runs solid routes, and he can make things happen after the catch.
He accumulated 34 catches for 699 yards and four touchdowns during his senior year at Michigan, including two touchdowns and an MVP award at the 2012 Sugar Bowl.
What Junior Hemingway Brings to the Team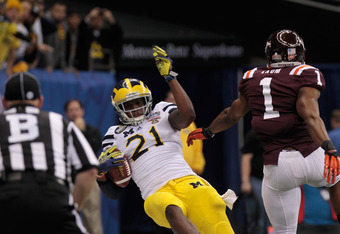 Chris Graythen/Getty Images
If anything, you're getting a solid locker room presence and a leader at the wide receiver position. He has the experience of playing at a huge program like Michigan, and he stuck with that program through all of their ups and downs.
Everything I've seen from Hemingway on the field suggests that he's a hard worker. He runs smooth routes, doesn't give up on plays, and has a great nose for the ball. He may not be the biggest, strongest or fastest player on the field, but he's going to do everything he can to come down with the catch.
He could become a pretty dangerous option in the slot and he does well running after the catch, but chances are Hemingway's biggest impact in the NFL will be as a great special teams players. He'll give you energy and hustle every time he gets on the field.
What Experts Are Saying
Here's a portion of the scouting report on Hemingway from nationalfootballpost.com:
Impression: Isn't a dynamic athlete, but possesses good strength and is tough to bring down after the catch. However, isn't anything more than a fringe roster guy at best at this stage and is limited in what he can offer an NFL offense. Isn't worth a draft pick in my mind.
Hemingway will bring a ton of upside to this pick. Like I said, he's a hustler and will be a good locker room guy. He's talented, but he's not elite in any way, shape or form.
Rookie Impact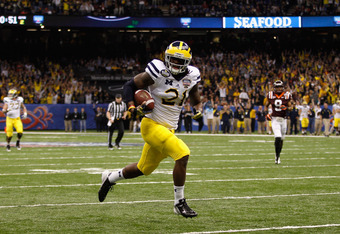 Chris Graythen/Getty Images
Hemingway will fight for and earn his roster spot. As a receiver, I don't see him bringing much right away, unless it's in an injury relief situation. He could become a dangerous receiver that can make things happen in the slot and in the soft part of zones, but his rookie year will most likely be spent on special teams.
Pick Analysis
Everyone wants a dynamic, explosive wide receiver and that doesn't describe Junior Hemingway. Nevertheless, the Michigan product enjoyed a nice career with the Wolverines and flashed some big-game flair in the 2012 Sugar Bowl. He gives the offensively challenged Kansas City Chiefs additional depth in the wide receiver corps and could evolve into a solid, big-possession threat.