Cleveland Indians: Projecting the Tribe's 2012 Starting Infield
April 2, 2012

Jason Miller/Getty Images
The Cleveland Indians will need a solid overall performance from their infield on both offense and defense in 2012 if they want to keep pace in the American League Central division.
With several ground-ball pitchers in the rotation, an improved defense will go a long way towards keeping opposing teams off the scoreboard. Uncertainty in the outfield also means that the infielders will need to provide a lot of the offense in the upcoming season.
Here is a look at the projected starting infield for the Tribe in 2012 and the players that will step in should an injury occur.
First Base: Casey Kotchman (2011 stats: .306 AVG, 10 HR, 48 RBI, .998 FPCT)
Casey Kotchman had a solid year for the Tampa Bay Rays in 2011. The Indians added him to their roster via free agency. He signed a one-year, $3 million contract with the Tribe. The deal also includes performance bonuses worth up to an additional $1.75 million.
While his power numbers leave something to be desired from the first base position, Kotchman's Gold Glove-caliber defense brings some much needed stability to Cleveland's infield. Kotchman has fewer career errors than Cleveland first basemen had during last season alone.
Look for Kotchman to post similar statistics as he did last year with the Rays. However, it is not a stretch to believe that his power numbers will increase as Progressive Field is very friendly to left-handed hitters. With his defense and ability to get on base, Kotchman is a definite upgrade at first base for the Tribe.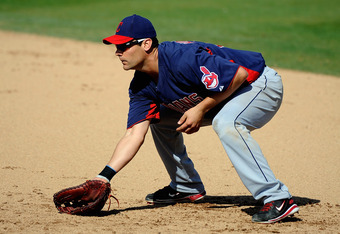 Kevork Djansezian/Getty Images
Second Base: Jason Kipnis (2011 Stats through 36 games: .272 AVG, 7 HR, 19 RBI, .963 FPCT)
Jason Kipnis made his major league  debut for the Indians on July 22, 2011. He quickly proved that he had the grit, determination, and bat to stick around in the major leagues.
After his great showing in the second half of last season, Kipnis is scheduled to start the 2012 season as the Indians starting second baseman. A converted outfielder, Kipnis still has work to do on his infield defense, but he has the athleticism to become at least average at the position.
While his defense is still improving, his offensive abilities are what fans should really be excited about. In only 36 games, Kipnis hit seven homeruns and drove in 19 runs. Needless to say, his potential offensive numbers during an entire season is something to be excited about.
Look for Kipnis to struggle at times in the field this season, but  easily make up for any miscues with his bat.
Short Stop: Asdrubal Cabrera (2011 stats: .273 AVG, 25 HR, 92 RBI, .976 FPCT)
To say that 2011 was a breakout season for Asdrubal Cabrera would be a huge understatement. Cabrera experienced a power surge that many did not think he was capable of. Some credit must be given to former Tribe player Orlando Cabrera, who advised Asdrubal to sometimes swing for the fences when he was in favorable counts. Heeding that advice led Asdrubal Cabrera to a 25-home run season, an All-Star game start and a Silver Slugger Award.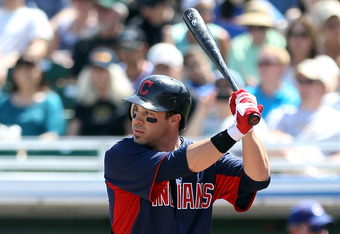 Christian Petersen/Getty Images
While many baseball experts consider Cabrera's defensive range to be below average, the amount of sparkling defensive plays that he turns in every season beg to differ. Most of those great plays come on balls hit deep into the holes at shortstop which indicates that Cabrera's range is not as poor as some people suspect.
While expecting another 25-home run season may be wishful thinking, there is no reason that Cabrera can't easily reach double digits again this season. Look for Cabrera to hit for a slightly higher average in 2012 and for his power numbers to take a small dip. However, he will continue to flash the leather at shortstop for the Indians and be a presence in the middle of the lineup.
Third Base: Jack Hannahan (2011 stats: .250 AVG, 8 HR, 40 RBI, .983 FPCT)
A season ago, Jack Hannahan came into the Cleveland Indians' spring camp as a non-roster invitee to spring training. An injury to Jason Donald, who was projected to start 2011 as the starting third baseman, opened the door for Hannahan to break camp with the major league team. He soon proved to be an invaluable commodity at third because of his stellar defense.
Hannahan, never known for his hitting ability, had one of his best offensive seasons in 2011. He was such a valuable player that even when young third baseman Lonnie Chisenhall was called up, Hannahan often found himself at third late in close games.
This year in spring training, there was an open competition for the starting third base job between Hannahan and Chisenhall. Hannahan came out on top in that position battle mainly because Chisenhall had such a poor offensive showing. However, he is still considered the future at third base in Cleveland.
Look for Hannahan to have another outstanding defensive season. But if he struggles with the bat for any extended amount of time, it would not be surprising to see him designated to a bench role at some point in 2012.
Utility Infielder: Jason Donald (2011 stats through 39 games: .318 AVG, 1 HR, 8 RBI, 4 E)
Jason Donald was acquired by the Cleveland Indians as part of the Cliff Lee trade with Philadelphia a few seasons ago. He was projected as the starting third baseman in 2011, but a hand injury prevented that from happening. He then experienced several nagging injuries while rehabbing in the minors and was only able to play in 39 games in 2011. Not really the season Donald was looking forward to having.
During this spring training, with the third base position locked between Hannahan and Chisenhall, Donald's main focus was the utility infielder's position. After a strong spring, Donald earned a role on the major league roster. He certainly did not hurt his cause by also showing he could be serviceable in the outfield.
Look for Donald to stay healthy in 2012 and to be one of the best utility players in the American League Central division and possibly the entire American League. Should there be an injury to another Tribe position player, Donald should be first in line to move into a starting role with the team.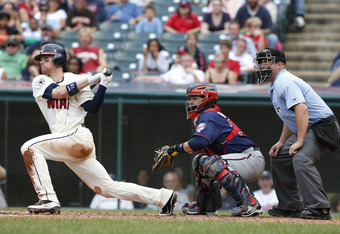 David Maxwell/Getty Images
Utility Infielder: Jose Lopez (2011 stats: .216 AVG, 8 HR, 21 RBI, 5 E)
Jose Lopez was signed to a minor league contract with an invitation to spring training in the offseason by Cleveland. He has had a strong spring training and earned a spot on the Indians' bench to start the regular season.
Only a couple seasons removed from a year in which he hit 25 home runs and 42 doubles, Lopez came into camp with the Tribe in great shape and showed that he still has pop in his bat. He can play first, second, third and DH when Travis Hafner needs a day off. The fact that he hits from the right side, a rare sight for a player in a Cleveland uniform, makes him a good option to have off the bench.
Look for Lopez to get limited playing time to begin the 2012 season, but if he starts to hit like the player in was back in 2009, then he could challenge other players for a starting role.
Next In Line: Should an injury or poor performance occur, these players are next in line to be called up.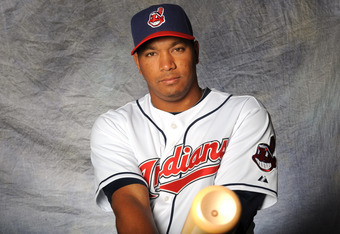 Rich Pilling/Getty Images
Lonnie Chisenhall: If the Tribe's starting third baseman gets in a deep slump at the plate and Chisenhall is hitting well in AAA, he will be called up to provide an offensive spark at third base.
Cord Phelps: Phelps had a brief stint in Cleveland last season, but struggled both at the plate and in the field. While he is still considered to have a decent amount of potential, he kind of got pushed to the back of people's minds with the emergence of Jason Kipnis. Phelps could see more time in the majors this season, but probably only if there are several injuries to other starters.
Matt LaPorta: Thus far, LaPorta's major league career has been a major disappointment. Expected to be the middle-of-the-order power hitter the Indians have been searching for when he was acquired from Milwaukee in the C.C. Sabathia trade, LaPorta will start the year in AAA. He provides depth at first base and DH, but seems to have fallen out of favor in the Cleveland organization.
Russ Canzler: Canzler was acquired by Cleveland from Tampa Bay in the offseason for cash considerations. Last season, he was the International League's AAA MVP. Canzler is a true power threat, but is average at best in the field. If the Tribe struggles to score runs during the season, expect Canzler to be one of the first call-ups to boost the offense.
The starting infield for the 2012 season is much improved from last year's group of players. They are expected to be stellar on defense and also provide a huge part of the Indians' offense.