2012 NFL Draft Projections: 2nd-Round QBs Miami Dolphins Should Target
April 1, 2012

Ethan Miller/Getty Images
When the Miami Dolphins decided to pass on quarterback Matt Flynn and cut ties with former starter Chad Henne, the team was left without many options. They will start the year with Matt Moore likely under center—that is unless they decide to take a viable starter in this year's NFL draft.
While the Dolphins would be foolish to use their No. 8 pick on any of the remaining quarterbacks on the board, they would be wise to use their second-rounder or beyond to nab a potential QB of the future.
There are a ton of options out there, but it really depends on where the team decides to target the position.
If they do decide to nab a passer in the second round, the following passers would be smart takes by the Dolphins.
Ryan Tannehill, Texas A&M Aggies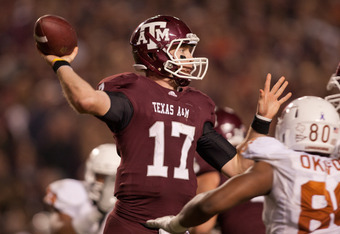 Darren Carroll/Getty Images
Despite having little success this past season, Tannehill is still regarded as one of the better quarterbacks in this year's draft.
For the Aggies, Tannehill through for 3,744 yards while completing 29 touchdowns. He also threw 15 picks, a number that many would like to see lowered.
Tennehill has been in the news recently as many have been impressed with his pro day results, which may actually propel him to a first round pick. While he certainly could go, not that many teams are looking for starting quarterbacks, and it would be hard to imagine the Dolphins taking him at No. 8.
If they can land him in the second round, the senior may just be the ideal candidate to run Joe Philbin's offense.
Brock Osweiler, Arizona State Sun Devils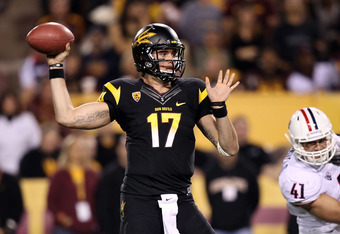 Christian Petersen/Getty Images
Osweiler may have jumped the gun in entering the NFL draft picture this season, but many teams may still be interested in acquiring him to see what he can do.
The thing that people will notice first about Osweiler is that he is huge, standing at 6'8" and 240 lbs. No joke.
Osweiler had a pretty good year in his first year being the starter to open the season, throwing for 4,036 yards with 26 touchdowns and 13 interceptions.
The thing is, Osweiler is still pretty raw, but he has a whole lot of upside. He is very mobile for his size, and with a little work, he can have a real cannon.
He could be a work in progress, but could be something special with the right teaching.
Brandon Weeden, Oklahoma State Cowboys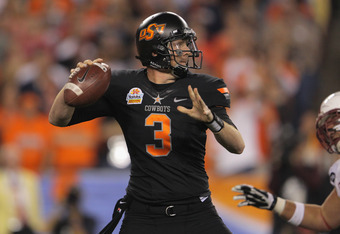 Doug Pensinger/Getty Images
While many who know of him believed he could jump to the second round of the draft, the Cowboys senior passer in Weeden is finally starting to really enter the fold with the draft just around the corner.
Somehow, he actually topped his junior year numbers, throwing for 4,727 yards with 37 touchdowns. As mentioned, he had similar production just a season ago, so there is at least a sign of consistency.
There is a downside to Weeden though, as he is currently 28 years old. That is seven years older than Osweiler, and five years ahead of Tannehill.
Sure, he has more experience, but you can't dismiss the fact that he is much older than the rest. It is a risk, but if he has the stuff, it could be worth it.