LSU Spring Game 2012 Results: Highlights, Grades and Analysis
March 31, 2012

Kevin C. Cox/Getty Images
It appears as if new LSU Tigers starting quarterback Zach Mettenberger is ready to take over the reins under center, or at the very least he appeared ready in the 2012 LSU spring game.
There's only so much we can learn from a spring game—to be honest it's very little—but that being said, first impressions are said to be lasting ones.
How will LSU bounce back from a near-perfect season that ended in an embarrassing blowout loss to rival Alabama in the national championship game?
What will the team look like after losing a multitude of key starters to the 2012 NFL draft?
We'll try to answer those questions and more in this breakdown of the 2012 LSU Spring game:
Result
White 24, Purple 17
Notable Grades
Zach Mettenberger, Quarterback: B+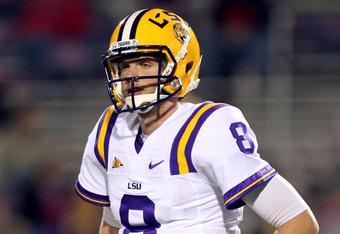 Joe Murphy/Getty Images
Finding a consistent quarterback is going to be key for this new era of LSU football, and it looks like Mettenberger is going to be the guy.
He went 14-of-29 for 270 yards and two touchdowns.
For a spring game, those are pretty good numbers, especially considering that the report states one of them was a 49-yard toss.
Odell Beckham, Wide Receiver: A+
According to Alex Cassara of lsureveille.com, Beckham had a great spring game, with three catches for an excellent 115 yards and a touchdown.
With Rueben Randle heading to the NFL it's going to be imperative for LSU to find a deep threat, and Beckham has what it takes to be that guy.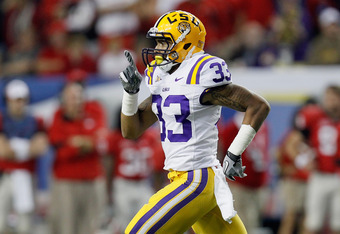 Kevin C. Cox/Getty Images
Considering that LSU has been known for a great ground-and-pound running game, having a receiver that can put up those numbers is a huge A+ grade here in Spring.
Lamar Louis, Linebacker: A
According to the Daily Reveille, Louis—who is a freshman, mind you—was able to pick off LSU's new starting quarterback off a tipped throw and take it back to the house.
This is huge considering that defense is key to LSU, and the loss of players like Morris Claiborne and Michael Brockers means a loss of play makers.
Louis showed us that at least in the spring game, LSU will never be void of playmakers on defense.
Highlights
Check out these highlights from the 2012 spring game:
Analysis
The LSU Tigers are going to look a bit different moving forward, but they are going to bounce back from last season's embarrassing finish just fine.
Mettenberger's play would lead me to believe that the offense may attack more vertically with him under the helm, and the defense should be just as strong.
The Tigers aren't going to miss a beat in 2012.