Kentucky vs. Louisville: Characters That Will Impact Final Four Matchup
March 31, 2012

Jeff Gross/Getty Images
Every story worth it's weight in gold has characters worth investing in, and that's exactly what we have in this epic 2012 Final Four matchup between the Kentucky Wildcats and Louisville Cardinals.
Whether good or bad, there are plenty of reasons to tune in.
The personalities and players in this game are just as big as the matchup in itself—if not bigger. Just as on all grand stages, these characters will determine the outcome.
The outcome in this case will be a trip to the 2012 NCAA basketball national championship game.
Shakespeare told us that all the world's a stage. Here are the characters that will make the biggest impact on this night.
Rick Pitino, Coach, Louisville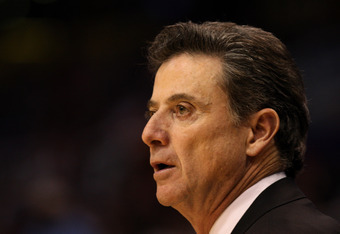 Christian Petersen/Getty Images
The drama of this epic matchup starts and ends with Rick Pitino. He's a legend in the college basketball world, and all eyes will be on his reaction to the events that take place.
He's often brash, animated and he's got somewhat of a temper. Even though he may terrorize referees and reporters, he makes for a great watch on the sideline.
Adding to his intrigue is the fact that he used to coach for Kentucky, winning a championship in 1996, but now squares off against his old team as the coach of their biggest rival.
The plot surrounding Pitino is thick in this game, and his fiery coaching is going to have to play a huge role against a Kentucky team that is near flawless.
Anthony Davis, Forward, Kentucky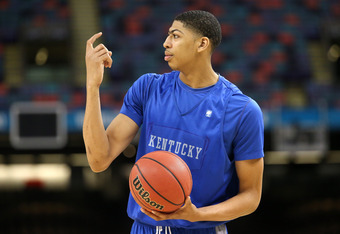 Ronald Martinez/Getty Images
There is no doubting the fact that Davis is the best player on the floor, and this game will go how he wants it to.
He just won the 2012 AP Player of the Year award, and he's been dominant in the tournament. He's a terror on the offensive end, but may make his biggest impact on the paint playing defense.
He's a great rebounder and an imposing shot blocker.
If the Wildcats can get the ball down to Davis and allow him to control the flow of the game through the paint, they will have a huge advantage in this game.
The Fans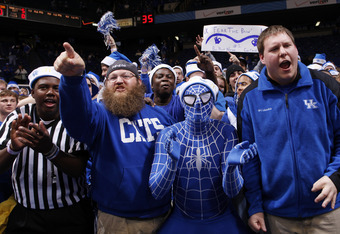 Joe Robbins/Getty Images
This game is a huge rivalry, as Louisville and Kentucky fans cannot stand each other, so I can only imagine the atmosphere at the game will be hostile.
You'd be naive to believe that fans can't play a huge role in a basketball game, especially the college level.
The team with the louder more imposing fan base may be able to snag a bit of an advantage over their opponents.
As in most big games, it's going to come down to who can focus in the final few minutes. The fans will factor in to that focus.
Tune in at 6:09 p.m. ET on CBS to experience the madness for yourself.