Predicting the Philadelphia 76ers Playoff Rotation
April 4, 2012

Mike Ehrmann/Getty Images
While their first-round matchup won't be set until a few weeks from now, we already have a pretty good idea of the Philadelphia 76ers' rotation come playoff time.
Out of necessity (due to injury as well as ineffective performance), 10 different players have found themselves in the Sixers' starting lineup this season. However, barring an unforeseen circumstance, here are the roles for every player on the roster once the playoffs get rolling at the end of this month.
Starters: Jrue Holiday (PG), Evan Turner (SG), Andre Iguodala (SF), Elton Brand (PF), Spencer Hawes (C)
76ers head coach Doug Collins compared his relationship with point guard Jrue Holiday to the bond between a quarterback and an offensive coordinator. That tells you all you need to know about Holiday's standing with the team.
The 6'4" guard had a decent showing in last year's playoffs (14.2 PPG, 5.6 APG, 3.8 RPG), but will need to improve on those numbers if Philadelphia wants to get out of the first round this season.
After Collins inserted Evan Turner into the lineup back on March 5, he said that he was committed to starting his second-year swingman for the remainder of the year.
But while it's clear that Turner is best with the ball in his hands, he still spends the majority of his time running off of screens. So even though Turner will get the bulk of the minutes at shooting guard in the playoffs, it remains to be seen how Collins will utilize his skills.
Andre Iguodala sat out two games recently due to knee tendinitis, so expect Collins to be cautious with the minutes he gives his All-Star small forward leading up to the postseason.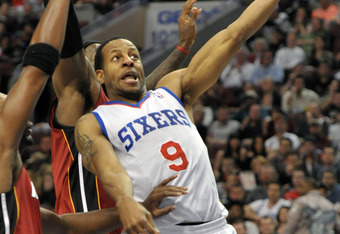 Drew Hallowell/Getty Images
To call Iguodala's scoring output "erratic" would be a fair claim, but the 6'6" swingman just might be the best perimeter defender in the entire NBA. Philadelphia has no chance to win a playoff series without a healthy Iguodala, who will be counted on to lock up the opposing team's best wing player on a nightly basis.
With more than 12 seasons of NBA tread on his tires, Elton Brand is probably one of the least athletic power forwards in the league. That said, he's still an imposing figure in the paint who can be counted on for 10 points and seven or eight rebounds nearly every time he steps on the floor.
Whether he's "worth" the $17 million that the 76ers are currently paying him is inconsequential. Brand's mere presence in the interior is an extremely valuable asset to a team that lacks toughness on the inside.
Center Spencer Hawes is healthy once again, and his return couldn't come at a better time for the 76ers. Freed from the restriction that prevented him from playing in back-to-back games, Hawes has ample time to get back into game shape before the postseason.
Primary Reserves: Lou Williams, Thaddeus Young, Jodie Meeks, Nik Vucevic, Sam Young
Williams and Thaddeus Young will be the first players off of the bench for the 76ers in the playoffs, just as they have been for virtually every game over the past couple of seasons. The two have combined for more than 28 points per game this year, and are Philadelphia's most consistent options on offense.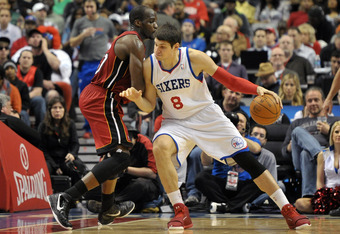 Drew Hallowell/Getty Images
Jodie Meeks may no longer have a starting role, but he still plays a decent amount of minutes as the third man off the bench for Philadelphia. When hot, Meeks is still the most accurate shooter on the team, and his presence gives the other 76ers wing players more freedom to operate in a half-court set.
A promising young post player, Nik Vucevic slammed into the rookie wall early last month. He hasn't scored in double figures since March 7 and even racked up a few DNP-CDs over that stretch.
Granted, Vucevic's statistical decline is partially due to the return of Spencer Hawes, who is benefiting from the minutes that Vucevic used to receive. But even though the rookie center is a noticeably different player than the one we saw back in February, it would be hard for the Sixers to advance in the playoffs with the eight-man rotation they're currently using.
The recently acquired Sam Young has performed well considering that he hasn't had the benefit of much practice time with his new team. Young is an active, playoff-tested defender and rebounder who can give the 76ers 8-10 solid minutes a night at the 3 position.
The DNP-CD Crew: Lavoy Allen, Craig Brackins, Tony Battie
A second-round pick in last June's NBA draft, Lavoy Allen received a fair amount of playing time earlier this season due to various injuries to Hawes. But now that the 76ers' starting center is back in the lineup, don't expect to see much of Allen unless Philadelphia finds itself in a blowout.
Craig Brackins is another player who won't step on the floor unless the 76ers are either leading or trailing by 20 points or more. When he hasn't been with the Maine Red Claws in the NBA's Developmental League (where he played for most of February), Brackins has been firmly entrenched as the team's 13th man this season.
Backup center Tony Battie has the potential to get the most minutes of anyone in the DNP-CD crew.
Sure, he's played in less than half of the team's games this season, despite being relatively healthy. But Battie's experience (13-plus NBA seasons) and veteran savvy will be invaluable come playoff time, and given the right matchup, he just might be the first or second big man off the bench. However, if Philadelphia faces a team with an athletic center, Battie (and his veteran savvy) will spend most of the time on the 76ers' bench.