Ohio State vs. Kansas: Jared Sullinger's Woes Will Doom Buckeyes
March 31, 2012

Jim Rogash/Getty Images
The Kansas Jayhawks are going to come out of tonight's matchup with a victory over the Ohio State Buckeyes, and it's going to be because they'll shut down Jared Sullinger.
Tonight will be less of a five-on-five game than it will be a one-on-one matchup between Kansas' Jeff Withey and OSU's Jared Sullinger.
Withey has been on a shot-blocking tear lately, with 20 blocks in his last four games. Sullinger has also been killing it, scoring 18 per game in the NCAA tournament.
Sullinger's run will come to an end tonight, while Withey's will continue.
In the NCAA tournament, Sullinger has reached the foul line 33 times, knocking down his freebies at an 82 percent clip. 
Withey won't be sending him to the line, as he's fouled out just once this season. That will be an issue for Sullinger, since he's struggled from the field in the tourney, hitting just 47 percent of his field goals.
Sullinger has struggled against decent big men on numerous occasions.
On February 26, he scored just eight points on 4-of-10 shooting against Wisconsin. He was shut down by Jared Berggren, essentially a poor man's Jeff Withey.
Against Michigan on January 29, Sullinger got into foul trouble early, and was rendered completely ineffective, scoring just 13 points in 28 minutes.
When the Buckeyes played Florida in the second game of the season, Sullinger shot just 4-of-8, but was able to get to 16 points by going a perfect 8-for-8 from the stripe.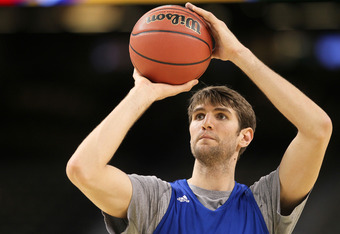 Jeff Gross/Getty Images
That was just the second game of the season, which is a long time ago now, but it still happened and you can't discount it.
In the Big Ten title game, Sullinger poured in 18 points and nine rebounds, but had to take 19 shots to get there. In the final minute of that game, Sullinger missed two close shots, and the first of a one-and-one.
For those of you who don't remember, that game ended in a four-point victory for the Spartans.
When Ohio State lost to Indiana on New Year's Eve, Sullinger got into foul trouble early on yet again. He scored 15 points, but only took five shots from the field. He finished 9-for-13 from the line.
Withey won't be fouling Sullinger as much as these past opponents have. He has a three-inch height advantage, and is extremely long.
Withey will limit Sullinger's field-goal attempts as well as his free throws, leaving Sullinger no way to have an impact on the game.
Kansas will move on to the title game on the heels of Withey's dominant defensive performance.