Final Four 2012: Each Team's Best NBA Draft Prospect
April 1, 2012

Streeter Lecka/Getty Images
This year's NCAA tournament has provided a great stage for some of the next stars of the NBA, and even more so for those players who made it all the way to this year's Final Four.
For the Kentucky Wildcats, Louisville Cardinals, Ohio State Buckeyes and Kansas Jayhawks to make it to where they did, they needed great play from players who stand out from the rest.
While many of their players will likely go on to play in the NBA, each team has a distinctive star who took the team above and beyond.
Ohio State Buckeyes: Jared Sullinger, F, Sophomore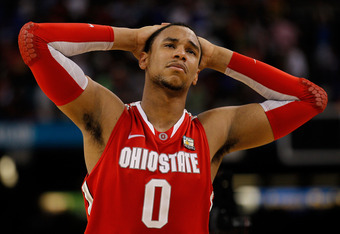 Chris Graythen/Getty Images
The Buckeyes were lucky to have their star freshman in Sullinger return for his sophomore season. The standout forward has once again risen the team above and beyond, making quite a statement in his second year of success at the collegiate level.
Sullinger once again averaged just over 17 points per game this season, as well as being right in the range of about 10 rebounds per night. He has clearly been a force on both sides of the ball, and could certainly excel when playing within a solid core of players.
It will remain to be seen if he could play the star role, but the more likely scenario is that he will be a solid contributor, while quietly adding 15 points or so a night.
Kansas Jayhawks: Thomas Robinson, F, Junior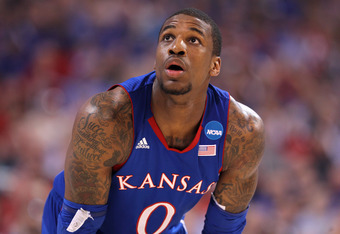 Andy Lyons/Getty Images
Getting his first serious minutes of his college career, 6'10" forward Robinson has been a huge contributor all season long for the Jayhawks. He has had a ton of success on both ends of the floor, but has been a beast on the glass.
He is averaging 11.8 rebounds per game along with his 17.7 points. Those numbers are huge, and any team will likely be salivating at the chance of landing him in the draft.
This year there is a lot of big men, so there are a plethora of options. Robinson, though, stands a strong chance to excel amongst his peers, especially given how well he has played in the tournament thus far.
In the first three rounds, he grabbed 41 rebounds, as well as bringing down nine against the very big North Carolina Tar Heels in the Elite Eight.
If he can fight on the glass like that against NBA teams, he will be one tough matchup in the post.
Louisville Cardinals: Gorgui Dieng, F, Sophomore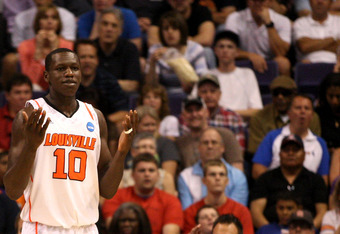 Christian Petersen/Getty Images
It will remain to be seen if Dieng will opt to head to the 2012 NBA draft, but one thing is for sure, teams will be heavily interested whenever he decides to go.
His stock will probably rise if he were to head out after next season, but still, the 6'11" man from Senegal has been strong on both offense and defense this year.
This was Dieng's real first shot to shine at Louisville, and he has taken advantage of the opportunity. He is averaging 32.6 minutes per game, while scoring 9.4 points with 9.1 rebounds per night.
There is definitely still room to improve, but there is certainly a lot of upside with his game. If he can continue to excel, there is a good chance he will become a great player in the NBA.
Kentucky Wildcats: Anthony Davis, F, Freshman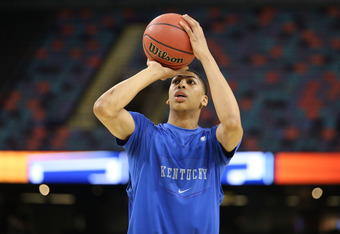 Ronald Martinez/Getty Images
No secret here. The AP Player of the Year in Anthony Davis has been one of the most phenomenal players all season long—not to mention he is just a freshman.
With Davis being right now the consensus No. 1 overall pick of the 2012 draft, there is no doubt that everyone is labeling him as quite possibly the next great big man.
Davis has been strong all season long, but showed his true colors in the team's Elite Eight game against the Baylor Bears.
In that game, Davis recorded 18 points and 11 rebounds, not to mention the ridiculous six blocks he had. 
That is exactly what he can do though, and he will be able to dominate others at the next level.
Jeff Chase is a Featured Columnist for the Chicago Cubs and Arizona State football.