Final Four 2012 Predictions: Why Kentucky vs. Louisville Will Be a Blowout
March 31, 2012

Ronald Martinez/Getty Images
The Louisville Cardinals have had an incredible run in the 2012 NCAA tournament, but that run is about to be halted by the Kentucky Wildcats when the two teams square off in the first Final Four matchup of the evening.
In order for Louisville to stand a chance, they must keep this a low-scoring affair and by low-scoring, I mean in the 60-point range. However, such a feat won't be easy for the Cardinals.
During the entire course of the season, NCAA tournament included, Kentucky has been held to under 70 points only nine times. Of those nine times, Kentucky has only lost one of them.
Not to mention, Kentucky has destroyed each opponent they have faced and might be playing their best basketball of the season at the right time of the year.
So even if Rick Pitino's squad can hold John Calipari's team to under 70, Kentucky still has the defensive ability to win a low-scoring affair.
The times teams have been able to hold down Kentucky's offense are few and far between.
To make matters worse for the Cardinals, the Wildcats are loaded with NBA talent, led by Anthony Davis and Michael Kidd-Gilchrist. Both are slated to go No. 1 and No. 2 overall in some mock drafts, respectively.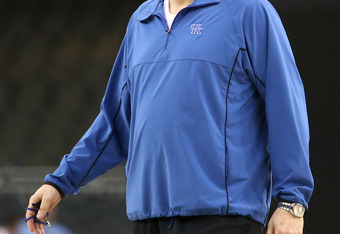 Ronald Martinez/Getty Images
In all, when you add Terrence Jones, Doron Lamb and Marquis Teague to the mix, the Wildcats have five potential first-rounders (according to mock drafts) on their team as compared to zero for the Cardinals.
That's a whole lot of talent to overcome.
And to stack the deck a little more, Louisville averaged a little under 69 points per game as opposed to Kentucky's 77 points per game. The depth of Kentucky will create multiple headaches for Pitino's defense and will give Calipari a myriad of options.
When looking at their abilities on both sides of the ball, it's clear where Louisville is lacking and that Kentucky does almost everything perfect.
It'll take quite an effort for Louisville to not only win this game, but to avoid getting blown out in the process. Pitino will have to coach the game of his life, and his players will have to give the effort of a lifetime if they hope to upset the Wildcats.
Prediction: Kentucky 85, Louisville 68