Boston Bruins: Despite Prolific 3rd Period, Day-Game Struggles Continue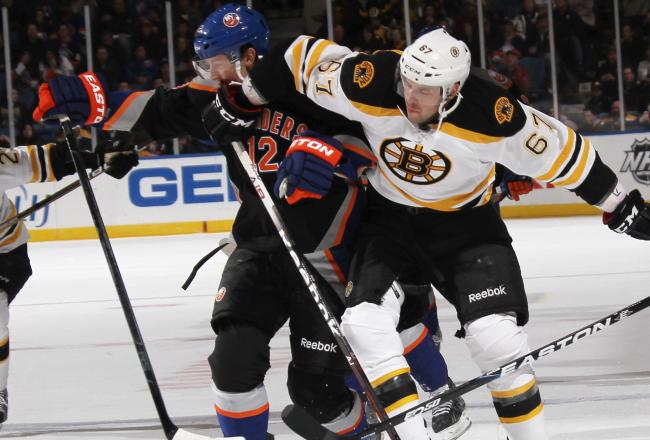 Bruce Bennett/Getty Images
The Boston Bruins' youngest line of Patrice Bergeron, Brad Marchand and Tyler Seguin made themselves viable candidates to endorse Five Hour Energy when they perked up for the third period of Saturday afternoon's tilt with the New York Islanders.
Defying the product's famous "2:30 feeling," Bergeron tallied two points while his wingers collected three apiece, helping to morph an initial 2-2 deadlock into a 6-3 victory.
All well and good for head coach Claude Julien and Co. so far as one day's final results go. But based on the way the first 40 minutes unfolded, the Bruins were once again slowed down by what might be dubbed the "one o'clock feeling."
The Bruins are now 6-8-2 in games starting at or before 3 p.m. local time. Of those six wins, three required a shootout to complete.
Over its 16 day games, Boston has mustered a cumulative scoring deadlock of 44-44. If you take out three decisive victories―Saturday's win on Long Island, a 4-1 triumph in Washington Feb. 5 and a 6-0 whitewash of Philadelphia Dec. 17―the Bruins are 3-8-2 in matinees with a 40-28 scoring differential working against them.
Conversely, when the puck drops at 5 p.m. local time or later, the Bruins are 40-20-2 with a 213-148 goal differential in their favor.
To put this into sharper perspective, the Bruins boast an overall winning percentage of .615 while averaging 3.19 goals-for and 2.42 goals-against.
When active near or after sunset, they have charged up a .661 point-getting percentage coupled with a nightly mean of 3.44 goals in the opposing cage and 2.39 in their own.
In afternoon games, they have a .438 success rate in the standings along with a daily average of 2.75 goals-for and 2.75 goals-against.
On the special teams' spectrum, the Bruins have converted 18.7 percent of their nighttime power plays and killed 86.8 percent of their penalties. Otherwise, they have converted six of 53 man advantages and killed 73.3 percent of their shorthanded predicaments.
Since the start of their infamous January-February lull, when the majority of their matinees have occurred, the Bruins are 17-11-2 in evening contests and 5-7-1 in earlier face-off times.
And for what it's worth, out of their first three regular-season meetings with the Pittsburgh Penguins, the Bruins' lone victory came on a Monday evening in December amidst Sidney Crosby's first comeback. Their two losses in the season series have come against a Crosby-less team and both started in the early afternoon.
With the Islanders, the season series finale was ultimately a third six-goal romp in Boston's favor, the other two coming on a couple of nights in November. But through the first two periods, it was looking and feeling more like the Bruins' 3-2 matinee loss at TD Garden four weeks prior.
To start the day, Bergeron and fellow pivot David Krejci certainly had all of the requisite mental energy to combine for 10 of Boston's 11 unanswered faceoff wins over the first 15 minutes of action.
But that imbalance did not translate anywhere else on the ice sheet or the stat sheet as the Islanders consistently stayed with the Bruins in terms of hits, scoring chances, shot attempts and shots on goal.
The Bruins' initial 1-0 lead in the opening frame lived to the age of 29 seconds. In the next stanza, they raised a 2-1 upper hand, only to have it lowered within 10 minutes.
In addition, Boston took each of the game's first two minor penalties during the second period. Their only power play finally came with 7:58 remaining in the third when New York blueliner Mark Streit illegally spooned the puck out of play.
By then, as if the scoreboard did not offer sufficient evidence, the Bruins had their buzz back. They had already sculpted their first multi-goal lead courtesy of Marchand and Seguin. And they were on their way to a 13-6 run in the shooting gallery after the Islanders had barely controlled that category, 16-14, through the second intermission.
Bruins buffs ought to be familiar with games of this type, albeit with different results. The fact that Boston was playing a go-nowhere Islander team indubitably played a role in their ability to avoid falling behind at any point.
The same could not be said when they last played the New York Rangers or the Penguins, or when they last had a midday bout with the Capitals. Those were all regulation losses that began with a 2-0 pothole in the first period.
Of the four remaining games in the regular season, the first three will begin at 7 or 7:30. Their finale against Buffalo is slated for 4 p.m., the only start time of its exact kind all season.
And if the last two playoffs are any indication, the Bruins will run into no fewer than two daylight games if they stay in the tournament long enough. Between now and then, they will need to undertake some simple soul-searching and learn to translate both their Saturday's third-period gusto and their standard prime-time flair to early afternoon draws.
This article is
What is the duplicate article?
Why is this article offensive?
Where is this article plagiarized from?
Why is this article poorly edited?

Boston Bruins: Like this team?