Ohio State vs. Kansas: Point Guard Duel Will Decide Who Advances to Title Game
March 31, 2012

Elsa/Getty Images
Although Thomas Robinson and Jared Sullinger are hogging the headlines, the outcome of Saturday's game will be decided by point guards Aaron Craft and Tyshawn Taylor.
The two have entirely different roles, but they are equally important to their teams. The scrappy Craft is the catalyst for Ohio State on both ends of the floor, while Kansas is reliant on Taylor's explosive scoring.
These are two of the best point guards in the country, and whoever wins the individual matchup will also lead their team to the national title game. Here's how they stack up against each other.
Scoring: Edge to Taylor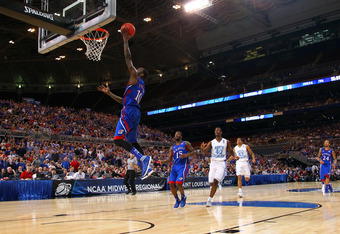 Dilip Vishwanat/Getty Images
Taylor has the advantage here, as he's averaging more points per game (17.3) than Craft's season-high (17, twice). He's also been very efficient this year, hitting 48.2 percent of his field goals.
Taylor was going through a major slump early in the tournament, but he busted out in a big way against North Carolina. He led all scorers with 22 points on 10-of-19 shooting. Kansas will need a similar effort from him tonight if they're going to advance to the national championship game.
Passing: Edge to Craft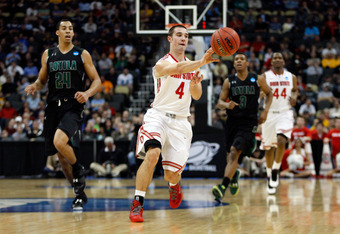 Jared Wickerham/Getty Images
While the Jayhawks need a strong scoring output from Taylor, the Buckeyes' offense is dependent on Craft's ability to find his teammates.
Although his season high for assists (10) isn't as good as Taylor's (13), Craft has been the more consistent passer this year. He's had nine games with at least seven assists, compared to just four for Taylor.
One such game for Craft came against Gonzaga in the Round of 32, when he assisted on seven Buckeye three pointers. If he can put on another penetrate-and-kick clinic tonight, the Buckeyes will advance.
Defense: Edge to Craft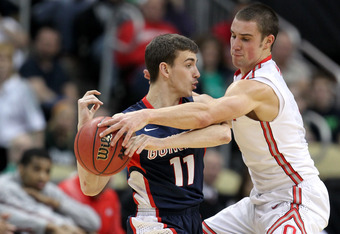 Gregory Shamus/Getty Images
Taylor is a solid defender, but Craft has the decisive advantage here.
He's one of the best perimeter defenders in the country, as evidenced by his Big Ten Defensive Player of the Year award. He's got great hands, quickness and instincts. He's always in the right place. Although he can get careless sometimes, he usually gets his hands on the ball without fouling.
In the regular season, he finished 12th in the nation with 2.4 steals per game. He only had two against Kansas in their first meeting, but he did manage to force Taylor into seven turnovers.
Prediction:
I'm expecting Craft to outplay Taylor and lead Ohio State to their second national title game appearance in six years.
He isn't nearly as good of a scorer, but he's got more help offensively with Jared Sullinger, Deshaun Thomas and William Buford. Look for him to penetrate into the heart of Kansas' defense, setting up himself and his teammates for easy looks.
Defensively, Craft will wreak havoc. I'm expecting him to buckle down on Taylor and disrupt the flow of the Jayhawks offense.
I'm picking Ohio State to win 74-68.