NCAA Scores 2012: Live Game Tracker and Highlights for Final Four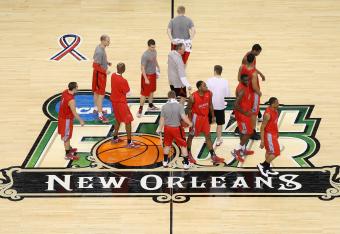 Chris Graythen/Getty Images
The Final Four kicks off today in a party so big that New Orleans might not be able to hold it. The 2012 NCAA Bracket is in its final stage, giving us three more great games to finish an exciting tournament.
No. 1 Kentucky beat No. 4 Louisville 69-61 in a thriller.
No. 2 Kansas came back to beat No. 2 Ohio State 64-62.
Stay tuned, as this page will be updated live throughout the day as I provide you with the latest scores, insight, reaction, analysis, highlights, the best articles from Bleacher Report and a few random musings (perhaps other sports, perhaps on how Rick Pitino looks like a vampire).
Also, please comment below, giving me your reaction, insight, musings on Thad Matta's shoes, etc.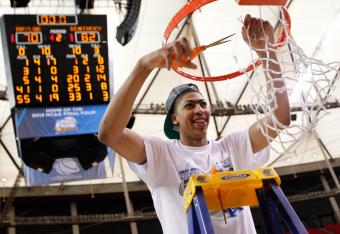 My prediction for the championship game is that Kentucky will beat Kansas.
Kentucky is a mature team for how young they actually are, and they will not allow Kansas to come out strong or finish strong.
Kansas has developed the risky habit of needing a comeback to win, and it is next to impossible to comeback against Kentucky.
Prediction: Kentucky 72, Kansas 64
Austin Green gives us his reaction to the Kansas-Ohio State game as we take a short break from analyzing the championship game.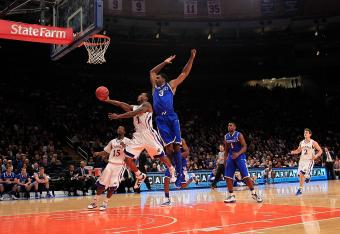 Kentucky and Kansas will meet in yet another rematch.
When these two played early in the season Kansas was not yet as unified as they are now, while Kentucky was already a great team.
Kentucky won the first game with all five starters scoring at least 12 points, while Tyshawn Taylor had to score 22 for Kansas, and Thomas Robinson only scored 11 points. Apart from those two, no one scored in double-digits.
This is going to be a very different game, but the Jayhawks will need Taylor to step up again, while Kentucky will look to Anthony Davis to play better than last time, as he had only 12 points and six rebounds.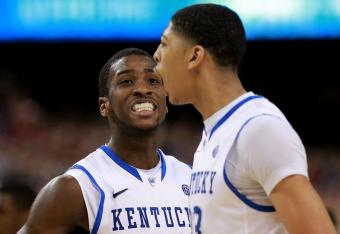 These will be the keys to victory in the championship game.
Point guard play will be key, as Tyshawn Taylor has the ability to be one of the best point guards in the country, and freshman point guard Marquis Teague is Kentucky's weak point. These two will battle as the front lines for their respective teams, and they will be key.
The other key is how Kansas' big men matchup with Kentucky. Seven-footer Jeff Withey should be able to stop Anthony Davis, while Thomas Robinson takes Terrence Jones out of the equation. If neither Withey or Robinson get into foul trouble, Kansas can play well inside against UK.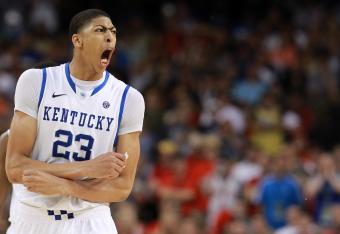 Kansas and Kentucky will meet in the final game of the 2012 NCAA tournament.
The Wildcats are the most dominant team in the country, sporting seven future NBA studs, including (possibly) the first two picks in this year's NBA draft, up to four lottery picks and one of the most talented teams in history.
The Jayhawks are a great team that has gotten to the championship game without playing their best basketball. If both Tyshawn Taylor and Thomas Robinson play well, this team is next to unstoppable.
Kyle Vassalo wrote an article that shows pictures from Kentucky's riot on campus after winning against Louisville.
This was the sickest play in an exciting game between Louisville and Kentucky, and it was one of the high points for the Cardinals in a loss.
Coming up are the highlights from both games tonight.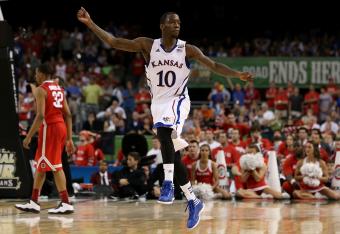 We have yet to see Kansas play like they are capable, and they have the potential to knock off Kentucky if they play well.
However, they will need both point guard Tyshawn Taylor and big man Thomas Robinson to play well for the entire 40 minutes, not to mention having Elijah Johnson dominate inside, and have Travis Releford and Elijah Johnson score in bunches.
Look out for Kansas if the team gets hot against Kentucky.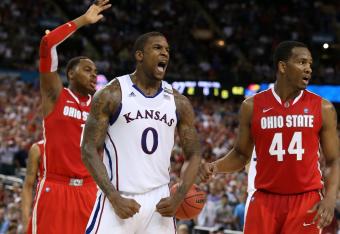 Kansas won this game because its starters scored 61 of the team's 64 points tonight. Thomas Robinson, Travis Releford, Tyshawn Taylor and Elijah Johnson all scored double-digit points.
Kansas did not shoot well and turned the ball over much more frequently than Bill Self would have liked, but they won because of their defense. Ohio State could not score in the second half, and they finished the game shooting 33.9 percent from the floor. The Jayhawks also outrebounded Ohio State 41-30.
Despite leading for only about two minutes in this game, Kansas won the game, showing a lot of resilience, as they have done against Purdue, North Carolina State, North Carolina, and now Ohio State in the NCAA tournament.
Kansas has never given up, and despite not playing their best basketball all tournament, the Jayhawks are in the championship game.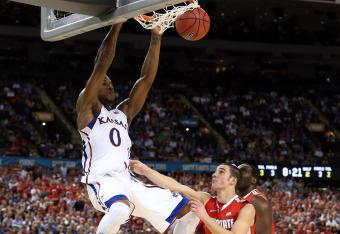 And we're all set for a Kentucky-Kansas championship game. Stick around for post-game reaction, analysis, highlights, predictions and more.
The third lane violation of the tournament ends Ohio State's season. Kansas wins 64-62.
Craft hits the first and will try to miss here.
Kansas 64, Ohio State 62

One-and-one for Ohio State. This game is just about over anyway, so Taylor's screw-up wasn't too bad.
Kansas 64, Ohio State 61

Huge steal by Taylor and then he throws the ball away. All he had to do was hang on to the ball.
Taylor makes both free throws, guaranteeing overtime.
Kansas 64, Ohio State 61

The Jayhawks are sending senior point guard Tyshawn Taylor to the line with the game being decided here.
Kansas 62, Ohio State 61

Kansas is really fortunate that Thomas rushed his two threes, and that Buford settled for a dunk.
Kansas 62, Ohio State 61. Kansas timeout with 9.6 seconds left in the second half.

That traveling call on Withey just stole Kansas' win with 25 seconds left.
Kansas 62, Ohio State 59
This game reminds me of when Kansas played Purdue, and the Jayhawks had a few baskets in transition to win the game after trailing for about 37 minutes.
Kansas 62, Ohio State 59
Kansas takes its largest lead of the game at three points.
Kansas 62, Ohio State 59. Ohio State timeout with 1:04 left in the second half.

Travis Releford looks to give Kansas the lead as Thomas comes back in.
Kansas 59, Ohio State 59
Taylor with a huge bucket. He's had a tough day against Craft, but he now has eight points.
Kansas 58, Ohio State 59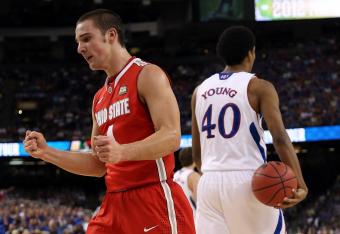 Aaron Craft with a huge steal and a basket in transition to extend the lead. With Thomas on the bench Kansas should look to feed the ball to Robinson inside.
Kansas 56, Ohio State 59. Kansas timeout with 2:21 left in the second half.

This article is
What is the duplicate article?
Why is this article offensive?
Where is this article plagiarized from?
Why is this article poorly edited?