San Francisco 49ers: 5 Reasons the Defense Could Improve in 2012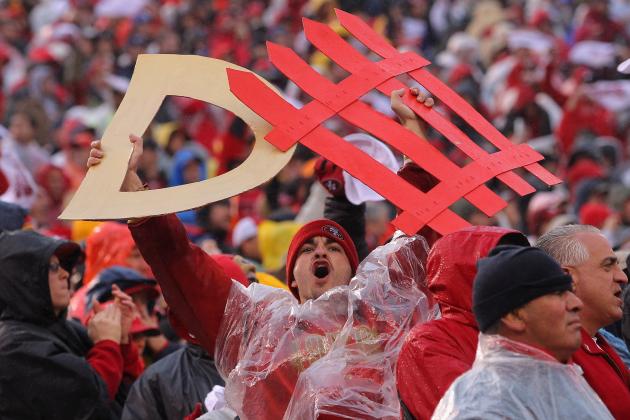 Doug Pensinger/Getty Images

In 2011, the 49ers had an unbelievable season defensively under new defensive coordinator Vic Fangio. It was a defense that set records as a unit and had individuals that registered career years. There's been some concern that because of how unreal the 49ers defense played at times, that it might be out of the question they could do it again.
However, instead of predicting a decline, it seems to me there is reason to believe the 49ers defensive squad could even improve in 2012.
In this piece, we'll take a look at a few of the reasons that the San Francisco defense will not only return to greatness, but produce better results.
Begin Slideshow

»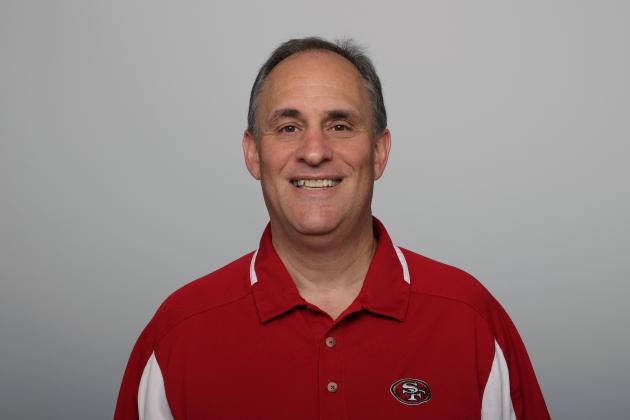 Handout/Getty Images

When Jim Harbaugh brought his staff in, he hired them in a shortened offseason with the intent of installing a completely new system. In that brief period of time, Fangio worked wonders with the defensive guys.
In 2011, the San Francisco defense established themselves as the new dominant unit in the league; overtaking the long-reigning Baltimore Ravens and Pittsburgh Steelers.
And the wild thing about it all is that Fangio still has more to install. When San Francisco was getting pressure, it came primarily from the three big men on the line, with the help of rookie phenom Aldon Smith.
The blitzes from the 49ers were not terribly complex because there was no time to install it, but there will be this offseason. Fangio talked a lot about Patrick Willis and helping him get better as a free blitzer, so that is something 49ers fans might expect to see more of in 2012.
And coming from the Dom Capers school of defense, where cornerback Charles Woodson plays a big role for the Green Bay Packers, we could see Carlos Rogers' role develop. Like Harbaugh, Fangio believes in getting better every day, so he will apply that to his defense going from 2011 to 2012.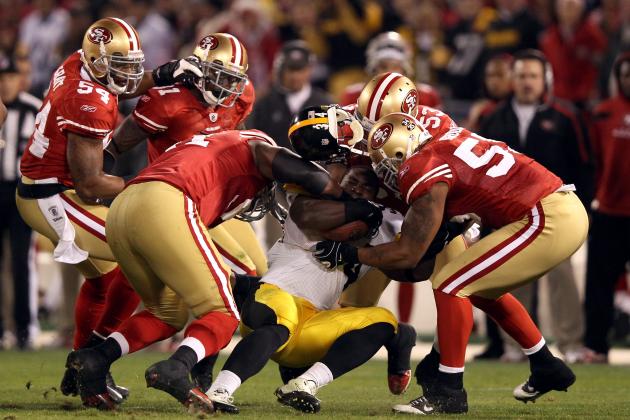 Ezra Shaw/Getty Images

This may be the biggest factor that plays into the 49ers defense improving from 2011 to 2012.
The fact that this group became as tight as they did in a shortened offseason with new key players Donte Whitner, Carlos Rogers, NaVorro Bowman and Aldon Smith added to the mix means they could make more strides going into next year.
A lot of NFL fans and commentators believe this game is won in the locker room, and this is a great group considering. The Niners squad hasn't had this kind of flow on defense for quite some time. With another full offseason together, their bond and ultimately their chemistry could blossom further.
This group became notorious for hard hitting, technique, takeaways and gang tackling. This defense set themselves apart from the rest last year, and there was no doubt they were championship-worthy.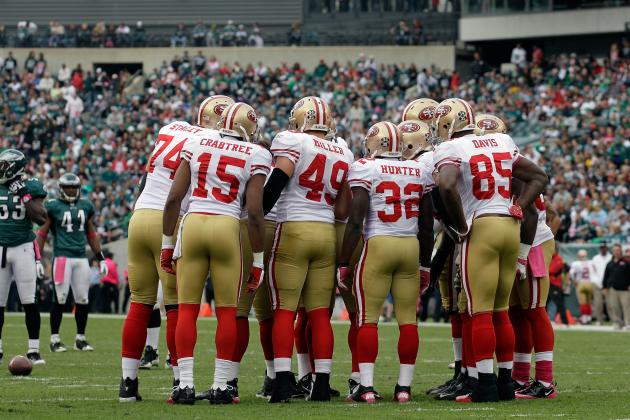 Rob Carr/Getty Images

The 49ers have been working on upgrading their offense so far this offseason. They've lost guys like Joshua Morgan and Adam Snyder, but signed and retained guys like Randy Moss, Mario Manningham, Brandon Jacobs and Ted Ginn Jr.
Going into the 2012 NFL draft at the end of April, the 49ers will almost certainly add more firepower to upgrade their offensive production next year. Aside from the free-agent acquisitions, the 49ers have been linked to guys like WR Stephen Hill, TE Coby Fleener and G/T Cordy Glenn in the first round—all offensive guys.
It's nothing certain, but it goes to show what the 49ers' mindset may be when they approach the draft. And since this is the ultimate team game, if the 49ers improve offensively, it will likely lead to the defense producing.
The guys on defense will be more rested and even more eager to put a lick on someone or make a play with less repetitions. The 49ers offense struggled mightily on third-down conversions and in the red zone, so if they improve on those two things, the defense will prosper.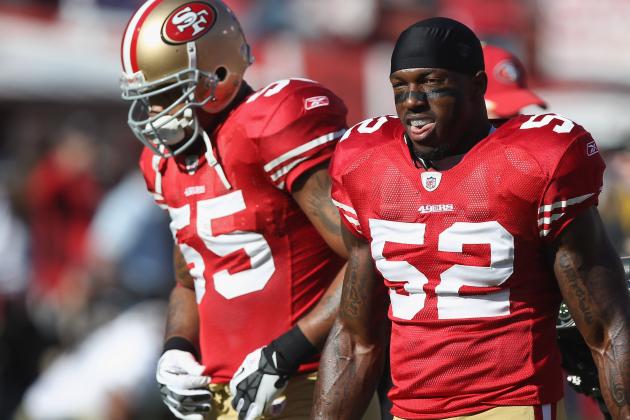 Jed Jacobsohn/Getty Images

In 2012, most are expecting Aldon Smith to become the starter at right outside linebacker.
In his rookie season, Smith was a situational pass-rusher and still recorded 14 sacks, a half-sack shy of Jevon Kearse's rookie record. With Smith now in on a higher percentage of the defensive snaps, one could logically assume his numbers will improve.
Would it be out of the question to think Smith nears or breaks 20 sacks?
The 49ers also have Ahmad Brooks returning, who signed a five-year deal to stay with the team that believed in him. Brooks has been animalistic at times on the field; he's ruthless when he barrels into quarterbacks and running backs. San Francisco could expect to see improvement from him.
The Niners also have two All-Pro inside linebackers in Patrick Willis and NaVorro Bowman. It almost seems unfair to have both of them, as Bowman has made positive strides where at a glance, it's difficult to tell him apart from Willis on game day.
These guys aren't one-and-done players—they are consistent and are the core of the defensive unit. With their success will come success as a whole because when it comes down to it, they set the tone for everyone around them.
In my opinion, we could be looking at the dawn of the next great linebacking corps in NFL history.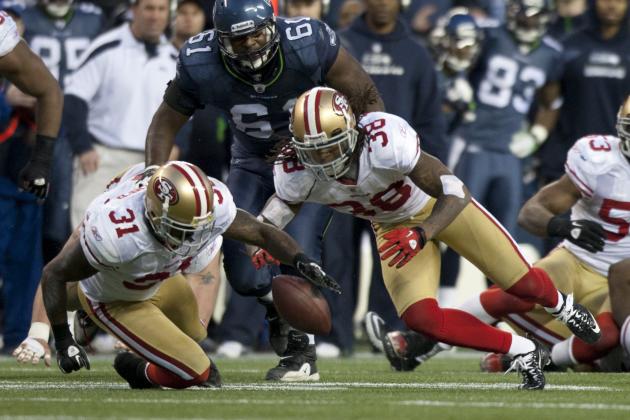 Jay Drowns/Getty Images

A move a lot of 49ers faithful were doubtful would get done was the re-signing of Pro Bowl cornerback Carlos Rogers, who originally signed with the 49ers on a one-year deal.
However, he expressed strong interest in returning to San Francisco even after having a career year with the team where he could've demanded more money on the open market.
Rogers will return, but the 49ers also have a young, talented and eager group of guys who contributed in 2011. Tarell Brown had a solid year in his first as a starter, and I was thoroughly impressed with how little of a liability he was. In fact, he made plays.
Great things are expected of the 49ers' mid-round pick last year, Chris Culliver. Culliver had one interception last year in the mauling of the Tampa Bay Buccaneers at Candlestick Park. He's displayed great athleticism, intensity and the ability to make tackles in space.
On top of these three, the 49ers have Tramaine Brock and added a low-risk, high-reward guy in Perrish Cox. Cox used to play for the Denver Broncos but because of some off-the-field issues, his NFL career was put on hold. These are guys that can contribute and go overlooked by opposing quarterbacks and wide receivers.
And the secondary gets better...
Dashon Goldson and Donte Whitner have been a terrific tandem of safeties. They bring a ferocity and awareness to the game that could only improve with another year together. They developed a great rapport and publicly displayed their desire to play together again.
Since their wish came true, I doubt they will take it for granted. They both have established themselves as devastating hitters, which wide receivers will remember when going across the middle or deep against them in 2012.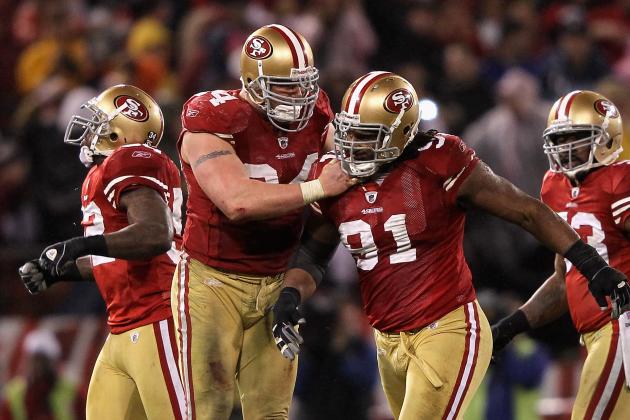 Jamie Squire/Getty Images

It seems we have strong reason to believe that the 49ers will repeat as a strong defensive team. The Bears were good outside of the '85 year, and the Steelers were strong for the entire '70s and then again in the '90s. So great defenses can last.
I believe that as long as Patrick Willis is around, the 49ers will be a tough team to go out and compete against. He is the lifeblood of this team. Since his arrival, there has been a steady incline on the defensive side of the ball, but now that all the pieces are in place, their reign as defensive gods can begin.
Believe me when I tell you the 49ers are here to stay.
Follow me on Twitter: @DeSimone80