Knicks Basketball: Amar'e Stoudemire's Injury Is a Bad Omen for the Future
March 31, 2012

Chris Chambers/Getty Images
Nearly two years ago, when Amar'e Stoudemire was first signed by the Knicks as a free agent, it was hoped that he would be able to lure LeBron James or possibly Dwyane Wade to New York City. The intention, of course, was to form a duo that could lead the team to a title. 
"I'm definitely going to reach out to him [LeBron] again and see if we can get him to come. I really have no reading on which way he is leaning at all, but again, he's totally open right now, he hasn't made a decision yet, and hopefully I can get him to choose us," -Amar'e Stoudemire following his signing
Clearly things didn't work out as originally planned, but the Knicks to their credit have taken a circuitous route in an attempt to position themselves where they originally had hoped. A team with a chance to win a title. 
The problem is that the original free-agent signing that planted the seed of the entity that the Knicks currently are may in fact derail their title hopes, not just this year but beyond. 
At 29 years of age, Amar'e Stoudemire is not over the hill, but his best seasons are no longer in front of him. That would likely be the case even if his recent injury issues had not surfaced. The presence of a bulging disk in his lower back is not just a concern for this season; it's a concern for possibly the rest of his career. 
Stoudemire underwent an epidural in hopes of alleviating pain and ultimately hastening his return from the injury. If the results aren't good, then the potential exists that Stoudemire could miss more than the projected two to four weeks.
The real issue is that the epidural won't solve the back problem. It may make it manageable and allow Stoudemire to play through it this season, but what about next season, or the one after that, or the following one?
The Knicks are on the hook for nearly $20 million in all three of those seasons. It's an amount that is financially limiting to say the least.
If the team is getting healthy and consistent play out of Amar'e that is in line with what he's accomplished throughout his career, then that amount is okay. They're not getting a bargain, but they're getting a pretty good power forward who scores, plays hard and provides valuable on-court leadership.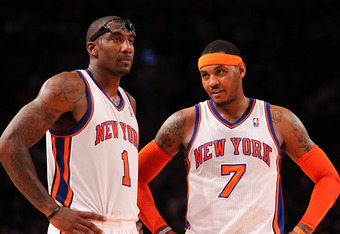 Al Bello/Getty Images
But what if they're only getting that player for about 55 of a possible 82 games? Or what if they're not getting that player? What if they're getting about 75 percent of that player? That's a problem because they still pay out 100 percent of the salary.
The worst-case scenario is that Stoudemire becomes a financial albatross that is no longer the player they initially paid for, and whose contract is so large that it provides an obstacle to acquiring other players to make up for Stoudemire's loss.
The problem is that back injuries can of course be treated, but bad backs in general don't get better with age. Even the epidural is no assurance that surgery won't be needed. Either way, the hopes of Stoudemire returning to the court are very good.
A recent New York Post article quoted Doctor Wellington Hsu of the American Academy of Orthopaedic Surgeons. Hsu has treated NBA players, and 86 percent of them return to the court for game action. No word as to whether or not those players are every bit as effective when they return as they were before the back problems surfaced.
The Knicks, with a healthy Stoudemire surrounded by the right mix of talent and playing in a good system, could probably contend for an NBA title down the road. Removing a healthy Stoudemire from the mix makes that possibility more remote to say the least.