Bruins vs. Islanders: Despite Depleted Defense, B's Triumph over Isles
March 31, 2012

Marty Turco grabbed his second win as a Boston Bruin as the B's exploded for four goals in the third period to top the Islanders 6-3 at Nassau Coliseum.
Brad Marchand broke a 2-2 tie in the third with his 27th goal of the season.  Not to be outdone, Tyler Seguin extended the lead to two with his 27th, matching Marchand for the team lead.  After surrendering a late goal to P.A. Parenteau, cutting the deficit in half, Patrice Bergeron and David Krejci put the contest out of reach as Boston won their sixth game out of the last eight. 
The Bruins were without defenseman Dennis Seidenberg, who suffered an infection on a cut sustained in Boston's victory over the Los Angeles Kings one week ago.  Also absent from the lineup was defenseman Adam McQuaid, who left Thursday's meeting with the Capitals following a hit from Jason Chimera.  Mike Mottau, who had been scratched for the previous 10 games, was inserted into the lineup along with Joe Corvo.
Mottau made his return to Long Island with fellow ex-Islander Brian Rolston, who received a chorus of boos from the crowd.  Rolston tallied only nine points in 49 games with the Isles before being traded to Boston at the deadline.  Since then, Rolston already has 13 points in 18 games.
The Bruins showcased their dominance down the middle today, with Boston centermen tallying four goals and five points.  Chris Kelly grabbed his 20th goal of the season, giving Boston a league-high six players with 20 goals or more.  David Krejci opened and closed the scoring, his two goals giving him a career high 23 on the season.  Patrice Bergeron continued his bid for his first career Selke Trophy, adding a goal and an assist, and registering a plus-three to bring his season total to an NHL-best plus-35.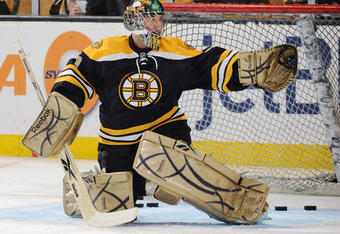 In goal, Turco gave Tim Thomas some much needed rest, stopping 19 of 22 shots for the Black and Gold.  Turco will likely see more ice time as the Bruins inch closer toward securing the second seed in the Eastern Conference.
The Bruins head to Madison Square Garden for tomorrow night's matchup with the Eastern Conference-leading New York Rangers.  The Broadway Blueshirts have taken all three meetings thus far, and look to send a message to their Original Six rivals by breaking out the brooms for the season series.  Seidenberg remains a possibility for tomorrow night's showdown, but McQuaid will have the night off to nurse his swollen eye. 
With only four games remaining in the regular season, and the division title within reach, the focus of the Bruins shifts to getting healthy, staying healthy and giving themselves the best chance to defend their crown.