WWE WrestleMania 28: Ranking the Impact of Every Possible Win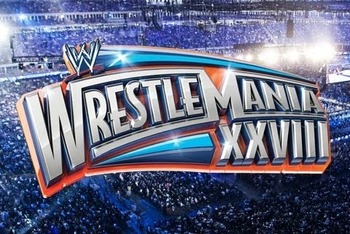 Image Courtesy of: wotv.co.uk
Impact: The goal of every single WWE event and pay-per-view.
If the wrestling and promos on a night are great for a PPV, they still can't be trusted to be remembered.
If fans leave an event without feeling emotionally impacted by the proceedings, the event has failed, regardless of how good or bad it was.
When it comes to WrestleMania, this becomes an even more essential concept. If you leave WrestleMania unimpacted, you know something went wrong.
WrestleMania XXVIII is almost guaranteed based on its card to a leave a lasting impact, one for the ages, yet even it could fail if it does not leave that lasting impression.
Impact can come from promos, segments, moments and results.
While it is impossible to predict what will be impactful on a night based on moments, it is possible to roughly figure how impactful a night could end up being based purely upon results.
What wins will leave WWE fans remembering the night for a lifetime? What wins will be forgotten the day after?
The following is a ranking of every possible winner on the night and how impactful their win could be. Note that impact is not always a perfect measure, and some of these results you will disagree with, even if they are truly impactful.
19. Primo and Epico
Image Courtesy of: desirulez.net
I am going to start by talking about the WrestleMania dark match.
It's a dark match, so obviously its impact is lessened considerably, especially if, on the following night, nothing has changed.
The dark match is a triple threat tag team match for the WWE Tag Team Championships between Primo and Epico, the current champions, the Usos, and the newly formed team of Justin Gabriel and Tyson Kidd.
I'll be honest, I would rather see either of the other teams win here, but this isn't about what I want. It's about how much impact the win will mean.
If Epico and Primo enter the dark match and leave it the tag team champions, the only reason this match will mean anything is it gave a chance for three teams to shine for a little while in the crowd.
While that is nice, it will nothing more than when The Great Khali beat the entire roster last year in a battle royal (except this win won't be as infuriating).
18. Kelly Kelly and Maria Menounos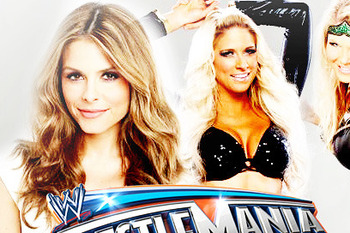 Image Courtesy of: rawwrestlingdivas.com
Okay, let me ask right now, what will it mean if a celebrity ends the (barely a) hot streak of the biggest heels in the women's division right now?
In fact, what will it mean if Kelly Kelly beats them with a celebrity on her side after being largely beaten down and losing to them for months?
It will mean just about nothing to the WWE.
It will just mean the WWE gave us a pointless celebrity appearance that translated to ending the momentum of the only two characters with real direction in the women's wrestling division.
No one will remember this except possibly as having a negative impact on the future of the division, which was already almost rock bottom.
17. Randy Orton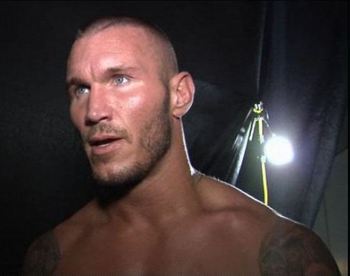 Image Courtesy of: randy-orton.com
Randy Orton is one of the best and most over talents in the WWE today. It is obvious already that he will end his career as one of the greatest wrestlers of all time, probably even in the top ten.
That said, Kane/Orton is the most pointless, unexceptional match on the card.
The feud means nothing. Winning and losing means nothing here.
There is not even really any heat between the two stars, no matter how many times they attack each other.
This match could still be great, but at the same time, it could be boring and uninspired, which is what this feud is right now.
16. Kane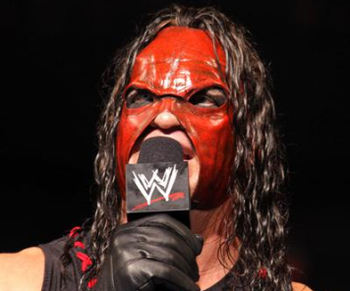 Image Courtesy of: wrestlearena.blogspot.com
Kane winning rates slightly higher than Orton winning, simply because Kane could use a decisive PPV win, which he hasn't gotten since returning to the WWE with the mask.
If he can beat Orton, this feud has the potential to become something to watch, rather than a paint-by-the-numbers feud that no one even cares about.
Still, this could be the one and only time these two wrestle in this feud, and, if it is, nothing can be taken out of the match.
Fans will just be left wondering why they were treated to the match at all.
15. Beth Phoenix and Eve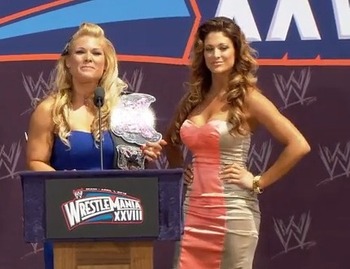 Image Courtesy of: diva-dirt.com
Two women in WWE winning a tag team match is generally not a big deal.
With the division literally non-existent at times, Eve and Beth are really becoming the only two well-developed and interesting talents in the division (until Natalya gets through this horrible farting gimmick and AJ goes into the division seriously).
The win won't mean much more than being a simple statement: that these two are a force in the company that cannot be stopped, which could hopefully come in bold new competition from missing and under-appreciated talent.
That said, the entire match could end up meaning nothing with the division going right back to being ignored and unexceptional in every way.
I hope not, but this win could mean as little as the other.
14. Tyson Kidd and Justin Gabriel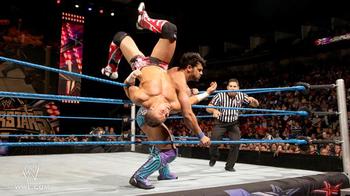 Image Courtesy of: tyson-kidd.net
WWE has hit the jackpot here.
Justin Gabriel and Tyson Kidd were two of the most underutilized talents in the company, and we know what they can do as tag team competitors.
The only problem is that if this only-now-formed tag team becomes champions, they will still just be two barely used talents with unknown chemistry as a team.
Even so, they would be a change in a dying division in the WWE that desperately needs change, and these two are in desperate need of direction.
Give them a win before Mania even starts, and you can already expect development in the WWE even if they did win in a dark match.
13. The Usos
Image Courtesy of: wrestlingvalley.org
This may seem high for a dark match win, but the Usos are the future of the tag team division.
They are the only completely legitimate tag team left in the WWE, and they don't really have anywhere else to go in the company.
With that, they could be truly dominant and exciting champions for months at least if given the chance to run with the ball here.
In fact, if they were to start being given real TV time, the Usos wrestling guys like the newly formed Kidd/Gabriel team and the seemingly forever ignored Curt Hawkins & Tyler Reks could lead to a level of credibility and success for a division that has been nearly buried to the ground at this point.
I don't expect it to happen, but the prospect of seeing new tag team champions is tantalizing with these two.
12. Team Teddy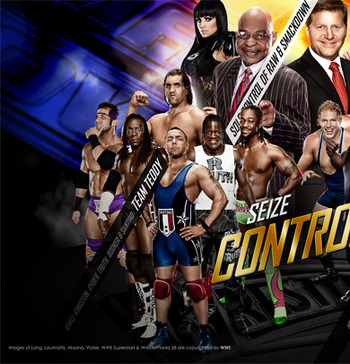 Image Courtesy of: kupywrestlingwallpapers.info
Team Teddy has some interesting prospects to it, but none of them really are going very far with a win here.
Santino is probably an eternal comedy act. Kofi will never be allowed a chance at the main event. And Ryder is just not clicking like it seemed to be a few months back.
Couple that with three of the oldest wrestlers on the roster all fighting for Teddy and the fact that Teddy Long himself has been GM for longer than anyone could have imagined, and this is just not quite the fresh pick.
That said, for a short time, this win should change up some things in the WWE just not quite much as the alternative.
11. Team Johnny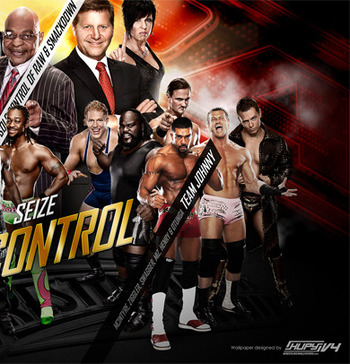 Image Courtesy of: kupywrestlingwallpapers.info
What's the difference between Team Johnny winning vs. Team Teddy?
Johnny has more youth and potential on his team.
Nothing against Kofi Kingston, Zack Ryder, or even Santino Marella, but Dolph Ziggler and The Miz are much higher stars than they probably ever will be.
Then you have guys like Jack Swagger and Drew McIntyre, who have a wealth of potential that just needs momentum, and you know that all that is needed is this win.
Finally, John Laurinaitis is the much more compelling and fresh option of the two general managers, so it is obvious that impact is really in Johnny's side.
In the end though, neither win will end up being a huge deal, as the winner will probably be out of power in three months' time.
10. Cody Rhodes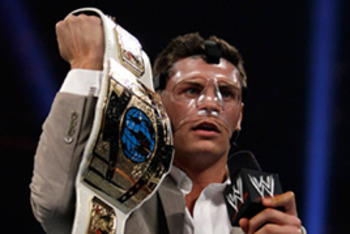 Image Courtesy of: wwe.com
Cody Rhodes is the longest reigning Intercontinental Champion in almost eight years now.
If he holds the title past WrestleMania, he will almost certainly become the longest running champion in the past decade.
All that stands in his way is a giant former World Champion.
If Rhodes can beat Show on the Grandest Stage of Them All, he could be well on his way to being called the greatest Intercontinental Champion of all time.
That is impact though, a long-term impact that could very well fall again before Rhodes has a chance to truly hold onto that history.
9. Big Show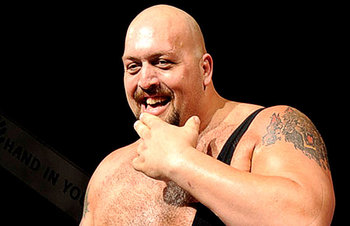 Image Courtesy of: blog.yaaree.com
Big Show has held every major title in the WWE.
Well, except one, the Intercontinental Championship.
Show has said it himself, he has never had a WrestleMania moment. Also, he is still not a triple crown champion.
If Show wins on Sunday, he will get all of that along with one last championship run in WWE.
On the other side of the fence, Rhodes, like a good heel, could bounce back from this by pulling himself right into the main-event scene.
Rhodes has been champion for a very long time (235 days at the moment), which means that he has the luxury to lose the title at any time and still look strong for the overall reign.
It would certainly be a turnaround for both men and change how SmackDown was developing for several months to come at least.
8. Undertaker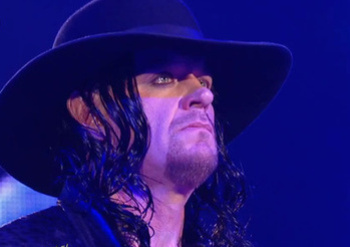 Image Courtesy of: cagesideseats.com
Undertaker is a legend like no other.
He is one of the last remaining members of a unique breed of stars who exist as characters more than their own personalities.
That said, if Taker wins on Sunday, the only thing that will truly change is that the number goes up.
It is likely that this will not be the last we see of Taker if he wins, as there is always room for the Streak as long as Taker is able to compete.
Now, don't misunderstand me, Taker won't lose, and he shouldn't lose.
However, when you look at how impactful Taker winning for the 20th time will be, all you can see is a 20-0 sign, nothing more.
7. Daniel Bryan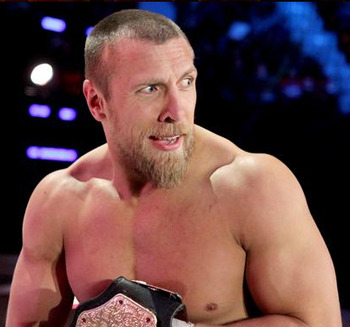 Image Courtesy of: videoproductionwwe.blogspot.com
Daniel Bryan has been a great champion so far for SmackDown.
He has not been a clean victor in his title defenses, but he has reigned for several months now and been entertaining throughout the whole venture.
If he can pull out a win on Sunday, no matter how clean it is (it won't be clean), he will prove to the world that he can be a long-running champion for the WWE.
It would also give Sheamus a goal, something to fight after, making Sheamus' final victory down the road a moment that many would really get excited about, as he finally made the cheater and loudmouth lose.
Plus, this feud is only getting started based upon the buildup, so it is very likely that WWE wants Bryan as champion for now to keep up this chase.
6. CM Punk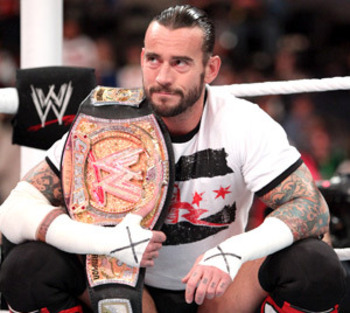 Image Courtesy of: wrestlingsuperstars.info
CM Punk has been WWE Champion for 132 days. In the WWE today, that can be considered a incredibly long title reign.
When you couple it with how dominant he has looked as champion beating Alberto Del Rio, The Miz, Dolph Ziggler, and winning an Elimination Chamber match, all with his title on the line, Punk has come off as one of the most credible and impressive champions in years.
Even with all this dominance now, Punk has never won a singles match at WrestleMania.
This could be the year that Punk proves he is a star for the company by beating the most difficult opponent of his career on the Grandest Stage of Them All.
If Punk wins tomorrow, he will prove he is the Best in the World and prove that WWE can have lengthy and exciting World title reigns.
5. Chris Jericho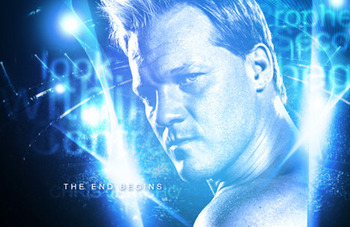 Image Courtesy of: unchained-wwe.com
The biggest title change would come here if Chris Jericho beat the long-running WWE Champion CM Punk.
First, it would prove, for now, that Jericho is the Best in the World.
Second, it would prove that Punk was not quite as invincible as he had been putting on as of late.
Finally, it would most likely prove Jericho is back for the long term, which WWE needs because Jericho is far and away the best heel on the roster today.
We would have all this, coupled with Jericho being crowned the WWE Champion for only the second time in his career.
That is quite an impact for the future of the great veteran, along with the impact on Punk's status as a fan favorite.
While it is nice to see the heroes on top, sometimes it is important that they be made vulnerable, which would happen with this win.
4. Sheamus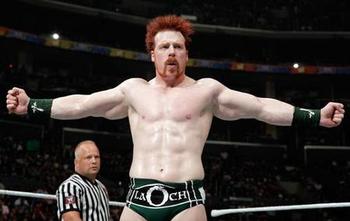 Image Courtesy of: cagesideseats.com
Sheamus is just one step away from becoming the next big star in the WWE.
He has always had the talent and the size, and now he has the appeal and has paid his dues.
On Sunday, Sheamus will go into the night, hoping to break the four-year losing streak of Royal Rumble winners with a victory to become the World Heavyweight Champion.
While Bryan has been a unique talent as champion, Sheamus is the star that could lead all of SmackDown if he held the title.
He is marketable, likeable and very over with the crowd.
If he wins on Sunday, he will begin what should be a dominant and powerful reign, leading the company and hopefully helping out other heels like Rhodes and Barrett elevate themselves into the main-event scene.
It would not be a changing of the guard, but it would be a powerful moment for the entire SmackDown brand in establishing its future.
3. Triple H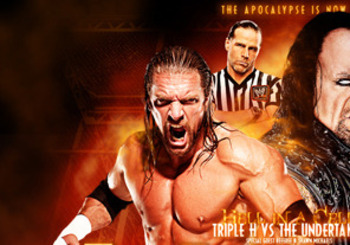 Image Courtesy of: unchained-wwe.com
I don't want it to happen either, but the impact would be enormous.
Perhaps, though, it would be entirely negative.
The Undertaker's streak has stretched 19 WrestleManias, defeating 16 unique opponents over the course of his time at the event.
Never once has he lost at the event, so if he ever loses, it will be one of the most memorable moments in WWE history.
That said, right here is the point where the impact just isn't worth it.
HHH does not want to have that burden on his shoulders, especially since it would probably be unclean with Shawn Michaels helping his buddy out.
In the end, this would be a moment no one would ever forget... for the wrong reasons.
1A and B. The Rock and John Cena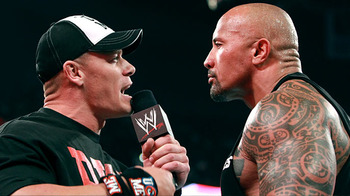 Image Courtesy of: wwe.com
Don't kill me for copping out here, because there was no way to win.
WrestleMania XXVIII will be remembered in the end for one match, one moment. That is John Cena vs. The Rock and the final result.
Either man can win here. Either can cause outrage and cheers, rioting and excitement.
What matters here is that one of these two truly wins and how the other reacts to the loss.
If John Cena wins, he proves that everything he has done for the WWE over the years meant something, that he can beat the man that he replaced.
If the Rock wins, Rock proves himself to be arguably the biggest star of all time, and he proves that Cena isn't quite as invincible as he has put on for years.
The crowd will be completely behind Rock. The fans at home could be rooting either way.
If WWE handles this properly, regardless of who wins, this could just be the beginning of many changes in the company.
So neither win means more than the other because regardless, there will be so many emotions pouring out of the WWE Universe after this contest that the impact will have been sold by the match itself.
This will be a match for the ages. Never lose sight of that.
***
Thanks for reading!
Comment below on everything from the rankings in this list to how excited about WrestleMania XXVIII.
Keep Reading