NCAA Tournament 2012: Power Ranking Players Still Dancing
March 31, 2012

Ronald Martinez/Getty Images
With the Final Four of the 2012 NCAA tournament just a few hours away, its time get down to power ranking the players that will be difference makers.
As odd as it seems, all three of the top players remaining are power forwards, making it by far the most hotly contested spot on the floor for the remainder of the tournament.
All of the following players have star power, but only one will be able to put the team on his back and make Marshawn Lynch proud.
No. 1: Anthony Davis
While the Louisville Cardinals are as hot as a tournament team could be, the Kentucky Wildcats have the ultimate weapon that will eventually lead them to a National title—freshman power forward Anthony Davis.
In the deepest position in terms of teams remaining in the tournament, Davis is the best power forward at both ends of the court. With a high motor and tons of energy, there is no one left that can stop the young unibrowed star.
As long as Davis is playing solid defense, the Wildcats offense will run without any glitches. If teams try to double Davis, one of the others young guns on Kentucky will just have to make them pay.
No. 2: Thomas Robinson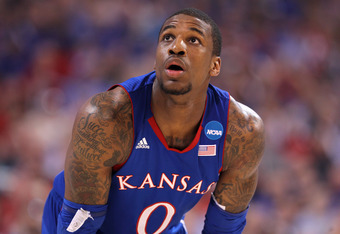 Andy Lyons/Getty Images
While Jared Sullinger will steal the headlines before this game, it will be Kansas and Thomas Robinson that walk into the National Championship game.
Robinson will go head-to-head against Sullinger in the Final Four. Despite a slight size difference, it will be the Jayhawks star that out works the Buckeyes big man.
Sullinger has been known as a player that is flakey in terms of beating great rebounders, so Saturday's game will be a test because Robinson average almost 12 rebounds per game. Don't forget the fact that Robinson also scores almost 18 points a contest as well.
No. 3: Jared Sullinger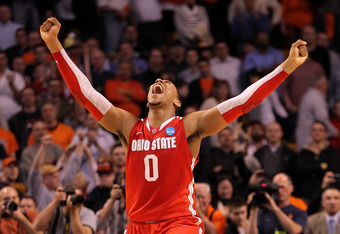 Jim Rogash/Getty Images
The key for the Ohio State Buckeyes coming into the tournament was to get power forward Jared Sullinger going offensively and defensively. With an average of 18 points per game this tournament, Sullinger has been stellar around the basket.
As good as he has been offensively, his shot can be very inconsistent. Sullinger also faces issues with tougher defenders that can box him out and fight for rebounds.
Ohio State will need a superior effort from the young forward against a tough Kansas team in the Final Four. While Sullinger is one of the best, he will be shut down by the Jayhawks and Ohio State will ultimately lose this game.
Check back for more on the NCAA Basketball as it comes, and check out Bleacher Report's College Basketball Page to get your fill of college basketball.