Paul Pierce: Why Boston Celtics Forward is The Truth and a Legend
March 31, 2012

Mike Ehrmann/Getty Images
On a terrible—and almost tragic—day in September 2000, Paul Pierce was stabbed 11 times in the face, neck and back at the Buzz Club in Boston's Theatre district.
11-and-some-change years later, the man who suffered a near-fatal attack is still here and strong, showing Boston and the NBA that he is here to stay.
On that night, Paul's then-teammate Tony Battie and his brother rushed Pierce to a hospital and saved his life.
After lung surgery and the horrific attack, the then-23-year-old rebounded by starting every game of the 2000/2001 regular season. This incredible, influential recovery inspired everyone in the league. Shaquille O'Neal even gave him the nickname, 'The Truth'.
Now at 34 years of age, he's still playing like a young man. P-Double, number 34, is the pride of the Celtics.
He still draws double-teams and commands the attention of everybody on both sides of the court. It doesn't matter if their names are Kobe, LeBron or Kevin Durant. People still fear—and more importantly, respect—this true warrior.
Statistically speaking, Paul is averaging a genuinely great 18.9 points per game to go along with 5.4 rebounds and 3.3 assists and career highs in field goal (.497) and free throw (.860) percentages.
All of that while sharing the parquet with Kevin Garnett, Ray Allen, Rajon Rondo and a squad full of big-time contributors like Piétrus, Daniels, Dooling and Jermaine O'Neal.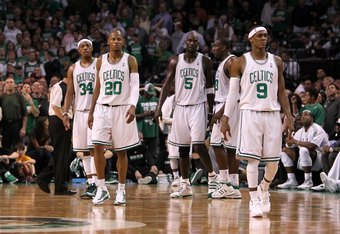 Jim Rogash/Getty Images
After the All-Star break and trade deadline, this band of Hall Of Famers stuck together. They have stuck it out for 1st place in the Atlantic and 4th place in the East, firmly in a playoff spot and still with a stronghold on contention.
You see it—from Garnett's muscle and passion to Ray Allen's purity with the moneyball. The Celtics have it all served on a dish by point-proven Rajon Rondo.
Just like their underrated bench with their legendary coach Doc Rivers sitting at the end, you can't underestimate this history-certified franchise.
In a modern age where loyalty isn't celebrated as much as it once was—or should be—Paul Pierce is still here.
From caring about the welfare of teammates like Marques Daniels or representing for Bostons' youth by speaking against the growth of gang culture, Pierce is a symbol of togetherness during troubled times.
He's been like this since day one, too. Playing with a whole host of stars and having all of their backs'. This happens whether it be shimmying through success with Antoine Walker as they formed a dynamic double act in the early days, to creating a super team with the man of steel Shaquille O'Neal in the daddy's last flight.
From the past to the present the Boston Celtics have shown the future how to do it and just like Bob Cousy, John Havlicek, Larry Bird and the ringmaster Bill Russell, Paul Pierce is one of the greatest Celtics of all time.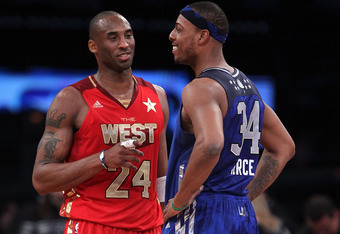 Jeff Gross/Getty Images
He's currently one of the best team players and overall contributors on the New England roster. You know this banner-making, rafter-worthy Celt will one day have his jersey retired.
Still, the Paul Pierce era isn't over yet.
With his offense and defense, inside and out and selfless and box score-satisfying statistical outputs, Paul Pierce is the complete teammate and player.
He contributes big time and gets everyone involved too, whether it be to his teammates' fortune or his opponents' frustration.
From clutch buckets to big plays across the court, The Truth is a dream strategy for his coach and a dry-erase scribbled nightmare for his opposition.
From waking up the fans to rewriting the history books this Celtic of past and present, he is a legend.
He's legendary in everything he does. The Inglewood-proud Los Angeles native showed no love to California's basketball team by coming back from what seemed like a wheelchair-ending injury to lead his beloved Celtic nation over the storied Los Angeles Lakers rivals in the 2008 finals.
He's the best recruiter in the NBA, snagging Garnett and Allen on his own three years before LeBron, Wade and Bosh took off in South Beach. Pierce's legacy will be one of influence and inspiration that will last for centuries.
When the next-great Celtic comes along over the decades people will ask if the newcomer is better than Bird or Pierce. His name simply belongs in that company, no matter how good the other Celtic and NBA greats are. Pierce is that good, too.
He would have made Red Auerbach's cigar drop out of his mouth with some of the things he's done. Danny Ainge knows just how much Paul has done to write the latest legacy chapter of classic Celtic championship years.
From overcoming the fatal tragedy of former top draft-pick and then-future of the Celtics Len Bias to overcoming his own near-fatal tragedy, Paul Pierce has shown the resolve, strength and passion synonymous with the blue collar, non-complaining, down to business proud Celtic greens.
He's given this town more than hope. He's shown it promise. You can't break this guy, even with a few good men. Simply put, they can't handle The Truth.