Boston Red Sox Final Roster: Is There a Starting Pitcher Trade Still to Come?
March 31, 2012

Patrick Smith/Getty Images
The fact that manager Bobby Valentine and Red Sox brass have been so non-committal about announcing a starting rotation leads one to believe there might be one last deal in the works.
Gordon Edes of ESPN Boston.com speculated on that possibility yesterday, quoting Valentine as saying, "There might be some situations I need to wait on before I make any declarations.'' 
Don't misunderstand me—there has been absolutely no indication from the team about making a move, and no rumors are floating around about a trade.
But what other "situations" could Valentine possibly be waiting on? 
Like Sherlock Holmes and the dog that did not bark, I am looking at what is not there.
1. Everyone within the Red Sox organization has been bending over backwards to say how happy they are with the pitchers they have—but no starters have been named beyond the top three (Lester, Beckett, Buchholz).
2. Even if we assume Felix Doubront gets a shot, that leaves the Bard/Aceves question, and I would not be surprised if GM Ben Cherington has second thoughts about moving either or both to the rotation.
3. Bard and Aceves have not exactly lit up the camp in their starter outings, and neither have most of their potential bullpen replacements. If both Bard and Aceves went back to relief work, the Red Sox would have one of the strongest bullpens in baseball.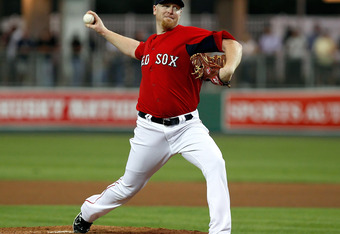 J. Meric/Getty Images
4. In-house rotation candidate Aaron Cook has been brought along very slowly, as planned, and while I have every expectation that he will contribute at some point, it won't be early in the season. The same goes for Ross Ohlendorf, who will try to gradually work his way back from a shoulder injury. Both will be stretched out at Triple-A Pawtucket.
5. To me, the largest piece of circumstantial evidence suggesting the Red Sox are not done yet is the salary-dumping trade of Marco Scutaro. If they don't use the money they freed up to sign a starter, why did they do that deal in the first place? Every indication is that Boston pushed hard to get Roy Oswalt to sign, without success. Does that mean they stop there?
One other factor that I'm sure looms large in ownership minds is what happened last year. I don't mean just the September collapse—I mean the events leading up to it.
Coming out of spring training in 2011, the Red Sox had one of the more powerful pitching staffs in baseball, and we all know how that worked out. Where will Boston be if the Buchholz or Beckett back problems recur, and neither Cook nor Ohlendorf is ready to step in?
When Edes pressed Valentine on the possibility of something being in the works, the manager did not deny it, saying, "Every roster continues to evolve. You have to allow it to evolve, either by bringing guys up or looking outside, which Ben and his people do religiously every day. I'm not begging for it, or asking for it.'' 
In addition to Oswalt, some of the starters mentioned all winter as being potentially available via trade are still available, such as Wandy Rodriguez, John Danks and Gavin Floyd.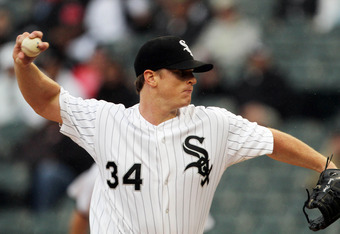 Tasos Katopodis/Getty Images
With Opening Day for most teams just around the corner, there may another candidate or two that we just haven't thought of yet.
For my money, however, the Washington Nationals are still the best potential trade partner, as I wrote in February.
Even before the Nationals signed Edwin Jackson, I argued that Washington was an intriguing potential trade partner for the Red Sox, because they had too many major league starters. 
Pete Kerzel of MASN wrote, "There's no way around it: The Nationals have at least one more starting pitcher than spots in the vastly improved five-man rotation that will break camp from spring training in Viera, Fla., in early April."
And Kerzel made that statement before Jackson was added to the mix. 
Although the Nats now appear to be hanging on to John Lannan to start the season while Chien-Ming Wang recovers from a hamstring injury, they still have a glut of starters working in the bullpen, to include Ross Detwiler, Craig Stammen and Tom Gorzelanney. At least one of them has to go—either to the minors or to another team in a trade.
Detwiler, Washington's first-round pick (sixth overall) in the '07 draft, is a 6'5'' lefty with a mid-90s fastball. He also has great stuff, but he has yet to live up to his potential due to injuries and inconsistency.
The problem for the Nationals is that Detwiler is out of options, so he has to be on the 25-man roster or go elsewhere in a trade. Detwiler could be an intriguing option for the Red Sox to pursue.