The Top 25 College Football Players for 2009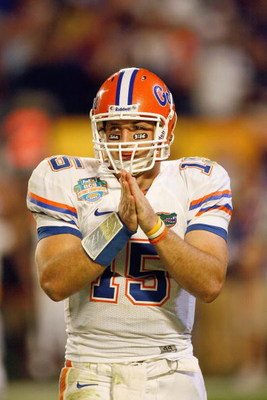 So everyone has declared for the draft and now it is time to examine the Top 25 players returning for College Football in the 2009 season.
There are many great players returning. All three Heisman candidates return, as do many great defensive players.
Here is my take on the Top 25 players, feel free to voice your opinions.
Honorable Mention
These players were very close to making the Top 25:
QB-Zac Robinson-Sr-Oklahoma State Cowboys
RB-Evan Royster-Jr-Penn State Nittany Lions
RB-DeMarco Murray-Jr-Oklahoma Sooners
WR-Jordan Shipley-Sr-Texas Longhorns
WR-A.J. Green-So-Georgia Bulldogs
WR-Dezmon Briscoe-Jr-Kansas Jayhawks
OT-Trent Williams-Sr-Oklahoma Sooners
DE-Derrick Morgan-Jr-Georgia Tech
DE-Jason Worilds-Jr-Virginia Tech
OLB-Rennie Curran-Jr-Georgia Bulldogs
MLB-Rolando McClain-Jr-Alabama Crimson Tide
SS-Morgan Burnett-Jr-Georgia Tech Yellow Jackets
No. 25: DT-Gerald McCoy-Jr-Oklahoma Sooners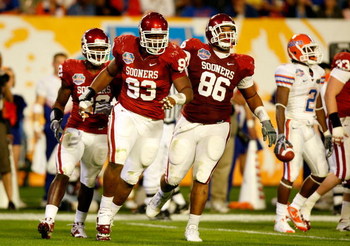 McCoy may not put up the stats of some other players but he is one of the best pro prospects at DT and had a huge title game.
No. 24: QB-Jevan Snead-Jr-Mississippi Rebels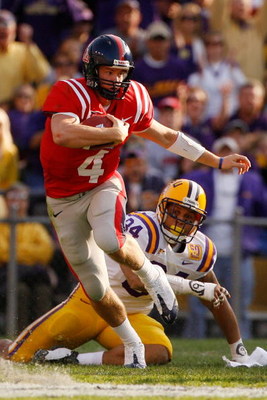 I know Jevan Snead didn't put up ridiculous numbers but a 53 percent completion percentage for 2,762 yards and 26 TD's with 13 INT's isn't that bad. But it was his performance in the bowl game against Texas Tech that vaulted him into the Top 25.
No. 23: DE-George Selvie-Sr-South Florida Bulls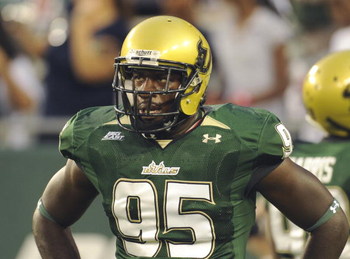 Selvie did not have as good a year. He only had 13.5 tackles for a loss and 5.5 sacks, he was constantly double-teamed and did not have the talent at South Florida this year that he did in past years.
No. 22: WR-Julio Jones-So-Alabama Crimson Tide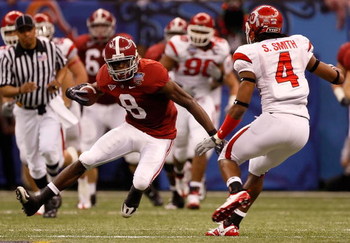 Julio Jones was as good as advertised. It was amazing that he put up the numbers he did, 58 receptions for 924 yards and four touchdowns, in an offense that is built around the run.
Just think what he would do in a conference like the Big 12 where he would get 90-plus receptions.
No. 21: DE-Jerry Hughes-Sr-TCU Horned Frogs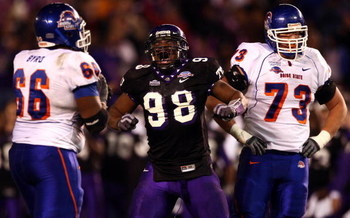 Hughes stats from last year, 52 tackles, 19.5 tackles for a loss, 15 sacks, two interceptions with one for a touchdown, and six forced fumbles, show just how talented he is. Hughes was one of the main reasons TCU's defense was so highly ranked.
No. 20: RB-Jacquizz Rodgers-So-Oregon State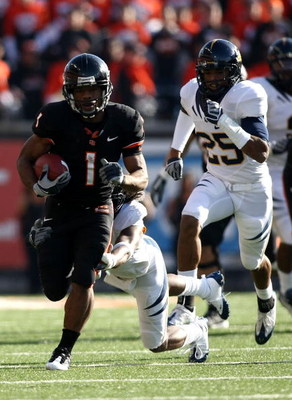 Boy, what a Freshman year for Rodgers. First he ran for 1,253 yards and 11 TDs and also caught the ball for 247 yards. In addition, he tore up the nation's No. 1 defense in USC in the upset win.
No. 19: MLB-Joe Pawelek-Sr-Baylor Bears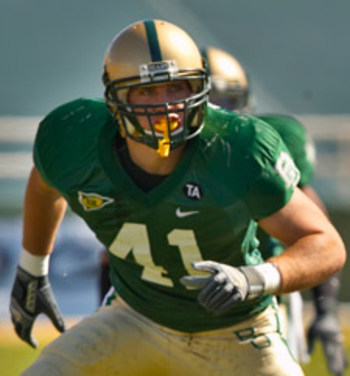 Pawelek is a guy who for the last few years that has led a very average Baylor team. He had 128 tackles and six interceptions last year and has put up big numbers in past years at Baylor as well.
He is a star who doesn't get very much attention because he plays at Baylor and also in the Big 12 where the defenses don't get much love.
No. 18: OT-Russell Okung-Sr-Oklahoma State Cowboys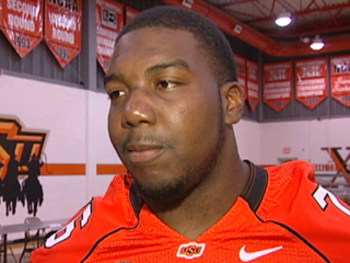 A star at OT who helped protect Zac Robinson and lead the way for Kendall Hunter, both who put up gigantic numbers offensively.
No. 17: OLB-Mark Herzlich-Sr-Boston College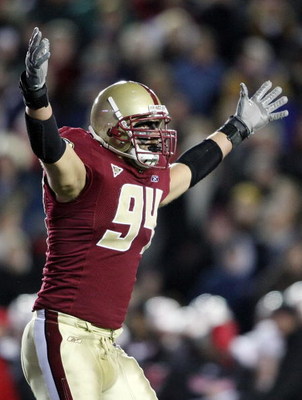 Herzlich is a player who will definitely compete with Spikes and Weatherspoon for the top LB in the 2009 draft. He recorded 110 tackles, 11.5 tackles for a loss, and six interceptions (two for touchdowns).
His stats are impressive and he is clearly the best player on Boston College.
No. 16: WR-Arrelious Benn-Jr-Illinois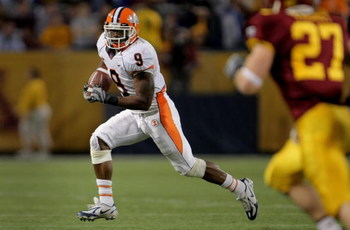 Benn had a great year receiving on a team that really under performed. He had 67 receptions for 1,055 yards but only three TD's.
But he also carried the ball for 101 yards and two TD's and had over 500 yards in returns. He is an all-purpose threat at WR and will probably take the title from Maclin and Harvin as the best all-purpose threat at WR.
No. 15: DT-Terrence Cody-Sr-Alabama Crimson Tide
Cody doesn't have the stats that some other DT's have but he dominates games and helps change them with his presence in the middle of the line.
No. 14: RB-Kendall Hunter-Jr-Oklahoma State Cowboys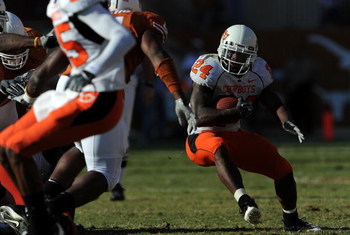 Kendall Hunter is one of the top three RB's for next year and after rushing for 1,555 yards and scoring 17 touchdown's in total.
Those are some real gaudy numbers that he put up on a team that also featured a great passing attack with Zac Robinson and Dez Bryant.
No. 13: DT-Ndamukong Suh-Sr-Nebraska Cornhuskers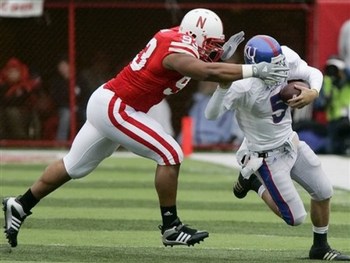 A player that does not get much National hype but when you look at his stats, the dwarf Terrence Cody's. He had 76 tackles, 16.5 tackles for a loss, 7.5 sacks, and two interceptions(both for touchdowns).
Those are some gaudy numbers for a DT in a conference not known for its defense.
No. 12: RB-C.J. Spiller-Sr-Clemson Tigers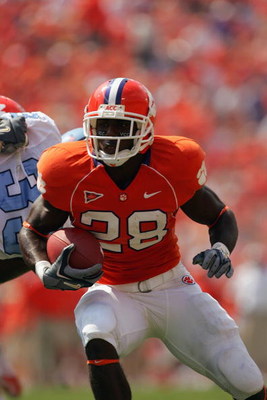 This will probably be viewed as the most controversial picks but look at his all around game. Last year he had 1,770 all purpose yards and for an average of 9.5 yards per touch.
In his career he has 573 touches for 4,908 yards and an average of 8.56 yards per touch. That is pretty impressive in three years.
No. 11: TE-Jermaine Gresham-Sr-Oklahoma Sooners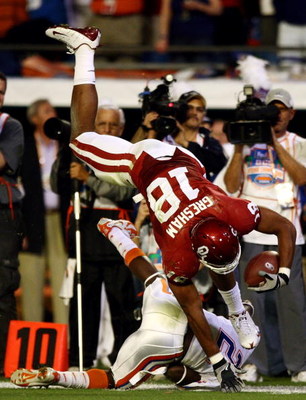 Another one of those guys who shocked many by returning and with Iglesias and Johnson leaving, he should become Bradford's favorite target. He showed his talent in the National Championship game and is so deadly when he streaks down the seams.
No. 10: DE-Greg Hardy-Sr-Mississippi Rebels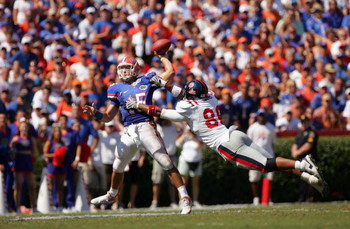 Greg Hardy had some injury problems this year, only playing in eight games. But in those eight games he had 8.5 sacks.
He returns to the Rebels this year hoping to help them keep the momentum from the Texas Tech win and turn it into a SEC West title.
No. 9: RB-Jahvid Best-Jr-California Bears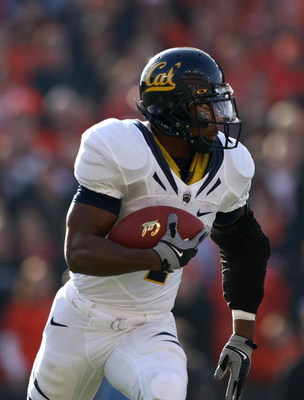 Jahvid Best had a huge year in 2008 and looks to be the top RB in college football for 2009. He played most of the year injured and still managed to rush for 1,580 yards and rush for 15 TD's.
All of the while only missing one game due to injury.
#8- S-Taylor Mays-Sr-USC Trojans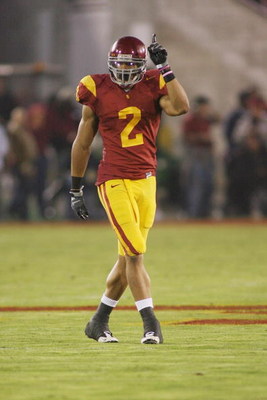 Mays surprised many by turning down the NFL to return to USC. He will be the best player on a defense that lost so many stars. But he is the other All-American safety and at his size(6'4" 230 pounds) and his speed(4.28 40) he is a freak athletically.
No. 7: OLB-Sean Weatherspoon-Sr-Missouri Tigers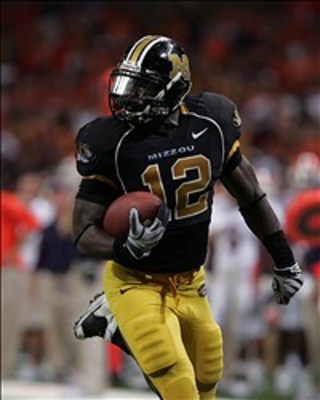 Weatherspoon is another LB who leads his defense but at the same time puts up absurd stats. Look at what he did in 2008: 155 tackles, 18.5 tackles for a loss, five sacks, three interceptions with two for touchdowns.
He has improved on his tackles each year he has played so if he can build on his '08 numbers watch out.
No. 6: S-Eric Berry-Jr-Tennessee Volunteers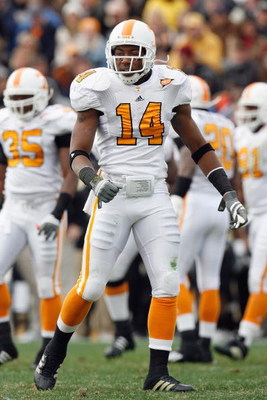 Eric Berry has lived up to all the hype he received. In this two years at Tennessee he has 158 tackles for 10.5 tackles for a loss and three sacks and then also has 12 interceptions and has returned three of those for touchdowns.
He was an All-American this year and will be one next year as well.
No. 5: MLB-Brandon Spikes-Sr-Florida Gators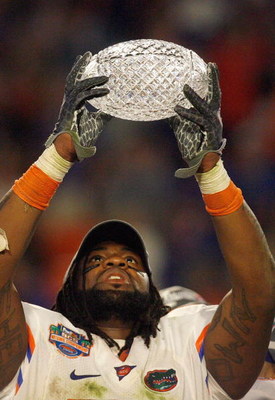 What Tebow is to the Florida Gators offense, Spikes is to the defense. Coming back should solidify him as the No. 1 LB in next years draft class.
He flies around and sets the tempo for the game. Just watch his hit on Knowshon Moreno in the Georgia game this year.
No. 4: WR-Dez Bryant-Jr-Oklahoma State Cowboys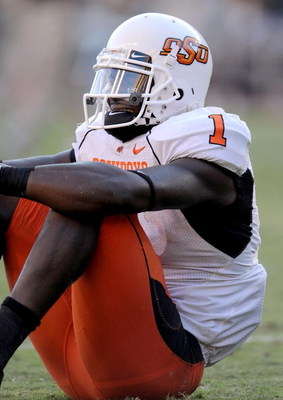 What else can you say? Dez Bryant had 87 receptions for 1,480 yards and 19 TD's. Wow!
But on top of that he had 17 punt returns for 305 yards and two TD's. He did it receiving and returning. He is by far the best WR in college football.
No. 3: QB-Colt McCoy-Sr-Texas Longhorns
You know its a really stacked year at QB when Colt McCoy is ranked No. 3. He is a tremendous player but still doesn't have the Heisman (Bradford) or hasn't won two NC's and a Heisman (Tebow).
Anyways, McCoy could end up being No. 1 at the end of next year if he leads Texas to a championship.
No. 2: QB-Sam Bradford-Jr-Oklahoma Sooners
There is always going to be debate especially when the reigning Heisman winner is ranked No. 2. But after the National Title Game, in which he did not really play his best game or step up when his team wanted, I felt that the player who lead his team to that win deserved to be No. 1.
Being ranked No. 2 isn't that bad either.
No. 1: QB-Tim Tebow-Sr-Florida Gators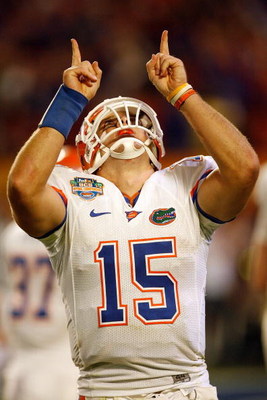 Tim Tebow is going to go down as one of the most decorated players in the history of College Football. He has already won a Heisman Trophy, been a part of two NC's, and had one of the greatest season for a rushing QB in his sophomore year.
People can argue for Bradford and McCoy but neither has accomplished what Tebow has in his career and neither wills their team the way Tebow does. Just watch the speech after the Ole Miss game.
Keep Reading