2012 NBA Mock Draft: Jared Sullinger and Players Who Will Dominate at Next Level
March 31, 2012

Jim Rogash/Getty Images
Whenever a team makes their pick in the NBA draft, they are hoping to land a player that will help build their roster and potentially dominate the league. While that outcome is often much rarer than one would expect, teams do find those players.
This draft has a lot of great college players, especially in the big men category, but that doesn't guarantee they will take control at the next level.
The following is a breakdown of the first round of this year's NBA draft, and where players could potentially fall. 
Note: Players in italics are those who will dominate.
1. Charlotte Bobcats: Anthony Davis, F, Kentucky Wildcats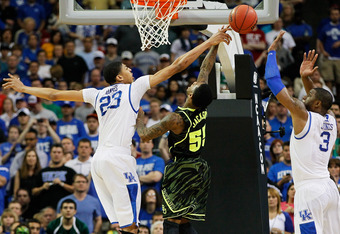 Kevin C. Cox/Getty Images
The Bobcats haven't had a dominant big man since Emeka Okafor was sent to the New Orleans Hornets, so the team will finally have that type of player once again.
The thing is, who knows how well the team will be, as they still have a lot of progress to make. One thing is for sure, though, and that is that the former Wildcats' star and AP Player of the Year will be a force to be reckoned with in the NBA, as he can do so much on both sides of the floor.
2. Washington Wizards: Michael Gilchrist, F,  Kentucky Wildcats
The Wizards need a lot of pieces, but they have to keep point guard John Wall happy. Adding a scoring forward would definitely take the weight off of him, as well as adding yet another threat from the floor to put alongside Wall and Nene.
3. New Orleans Hornets: Andre Drummond, C, UConn Huskies
The Hornets may lose Chris Kaman this offseason, so they will be without a big man to control the paint. They do have Emeka Okafor, but his health is always iffy, plus it wouldn't hurt to have two of UConn's dominant big men of the last few years.
4. Portland Trail Blazers: Thomas Robinson, F, Kansas Jayhawks (From New Jersey)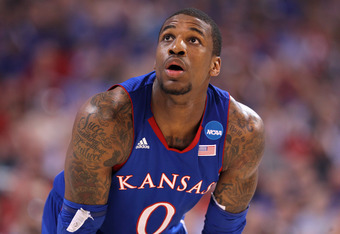 Andy Lyons/Getty Images
The Trail Blazers will need to replace Greg Oden, so selecting a guy like Robinson will be a nice pick up. While the Jayhawk forward obviously isn't as big as the former Buckeyes star, at 6'10", he could be well paired with LaMarcus Aldridge, creating a dangerous frontcourt.
Robinson could come in right away and contribute, especially after the terrific numbers he put up as a starter this past season.
For the Jayhawks, Robinson has averaged 17.9 points and 11.8 rebounds per game during the 2011-12 college basketball season. He looked strong in the team's march to the Final Four, and will likely continue to be considered one of the premier big men in this year's draft.
5. Toronto Raptors: Harrison Barnes, F, North Carolina Tar Heels
The Raptors could benefit from a versatile forward like Barnes, who can often score at will. The team still has to address other areas, but considering the depth of forwards in this draft, Barnes looks like the ideal man to take here.
6. Sacramento Kings: Jared Sullinger, F, Ohio State Buckeyes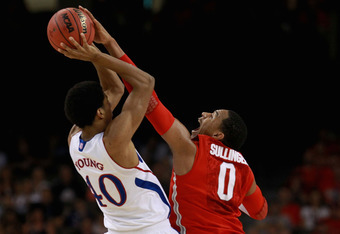 Jeff Gross/Getty Images
Sullinger had yet another great year for the Buckeyes, and he'll continue to prove that dominance in the NBA. He is a scoring forward who could mesh well with players like Tyreke Evans and DeMarcus Cousins, adding yet another young threat to their core.
Sullinger ran the risk of returning to college after having a terrific season last year, but with his team's success in the NCAA tournament, he should have no problem being taken here in the draft.
Sullinger can definitely put up the points and attack the boards, but the Kings will have to hope that his maturity and leadership skills will also be intact as this team tries to rise from the ashes.
7. Detroit Pistons: Arnett Moultrie, F, Mississippi State Bulldogs
The Pistons' frontcourt is getting old, and they must start thinking about finding potential replacements for guys like Ben Wallace and Jason Maxiell. Moultrie is a big man at 6'11" and 230 lbs, so he should present a dominant force inside the paint for the Pistons.
8. Cleveland Cavaliers: Tyler Zeller, C, North Carolina Tar Heels 
The Cavs are in need of a big presence in their frontcourt, so adding the senior from the Tar Heels will give them another great young piece to add to their rebuilding efforts. Zeller could likely excel with Kyrie Irving at the point, and the Cavs will quickly make an impact in their rebuild.
9. Utah Jazz: Bradley Beal, G, Florida Gators (from Golden State)
The Jazz may need to start thinking about their future beyond Devin Harris at the point, so a great option at this spot in the draft is Beal. The Gators guard was averaging just under 15 points a game this season, but he looked strong in this year's NCAA tournament.
10. Milwaukee Bucks: Perry Jones, F, Baylor Bears
A lot of different options here for the Bucks, but they may opt to go big after trading away former top pick Andrew Bogut to the Golden State Warriors. Jones was a force for the Bears this past season, but he looked rather inconsistent in this year's tourney. If he can find some consistency in the NBA, he could be a nice complement to the Bucks' system.
11. Portland Trail Blazers: Kendall Marshall, G, North Carolina Tar Heels
Who better to replace Brandon Roy than Marshall? The Tar Heels guard plays a similar role that Roy did, a platoon between the guard spots. Marshall stepped up his game in the tournament but had to miss the team's last two games with a fractured wrist.
12. New Orleans Hornets: Austin Rivers, G, Duke Blue Devils (from Clippers via Minnesota)
There is a high possibility that Eric Gordon, who the Hornets acquired from the Los Angeles Clippers in exchange for Chris Paul, could walk after this season. He will be a restricted free agent, but the NBA-owned team may decide to pursue Blue Devils freshman guard Austin Rivers as they begin to rebuild their team. People are right now unsure of Rivers' future, but he comes from great genes and did average 15.5 points per game this season.
13. Phoenix Suns: Damian Lillard, G, Weber State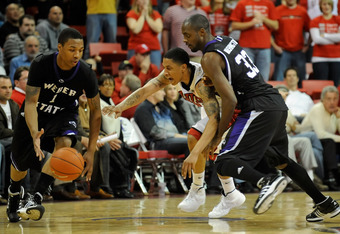 Ethan Miller/Getty Images
Going off on a limb here, but the Suns just may lose Steve Nash this summer, which would put the team in a total rebuild mode. Target No. 1—a point guard.
The team will need to make up for the loss, and the best player on the board here will be Weber State's Damian Lillard.
The junior guard proved this past season that he can score, netting 24.5 points per game. Of course, one would have to consider their competition, but it is no secret that the kid can flat-out play.
If the team has to find an immediate replacement in this draft, Lillard would fit the bill. He could definitely compete with guys like Sebastian Telfair and could help rejuvenate the team quickly through a potential total rebuild.
14. Denver Nuggets: Jeremy Lamb, G, UConn Huskies
Lamb has been strong for the Huskies these last two seasons, and he could compete for the starting spot on the Nuggets' lineup right away. This past season, he averaged 17.7 points per game, as well as dropping 19 against the Iowa State Cyclones in the second round of the NCAA tourney.
15. Houston Rockets: Terrence Jones, F, Kentucky Wildcats (from New York)
The Rockets have huge question marks at the small forward position, as neither Chandler Parsons nor Chase Budinger are credible starters. Jones has been strong for the Wildcats, considering the limited touches with all the talent around him.
16. New Jersey Nets: Meyers Leonard, C, Illinois Fighting Illini (from Houston)
The Nets may see point guard quickly become their No. 1 goal this draft—that is, if they lose Deron Williams via free agency—but expect the team to do whatever they can to make sure that doesn't become their draft goal. Adding the Illini's big man in Leonard would give the team another option down low, especially if Brook Lopez experiences another setback. 
17. Minnesota Timberwolves: Terrence Ross, G, Washington Huskies (from Utah)
The Huskies' star shooting guard can play both there and the small forward position, which would then give the Wolves plenty of options. They mostly would want him, though, to fill in at the 2, a potential void in this team's rotation.
18. Boston Celtics: John Henson, F, North Carolina Tar Heels
The Celtics may be looking to build from the ground up, especially if they move on from players like Kevin Garnett this offseason. Henson played quite well for the Tar Heels this past season, and he could be a perfect replacement for No. 5. Henson definitely needs to bulk up a little, but he definitely has a ton of potential.
19. Philadelphia 76ers: Andrew Nicholson, F, St. Bonaventure
The 76ers have a lot of great young pieces in their backcourt, but their frontcourt is getting a bit old with players like Elton Brand. Nicholson isn't an immediate starter, but he would be an excellent piece to put behind Spencer Hawes in the depth chart.
20. Memphis Grizzlies: Quincy Miller, F, Baylor Bears
Miller could platoon the 2- and 3-spot for the Grizzlies, which would be great for their depth behind Rudy Gay at small forward. Not to mention, the team doesn't have a surefire answer at shooting guard, as O.J. Mayo's status is up in the air.
21. Houston Rockets: Fab Melo, C, Syracuse Orange (From Dallas via Lakers)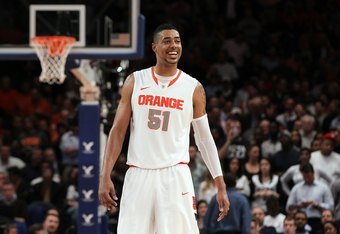 Jim McIsaac/Getty Images
Center is a huge need for the Rockets, and Melo may just be the man who could man the paint for them in 2012. 
The Orange's big man still has much to prove, especially after missing this year's tourney due to ineligibility, but he will have the opportunity to shine right away.
Melo is a big man at 7'0", and he would present excellent athleticism and defensive prowess for the Rockets. If he can shut down the paint, and slow down the opposition's big men, the Rockets will have a lot of great young pieces to make a push in the Western Conference.
22. Boston Celtics: B.J. Young, G, Arkansas (From Clippers via OKC)
The Celtics may go through a rebuild, and the biggest fish they have to rope in plenty of players is Rajon Rondo. If the team decides to move him for things such as draft picks and players, they will likely be looking for a new point guard to run their offense. Young isn't a sure bet to fall into the first round, but given the team's potential needs, they may decide he is worth the gamble.
23. Atlanta Hawks: Tony Wroten, G, Washington Huskies
Another strong player from Washington this past season was their guard, Tony Wroten. The Hawks may decide to rebuild their frontcourt, as players such as Tracy McGrady and Kirk Hinrich are becoming a waste of roster space for the team.
24. Indiana Pacers: Jeff Taylor, F, Vanderbilt Commodores
The Pacers have a lot of pieces in place in their bigs and guards, so the only place to really target is the small forward position. They do have Danny Granger, but he may become movable sooner than later, especially if the team pursues a scorer like Eric Gordon this offseason.
25. Cleveland Cavaliers: Doron Lamb, G, Kentucky Wildcats (from Lakers)
If the Cavs do address their need in the frontcourt earlier in the draft, this would be a good spot for them to replace what they gave for this pick—a shooting guard. Lamb has been a solid contributor to the Wildcats the last two seasons, and he would fit well with what the team that has been building since the King departed.
26. Orlando Magic: Royce White, F, Iowa State Cyclones 
The guard position is something the Magic will definitely want to address this offseason, but it will be tough for them to pass up on Iowa State's White. At 6'8", White could probably play a little bit of both the 2 and 3—two positions clearly in need of depth on this squad. They just added Glen Davis this offseason, so it is best to target a guy like White who can contribute on many different areas of the floor.
27. Golden State Warriors: Dion Waiters, SG, Syracuse Orange (From San Antonio)
With Monta Ellis gone, the Warriors may have to start looking for a new guy to fulfill their spot at the 2. They do have Klay Thompson, but it will remain to be seen if he can really play like a starter. He will have his chance to prove just that as the year finishes, but for now, the team likely sees this as a necessary area to target. Either way, they could benefit from the depth.
28. Miami Heat: Draymond Green, F, Michigan State Spartans
The Heat probably would like to target a point guard, but they may just get what they want if they pursue a veteran like Nash. If that gets out of the way, targeting big men will be next on the list. While Green is just 6'6", he comes in at 235 lbs and is surprisingly athletic. They could move on from guys like Mike Miller, while adding another body down low that can be a force.
29. Oklahoma City Thunder: Moe Harkless, F, St. Johns
Do the Thunder need another forward? Probably not, but the addition of a scorer like Moe Harkless could open up the floor even more for Kevin Durant, while also giving the team another option outside of their core two scorers. If they keep players like James Harden in the second unit, Harkless could also be a nice complement to add a second scoring threat there.
30. Chicago Bulls: Mason Plumlee, F, Duke Blue Devils
The Bulls have a lot going good for them, and they may not want to mess with their unit all that much. They currently have the best record this year after finish off 2011 with the best record in the NBA. Not to mention, Derrick Rose has missed a good amount of games this season. Adding a guy like Plumlee could fit the mold of the Bench Mob, while also just adding more depth. It will also open up trade opportunities for the team in players like Carlos Boozer, Joakim Noah, Omer Asik and/or Taj Gibson.