Tiger Woods Is Poised to Prove He Is Still the Master
March 31, 2012

David Cannon/Getty Images
It was a case of déjà vu Sunday afternoon in the world of golf as its most famous son, Tiger Woods, once again took his place on the winner's podium after a prolonged and painful absence.
Woods recorded the 72nd PGA Tour victory of his career last Sunday in the Arnold Palmer Invitational at Bay Hill, Fla. It was Woods' seventh career victory in the event, the second-most all time by a golfer in any one tournament.
Yet this was far from just another victory for one of the most famous athletes on the planet. The smile on his face as he walked onto the 18th green to putt out to cement his victory said it all.
It has been 132 long weeks since Woods last savored the sweet taste of victory in a PGA Tour event. His last victory, in the BMW Championship, came in September 2009. That is an eternity for one of the most celebrated and cerebral champions we have seen in any sport, in any era.
Woods fall from grace was one of the more remarkable controversies any athlete has endured in recent times. His marriage to Swedish model Elin Nordegren was shattered when rumors of his extramarital affairs proved to be all too true. The scandal decimated the most carefully guarded brand in sports.
The global press had a field day as woman after woman came forward, all claiming to have had a relationship of some degree with Woods while he was married. Woods, a global icon, was reduced to issuing a tearful apology to his family, friends and fans. And he has not been the same since.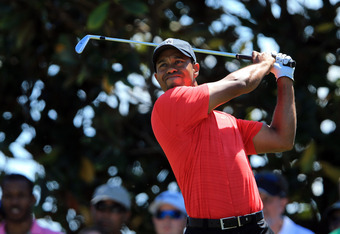 David Cannon/Getty Images
Woods has seemingly been unable to recover from the pounding his image has taken. He has also dealt with a litany of physical injuries that have not helped his cause. His mental and physical travails have rendered Woods a shell of the man who once captivated millions.
His painful struggles seemed unnatural as audiences wondered "When will Tiger be back?"
That is why his victory last Sunday in Bay Hill was especially significant. It looks as though Woods may in fact actually be back to the form that once made him one of the most formidable athletes in the world.
A couple of things that stood out about Sunday's victory seem to point to this. The first is that this has been coming.
Woods at one point dropped to as low as No. 58 in the world golf rankings. His victory lifted him to No. 6 and was an indication of how his form has been steadily improving over the course of the last few months.
Tiger has gone through an extensive process in rebuilding his golf swing. He is also completely physically healthy after numerous serious injuries.
Both of these factors have enabled Woods to gradually increase his performance and his confidence.
The second element of Woods' victory that stood out was the manner of it. Woods earned a reputation during his prime as maybe the ultimate clutch performer in the game's storied history. Every other player in the tournament would be sure to be glancing anxiously at Woods' name on the leaderboard if he was in contention come Sunday.
He entered the final day of the tournament at Bay Hill with a one-shot lead over Graeme McDowell. He won the tournament by five.
Interestingly, this is the largest margin of victory on the PGA Tour since the man who has been dubbed as the heir to Tiger's crown, Rory McIlroy, destroyed the field by eight shots at the 2011 U.S.  Open at Congressional.
Is this significant? Perhaps. Is it a sign of things to come? Hopefully.
Woods has been installed as the 4-1 favorite by oddsmakers heading into the first major tournament of the year, the Masters at Augusta National. Rory McIlroy is close behind at 9-2. Phil Mickelson, world No. 1 Luke Donald and Lee Westwood are other standout contenders in what is a very deep and talented field.
Augusta National has always been a course where Woods has excelled. It is where he first cemented superstar status by destroying the field in 1997 to claim a nine-shot victory and the first major title of his career. He has recorded wins in this tournament on three occasions since, in 2001, 2002 and 2005.
Woods has managed to maintain a high level of performance in The Masters over the last couple of seasons despite his struggles elsewhere. He finished in a tie for fourth place in both 2010 and 2011.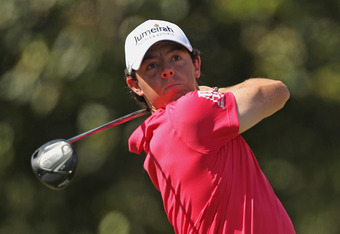 Scott Halleran/Getty Images
Woods has his fair share of detractors for his actions both on and off the golf course, yet the fact remains that he is one of the most compelling figures the game of golf has witnessed. No outcome will please the television networks more than to see Tiger in contention on the final day.
Love him or hate him, everybody wants to watch him.
Jack Nicklaus holds the record for victories in a major with 18. Woods currently has 14. While it once seemed inevitable that Woods would surpass Nicklaus and assume the mantle as the sport's greatest player, the events of the last couple of years have cast doubt upon that belief.
Victory in the Masters next Sunday would firmly banish these doubts and prove that the Tiger Woods of old really is back.