NCAA Tournament 2012 Schedule: Why Louisville vs. Kentucky Is Must-See TV
March 31, 2012

Andy Lyons/Getty Images
The 2012 Final Four matchup between the Kentucky Wildcats and Louisville Cardinals is must-see TV.
Missing this game would be very regrettable on your part, so make sure you do everything you can to pencil it into your schedule. This is March Madness at its finest.
If you had to choose between either of the two Final Four games, this would be the game that I would recommend watching. It's got everything that even a casual college basketball fan would appreciate.
Star Power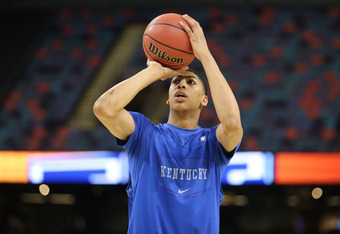 Ronald Martinez/Getty Images
Kentucky big man Anthony Davis is hands down the best player in the nation, and look no further than his recent Associated Press Player of the Year award for proof of that.
He's dominated the tournament so far, but his impact goes far beyond his numbers. His defensive presence is undeniable, and offensively he brings a swagger to the Wildcats that they don't have without him.
If Davis enters the 2012 NBA Draft, he'd be the hands down No. 1 overall pick. If you need a reason to watch this game, Davis comes in as the biggest and best reason.
Intense Rivalry
The rivalry between the Wildcats and Cardinals is one of the best in sports, and it's possibly the most underrated rivalry.
The state of Kentucky is torn into two because of these two teams, so the fact that they're meeting with the chance to go to the 2012 NCAA championship is staggering.
Check out this pretty raw account of the rivalry recorded by AP writer Nancy Armour via boston.com:
Think Auburn-Alabama on the hardcourt, and you get the idea.

"We get along with most of them," Kentucky fan Pat Stahl said of Louisville fans, "as long as they don't talk to you."

Or, heaven forbid, say something at a dialysis appointment. A 71-year-old Louisville fan punched a 68-year-old Kentucky fan earlier this week after their discussion over Saturday night's game got out of hand.

To be fair, police say the Kentucky fan did flip off the Louisville fan.

"It all started with the racial lines in Kentucky," Louisville coach Rick Pitino said of the rivalry. "Now (it's) no longer racially motivated. It's just pure hatred."
Need I say more?
Polarizing Coaches
This game will feature two of the most polarizing coaches in the NCAA. Louisville's Rick Pitino is a legend in college basketball, and is known for his brash mouth, big personality and sometimes awesome suits.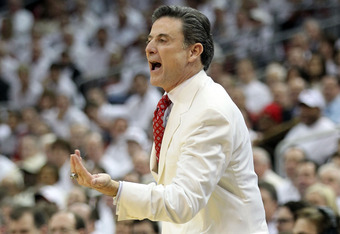 Andy Lyons/Getty Images
John Calipari, on the other hand, is undoubtedly a talented and great coach, but he doesn't have a squeaky clean reputation or record, which causes many to dislike him.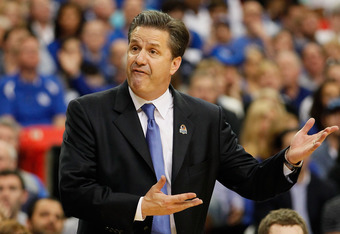 Kevin C. Cox/Getty Images
The thing about these two coaches is that there is a faction of fans out their that love when either of them lose. On the other side of that though, there are fans that love when they win.
The beauty of this matchup is that either way, somebody is going home a winner, and the other a loser.
Seriously, Watch This Game
If I haven't sold this matchup enough for you, consider the fact that the winner gets to play in the national championship.
Kentucky has only lost twice this season, and they are undoubtedly incredible. But Louisville has been red hot in the tournament, and they've already knocked off a No. 1 seed in Michigan State.
Here's all the info you need:
Louisville vs. Kentucky
Saturday March. 31 at 6:09 p.m. EST on CBS
Ohio State vs. Kansas
Saturday March. 31 at 8:49 p.m. EST on CBS